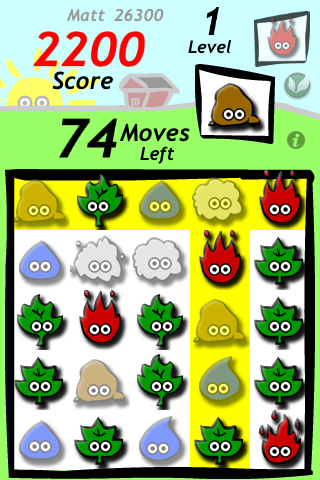 Eleminis is a cute puzzle game that stars quirky characters who bring an extra level of fun to an already much-loved genre. A mix between Sudoku and Rock, Paper, Scissors, the game is easy to pick up but hard to let down as you rack your brain trying to swap the cuddly characters successfully.
Each character is stronger than two other specific characters. Swap the character in the play box with a weaker character in the field. Rows and columns will turn yellow when they contain all five necessary Eleminis. Solve the puzzle by turning all columns or rows yellow before your moves / time runs out!
The iPhone version includes two modes of play (Moves / Time), over 10 fun and challenging levels, and 4 Increasing difficulties. Eleminis is also OpenFeint Enabled, meaning you will have access to the largest and funnest iPhone community.
High Score Leaderboards – Compare Global and Personal scores
Achievements – Unlock various medals
Chat – talk to other Eleminis™ players
Friends – connect directly to your Facebook and Twitter accounts
Eleminis is available on the App Store:
New players can also try the free online demo: