Hello everyone!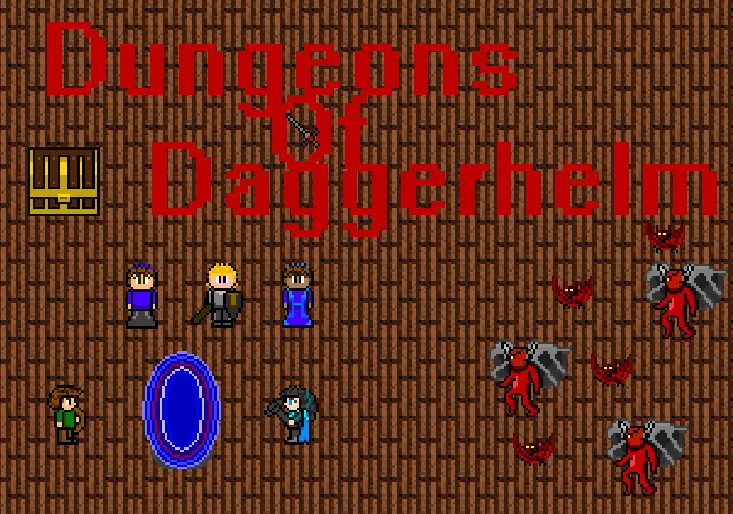 We are really excited to finally be able to get to the meat and gravy of Dungeons of Daggerhelm: finding and equipping items!

With the latest demo update, v0.08, we've added items, inventory and equipment slots to the game that you can experiment with. Since this system is quite early in development, you will most-likely find the same item multiple times since we only have around two-dozen equippable items so far. All you have to do is drop it on the ground and it will free up a slot in your inventory.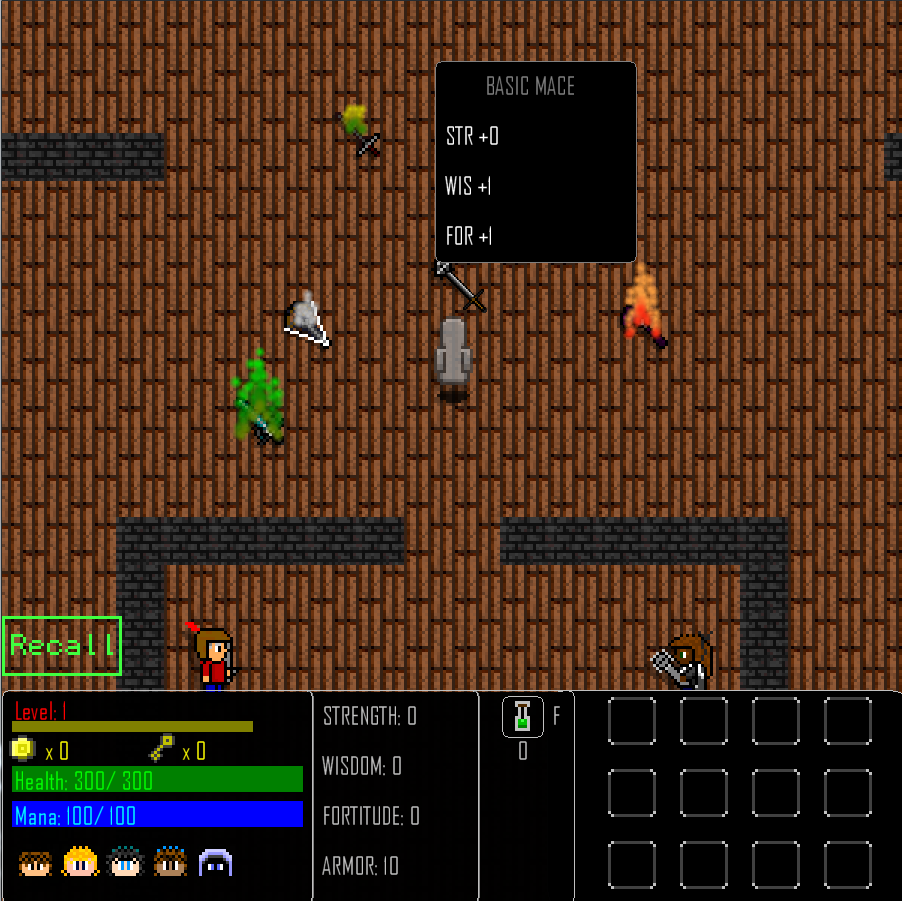 For your convenience, we've improved the functionality of this system over what is presented in the picture above. Instead of 12 inventory slots, we've given you 24 to use so that you can gather twice as many items. We've also added in a few lines of text in the mouse-over box that indicates what classes can use the item you found. (Note: no item in the game has a level restriction!)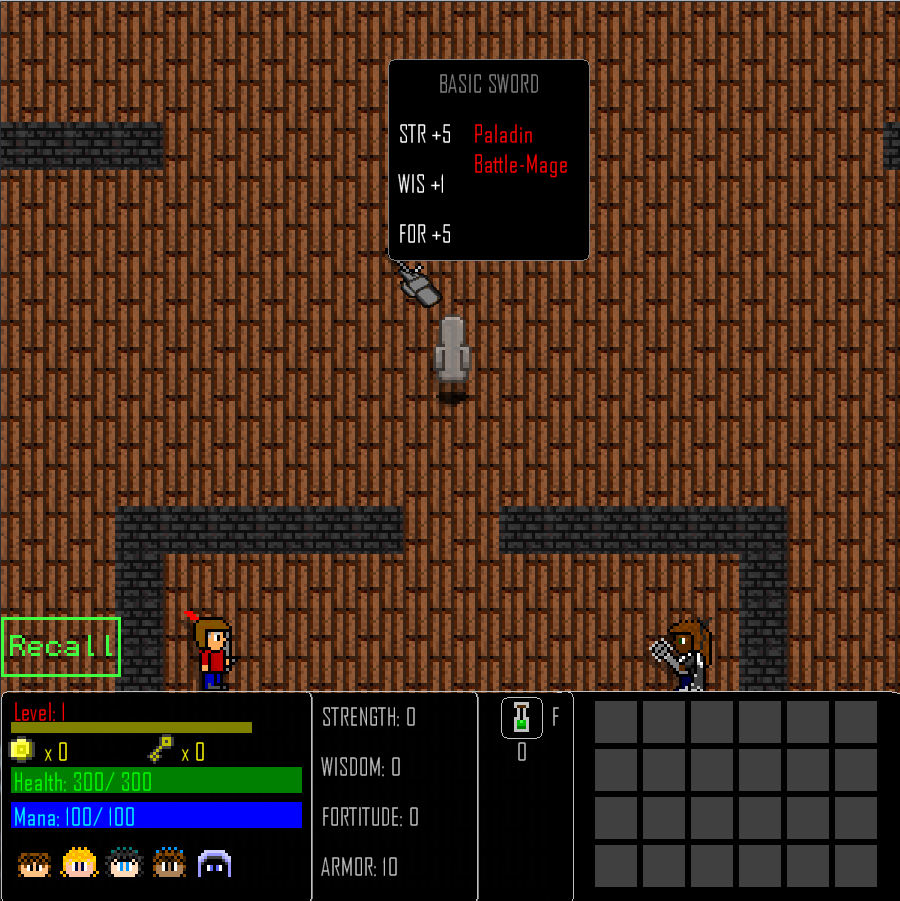 Status messages have also been included to let you know when an item cannot be equipped for certain reasons. For example, if you are trying to equip a paladin with a wand, the game will tell you "NO!" and prevent you from doing so (in a little bit nicer way).
There are two tiers of items currently lootable in the game: Basic and Novice, for both weapons and armor. Basic items are the most frequently found and provides a decent boost to stats such as Str/Int/Dex, while it lacks points in Wisdom and Fortitude.
However, Novice weapons and armor are the step-up items, giving increased stats to the original items. For example, the Basic Sword weapon has 5 STR, 1 WIS, and 5 FOR, while the Novice Greatsword (the Basic Sword's replacement), has 9 STR, 3 WIS, and 9 FOR.
Despite the usefulness of Novice items over Basic, their drop rate is severely lowered. While Basic items currently have a base drop rate of 12.5%, Novice items currently have a base drop rate of 8.33%.
With newer higher-grade weapons in the future, these drop rates will continue to lower. By the time we arrive at the Godlike items stage, their drop rates will be around 0.67%, but they will be incredibly powerful and will far outrank their predecessor Legendary grade.
Yes, this game's item drop rate is based purely on RNG (random number generation). But it is what we have had planned all along, and it is what plays well with the genre.
Here is a picture of the full list of items that are currently in the game:

(Note: items with the "Large" prefix are named differently)
Let's move on to talking about objective arrows.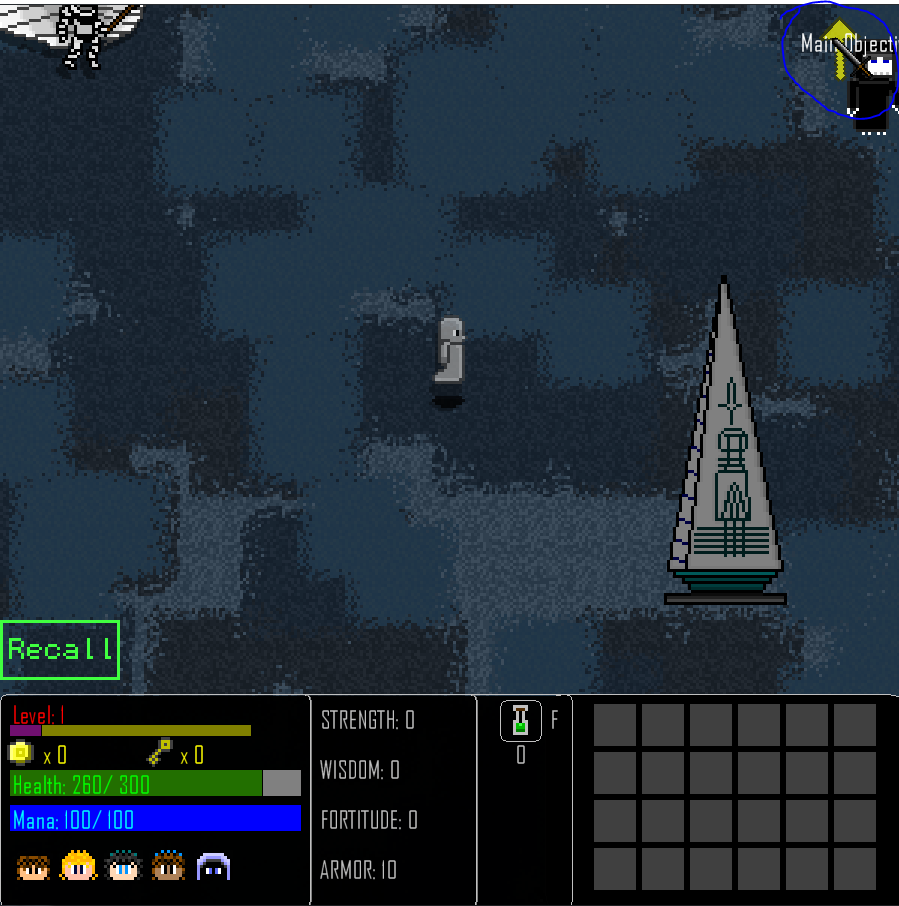 In the top-right corner of most zones, you will find either one or two objective markers. These will help guide you more directly to boss rooms, dungeons, or treasures located in that zone. We thought that this addition will help players find more purpose to playing, instead of running around killing things. Some of our pre-alpha testers could not find some of the boss fights or dungeons, and this was our solution to that problem.
Thanks for reading! Make sure to tune in for more updates as they come out!