I want tell you little more about pathfinding. And no... (smile) this is not for enemies which must find you and exterminate. It's about Drake. And You. Maybe after this text part of gamers stop tracking this game, but i must be completely honest with you.
Every time when we want cater to the maximal number of players - we take fiasco. Because we want to research a game for skilled players and for casual players too. It's been mistake. We can't do it anymore. And do not want it.
Moreover we officially declare that we will not support the casual players. Sorry guys, don't hate me for that. Are important to us are those who want to think, to love, to discover new things, and most importantly - remember and love well forgotten old.
In an attempt to earn enough money to start this project, we make games that are not wanted. Yes, they give to us little money... but we lost a real treasure of all of developers (and all people on the Earth too). Time.
By the way. About time. Come back from our crying to our Drake. Pathfinding. In a large sense of this thing in relation to the player. How we can oriented in this world? I told in previous text about casual gamers. Why? Becouse in Drake you can't see markers for quests, you can't move in autopilot and you can't recieve hint messages in your head when you are lost in world. All as old times, when all depended on you.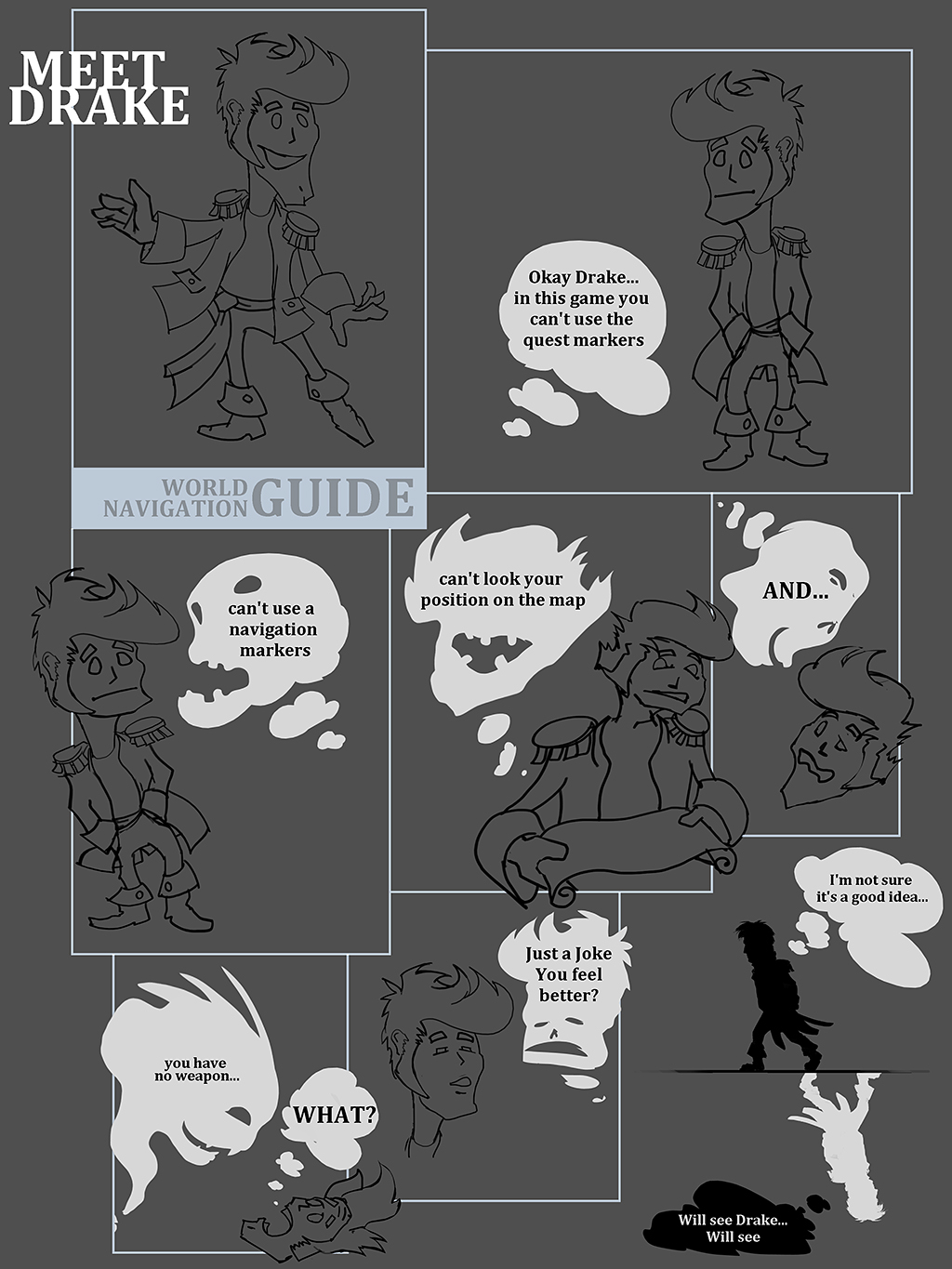 All you can in this case:
Remember where you were and why?
Remember where you walk and why?
Ask the person (creature) if you meet him on your long road
Buy the map in the shop.
Buy the services of a guide who will take you to the city (if you're lucky enough to meet him)
If with all of these points is clear, then the world (region) map also have a nuances. There's also no markers, waypoints and etc. When i buy map i'm look around or ask people "Where i am?", "Say me please what name of this street?", in past my lexicon have another one question - "Where i can find the nearest bar?"
In Drake you must oriented and navigate by yourself.
You can tell me - you do not respect the gamers. I answer - No. I respect the gamers. Most of all. And i do it because You deserves respect. The game is not a bobsleigh where the player flies into the gut and entertain themselves via process also known as "pick your nose".
The game is a book. It's an adventure. These are the questions and answers. It's a movement. Action. Gamer is not dog on a leash. And nobody should not tell him where to go, no one should take its freedom of thought, freedom to make independent decisions, freedom of movement.
Look at games of present days... what you will see? You arrive in city and you've already on a short leash. You must go to the tutorial rooms, after that you recieve instructions and holy marker. You cannot know this world but you know that you need go to in concrete direction 2 kilometers, after that move to the left and go down in the left part of dungeon... o yeah... and look under 13th stair.
On the right part of dungeon, on the door you can see table "wrong direction, if you want complete the main quest go to the left part of dungeon".
Also... you cannot find items without supporting text in description which reads "I'm a ring of Frodo - take me and bring me to Frodo... by the way, Frodo live in the Shire, remember this coords please, or click on me to show a special marker, or read solution on the Main Game Solution site, (MGS.com) or download saves of winning game if you stop anywhere".
What's damned solution, markers and coords? This is not mobile device with GPS, this just a ring without marks and text which you find somewhere. In text before we can see ironical description, but i think in words have a point.
No... of course, i'm not crazy you can see short tutorial on the start of "Drake: The Golden Hind Story" game and see action keys in special help menu with comments.
But why we think that gamer can't jump on the panel without help from our side?
Of course we take care about usability and you, for example, cannot lose quest item without comment your actions from Drake. But be sure - We will not force you to make any action without reasons.
If we draw a line under this news block we have today next:
- We have no any markers in game (quest, main quest, any movement directions)
- You are free in game and you go to where you want (in all location which be unlocked by you).
- If you lost in world - you can solve this problem via your mind, with help of different people which live in the world, you can buy the map or "home-ring". This magic item which show you approximate direction to your home if you have home.
- And... yes, you can have a house. Not free. In order to obtain citizenship in Hindale you have to work for the Queen and for kingdom.
I little afraid of future results of my work. Because we make non-casual game, we clearly and obviously are going go crazy and working on the game with a testaments of old industry in our hearts, our musician wants write for game something special, and in plus for previouse points - i'm color blind man.
It's be funny. I hope on it.
Thanks for your time guys. For time, watching and reading. If you not like a long posts let me know please. I'll try to reduce the flow by building a dam.