In an interview with GamesRadar, Arkane Studios' level designer Christophe Carrier responded to a question about how Dishonored would work in VR. Carrier said that Arkane is "thinking about it" when it comes to translating Dishonored to VR, and that it would be "a level design dream". Carrier says:
"Far Reach, Blink... yeah! Possession... there's a lot of things that would be transferrable to VR very quickly and would be immediately fun ... Your only transportation or mobility would be Blink, and you wouldn't have all the fatalities because they are animated and you don't want to do that because you're going to throw up!"

Blink is an ability which teleports the player a short distance in front of them. It's almost identical to what has become a standard method of locomotion in made-for-VR games, such as Budget Cuts and the upcoming Robo Recall. Far Reach is another spin on that ability, but instead of teleporting you, you reach out to an object or piece of terrain and pull yourself towards it.
Dishonored's first-person kill animations, however, involve a lot of camera movement, so as Carrier says those would need to be reworked so that the player's viewpoint isn't moved in a jarring fashion.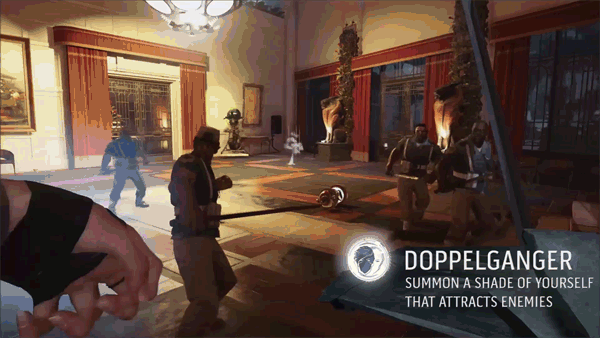 Carrier continues:
"When I think VR with Dishonored – of course I want to be in a room like the Clockwork Mansion and see the gears and see all the objects and look at them from very close because they are very beautiful and unique. Because part of the VR [experience] is also being somewhere; not only playing but just being somewhere and looking at the scenery and manipulating object."
Dishonored 2 releases on November 11 this year for PC, PS4, and Xbox One.