Brief
Hey everyone! Dire Days is still alive. It's been a rough two weeks, but the game continues to grow in content. Special thanks to the closed test testers (Orange451, Mishmash, braffolk, Popcorn897, and TheMaker). The server is now fully dedicated with a static IP and client no longer easy to hack. Apologizes for missing this weekends events for the game was still being works on and tested in a closed environment. At this stage, I still consider the game in "alpha" for there is a lot more that can be added and changed to make the game feel just right.
Events
Please join me online for these events until a community is built.
Friday, June 19, 2015 @ 7:00 PM (UTC-05:00) Eastern Time (US & Canada)
Saturday, June 20, 2015 @ 7:00 PM (UTC-05:00) Eastern Time (US & Canada)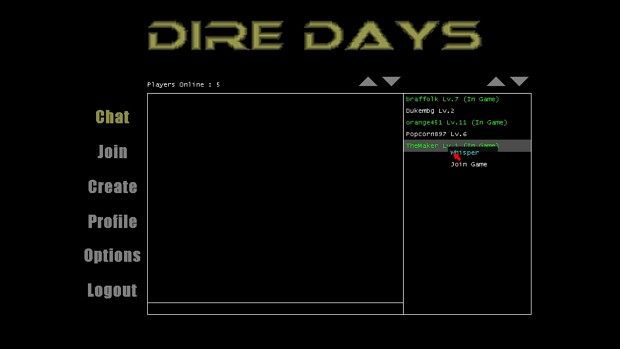 Version A1.6
Version A1.6 is a the first version to use the new server, so all older version will not work nor update anymore for the old server is down. This version has few bug fixes which I'm happy about; lots of changes for balancing weapons and prevent spamming mines and grenades; And big additions: new maps, a game mode, and options.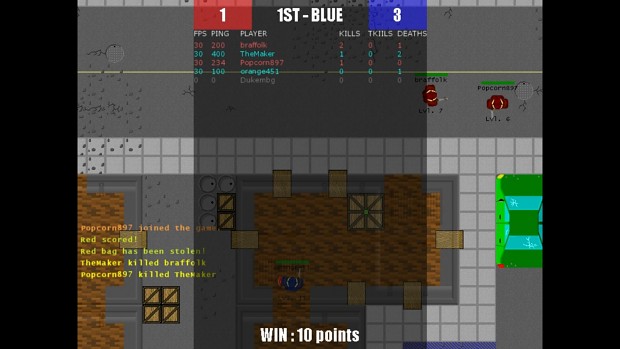 Zone Control
This is a team game mode where each team needs to control more zones than the other team to score. Zones held by an opposing team can be taken when all opposing players have been eliminated from the zone area.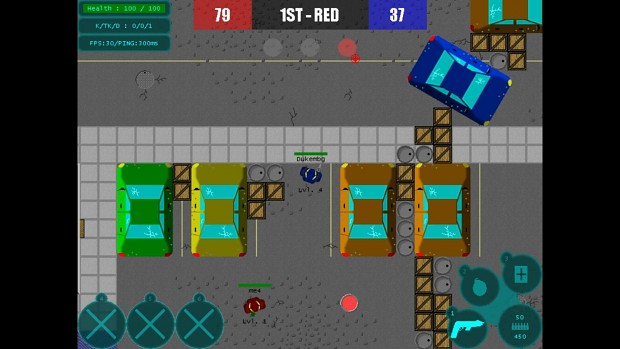 Expected Future Content
This game will never be feature complete, instead it will continuously grow. For version A1.7, I plan on fixing any issues that arise from A1.6 and implementing your suggestions. A recent suggested I've received from a player is to add a Zombies mode and I'm definitely adding this mode mainly because it would still make the game fun for single players.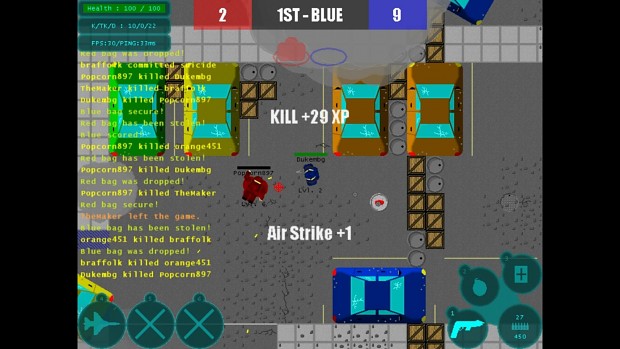 Update Log A1.6
Bug Fixes A1.6
+Game chat missing keystrokes
+Capture the Bag losing bag
+Capture the Bag bag pad

Changes A1.6
+Smoke grenade supply x1
+Shotgun delay and accuracy increase
+Submachine gun damage and accuracy increase
+Pistol damage and accuracy increase
+Supply crate cooldown after use
+Assault rifle accuracy increase
+Rifle accuracy increase
+Shotgun accuracy stays the same while aiming
+Player variables now server side
+Game runs on new static IP

Additions A1.6
+New Map "Concrete Battle"
+New Map "Capital Siege"
+New Game Mode: Zone Control
+Player Roster shows game win condition
+CTB and ZC game modes have extra heads up display shown for mode
+Zone Control XP
+Options V Sync, Volume, Music
Known Issues A1.6
+Zone Control on map "Capital Siege" crashes the game.
Download