Here's 3 more of the new monsters in the expansion Din's Curse: Demon War: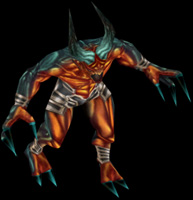 Vortar Soldier
The horned vortar soldier has power to inflame its treacherous claws in a fight. It is ruthless and vindictive. They have no natural predators, and often reign supreme within demon cities.
Special Abilities: Flaming Claws
Variants: Sapphire Vortar Soldier (shown), Amber Vortar Soldier, Onyx Vortar Soldier, Emerald Vortar Soldier, and Amethyst Vortar Soldier
.
.
.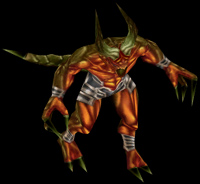 Vortar Raider
The vortar raider may look small compared to others of its species, but don't be fooled. This unrelenting pyromaniac is fearless, promoting chaos and feasting on the flesh of unwary fools.
Special Abilities: Fire Resistance
Variants: Sapphire Vortar Raider, Amber Vortar Raider, Onyx Vortar Raider, Emerald Vortar Raider (shown), and Amethyst Vortar Raider.
.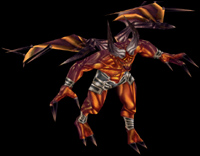 Vortar Guardian
The largest of the vortar, the vortar guardian deceptively flies out of reach and then slams down in a savage attack. Impressive fighting skills and tactics are not the only thing to worry about. This brute has the power to summon kralls.
Special Abilities: Krall Summon, Fire Slam
Variants: Sapphire Vortar Guardian, Amber Vortar Guardian, Onyx Vortar Guardian, Emerald Vortar Guardian, and Amethyst Vortar Guardian (shown)