Development Update II: A Not So Civil War
Welcome to a brief respite from the hell of us writing the second (or largest, again?) diary for TNO yet. In this Development Update we will be looking at some mechanics and events for the German Civil War that make it a bit more interesting than many other ones you'd find in Hearts of Iron and how we tried to give it a lot more interesting outcomes and make each side feel at least fairly different from the other.
Before I drag on for a bit too long, I'll just launch straight into this one, we've already delayed this diary enough, after all.
Before the War:
The German Civil War is set to build up before Hitler even dies. The moment a successor is decided, forces will be at play, depending on who is in charge. The various pretenders all want to hedge their bets and prepare as best they can, and Germany's descent into chaos has already began. Many of the choices even have a way to take out one or more of the opposition. Heydrich, for example can attempt to order the arrest of his biggest ideological rival, Speer: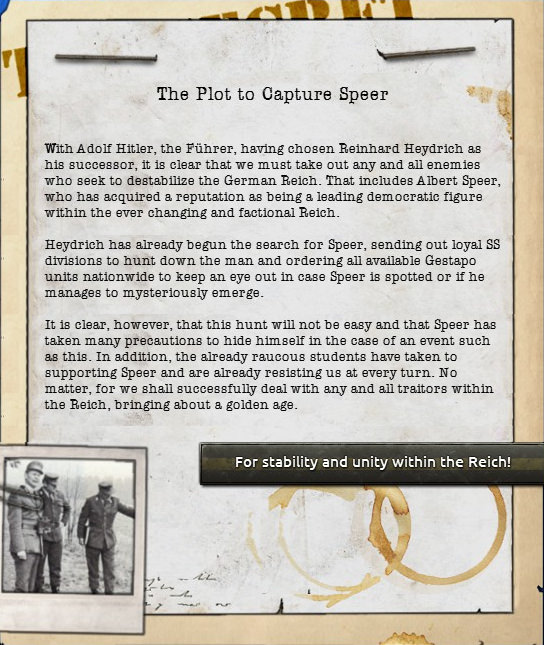 If Heydrich is not chosen, the SS will begin militarizing and arming themselves to prepare. Allowing them to do so will give Heydrich a better position in the War, but trying to stop them is likely to backfire, as the SS is far more ready for war than the Wehrmacht at the game's start, and can lead to the government being further humiliated and the military further weakened.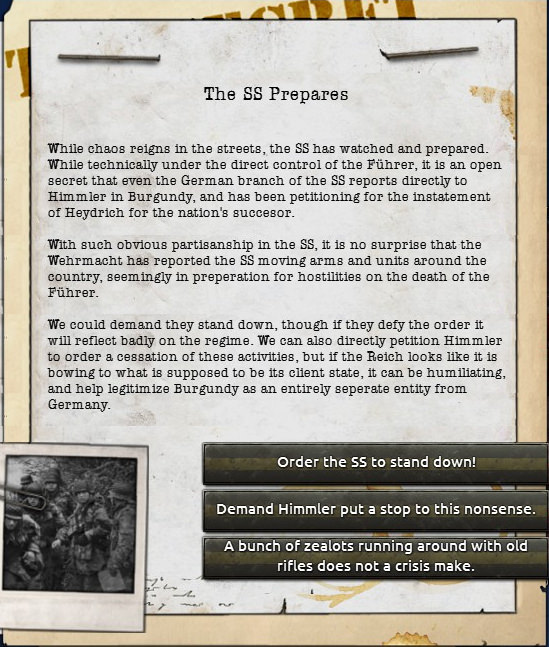 Of course, this event has multiple endings and results, as do most of the pre-war Germany events.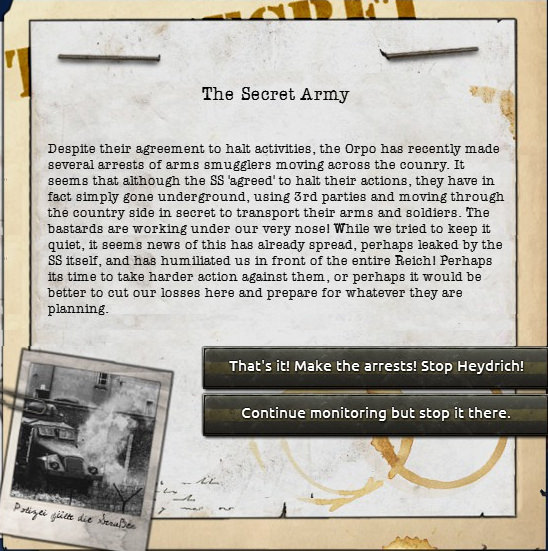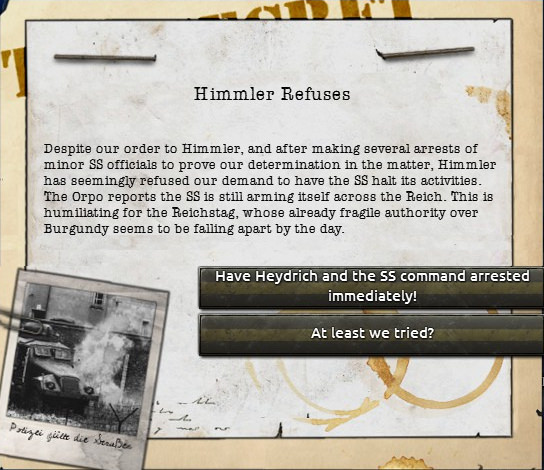 Heydrich can end up being arrested if the Germans descend on his men but Himmler decides it is best not to allow the SS to fight back, preventing their possible loss in a conflict.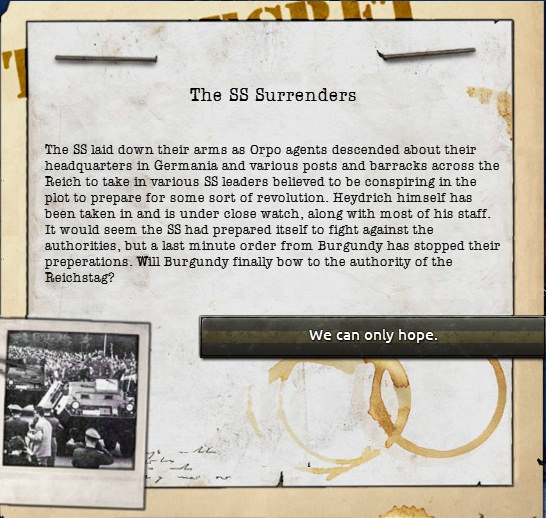 And there is a chance, however small, that this can even take Heydrich out of the picture.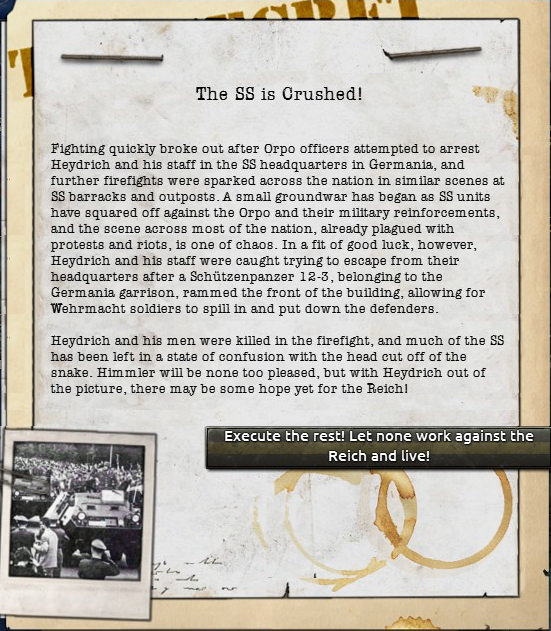 There are numerous events like this and most of them will have an effect on how the war plays out. Whoever is chosen also gets some boosts, but their main ability to use their nomination to full effect is in these events.
When Hitler dies, of course, the preparation is over and after a rapid few events of Germany spiraling out of control, the war begins. Of course, the war might begin even earlier, with the sides unprepared and unbalanced if Hitler is to face a mysterious death…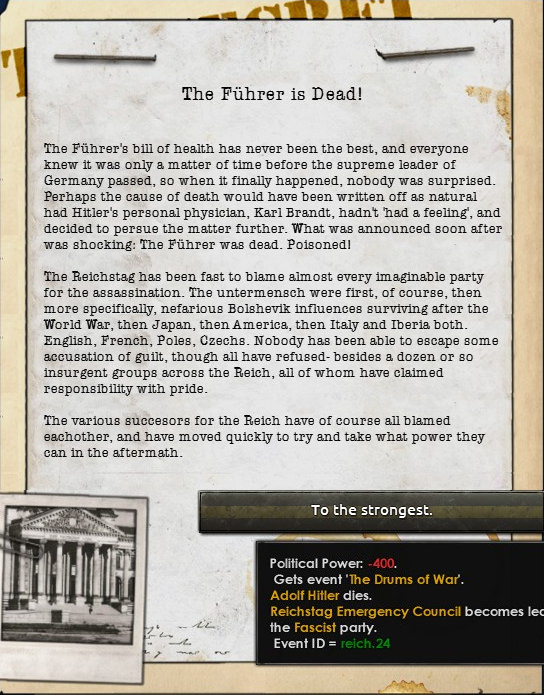 Burgundy:
The Unity-Pakt collapses in the wake of the war, and while it may be reestablished after, during the war Europe suddenly turns from relatively stable, at least aside from the nation's internal politics, to a free for all for every warlord and leader to end their grudges and secure further power.
The most notable move will be seen in Burgundy, who has been eyeing the French like a wolf, the French weak and constantly being strangled in a noose of German red tape and in a constant state of war with their own myriad of resistance groups. The death of order in Germany presents the perfect opportunity to firmly cement Burgundy's position in the region.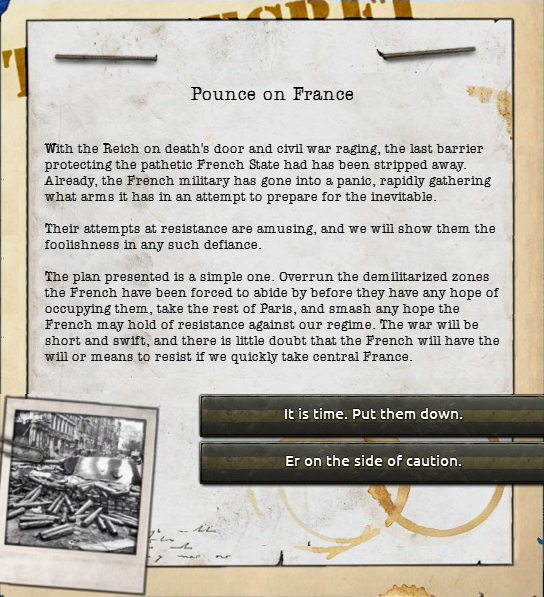 There is little hope for the French in this war. There troops are poorly armed, trained and organized, and due to treaty restrictions, are not even allowed to station men on the border with Burgundy sans in Paris. During the war, Brittany will also take the chance to secure their border from the inevitable Burgundian push, and will invade France as well. The French on the Breton border may even welcome this invaders, as they present a much better alternative to a Burgundian annexation.
Regardless, France will, at least when guided by an AI and almost always by a player, lose. Leading to Burgundy seizing northern France and Brittany taking the border territories.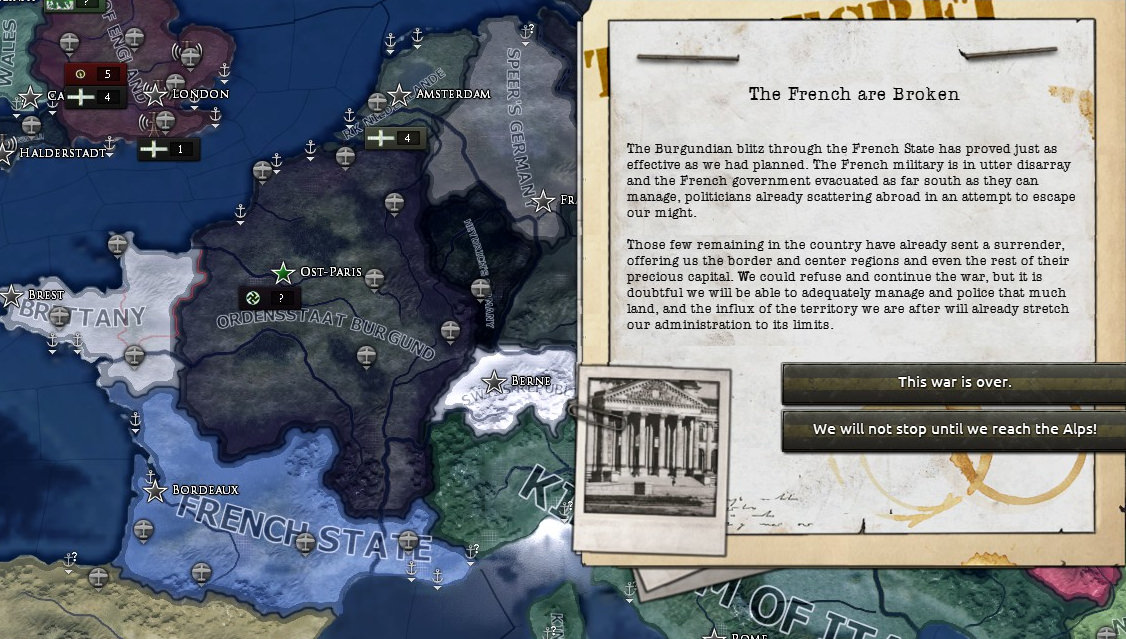 If Heydrich begins losing the war, Himmler also has the opportunity to launch Operation Ostsonne via a decision, a lightning strike into Heydrich's Germany in order to steal several German nuclear weapons.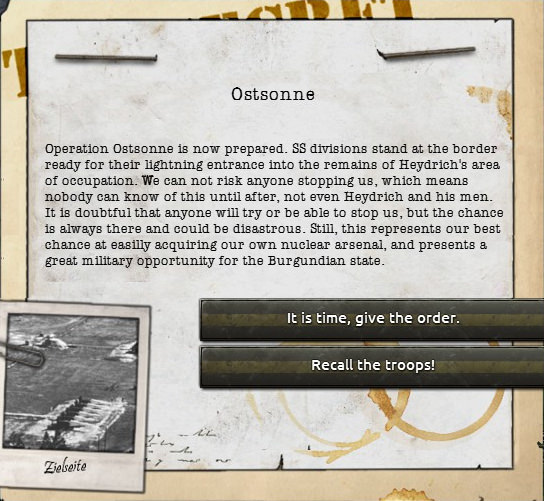 Speer:
Speer starts in northwestern Germany where most of his most ardent supporters had congregated before the war. However, he stands the worst chance at the start of the war, having the most badly trained and equipped troops besides a scant few Wehrmacht divisions who went for him with their more liberal minded commanders. He is however in a good position, with both the smallest front to deal with and all of his men congregated in one region.
He also has the benefit of aid from the United States and elsewhere, most of the democracies of the world, as well as those trying to avoid nuclear devastation (which would be almost everyone besides Burgundy) dreaming of Speer's ascension to power. They may also give support to Bormann, hoping his victory will spell an end for the Reich forever.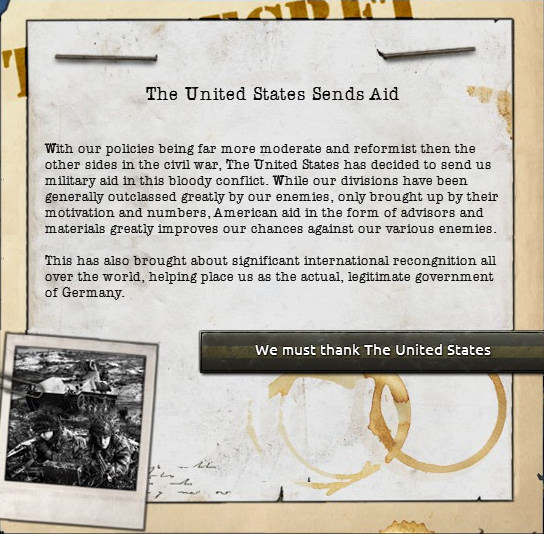 Speer also has the benefits of his supporters being widespread and passionate. Over the course of the war, revolts will spring up in the various cities of the Reich, spawning militia units loyal to Speer to sew chaos behind his enemies lines.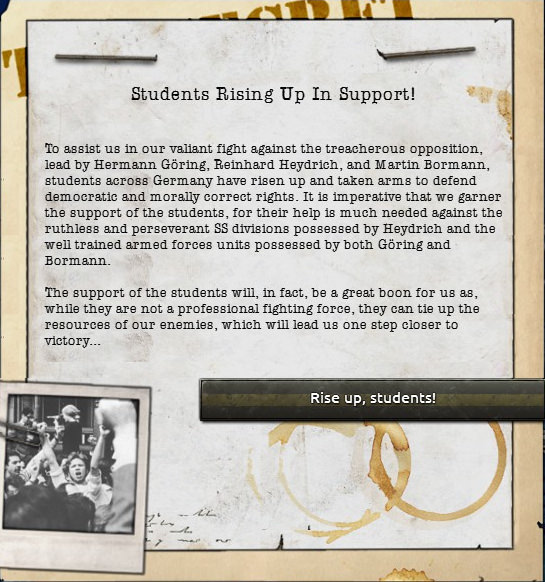 Heydrich:
Heydrich will have the toughest time taking the Reich, mostly thanks to every sane Human being in Germany and abroad desperately wishing for literally any other person in the world, besides Himmler, to take power. While he starts with the most well trained divisions, and possibly with men already fighting behind his enemies lines and with a large amount of equipment if the SS's militarization is not stopped, along with Burgundian support in 'volunteers' and arms, Heydrich pushing forward can lead to his enemies uniting against him. This coalition may not occur at all, or may only be between certain candidates, but can potentially lead to Heydrich fighting all three of the contenders by himself.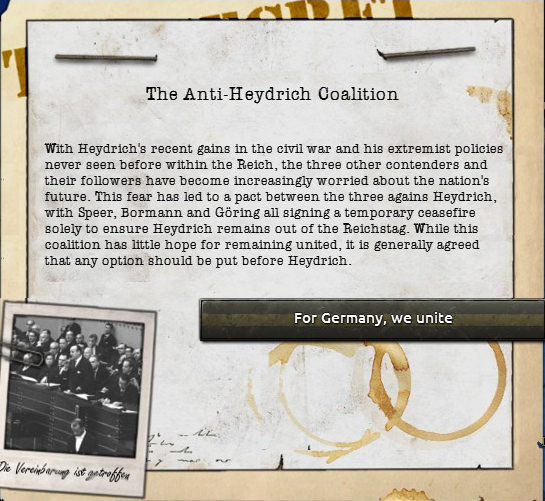 Göring:
Göring starts with, generally, the most well trained and equipped men in the Reich, though he controls less land and has less forces than Bormann. He is the second most likely to win the war, in front of Speer and behind Bormann. Notably during the war, if he is unable to break the enemy quickly enough, he has the opportunity to attempt to attack Speidel in Germania in order to open up his front with Bormann.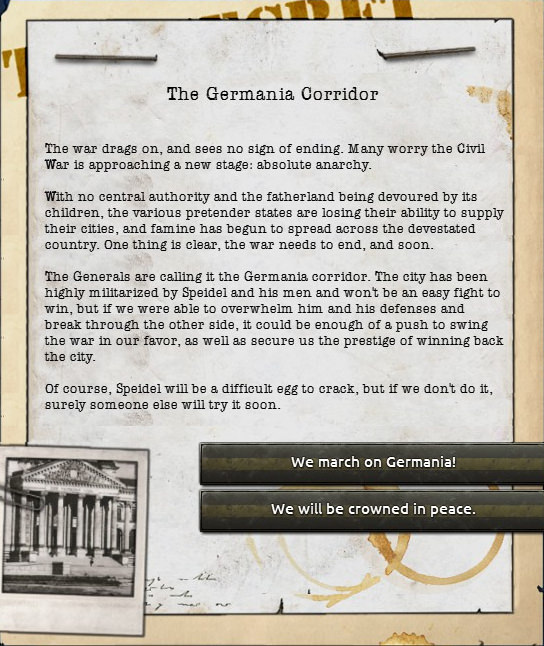 If he does not choose this, the other leaders get the option, and if all refuse then they can take it at a later date. Fighting Speidel's well trained and well prepared men can end up bleeding them dry however, but when one declares war, it won't be long before the others jump in and try the same, hoping to grab the city before the others can. Bormann will get first pick, then Heydrich, then Speer, depending on whether or not they border Speidel's Germany.
There are many more events and decisions related to before the war and during it but I want to save those for you all when you one day (forty years or so from now) play The New Order, so I'll save those for later. Of course, there is a bit more I will show you.
Anarchy:
If the situation in Germany does not right itself after several years and the Civil War drags on, bad, bad, things will happen.
The slide will be gradual, you will have some warnings that the situation his growing dire if you do not end the war soon, but when it comes it will be announced.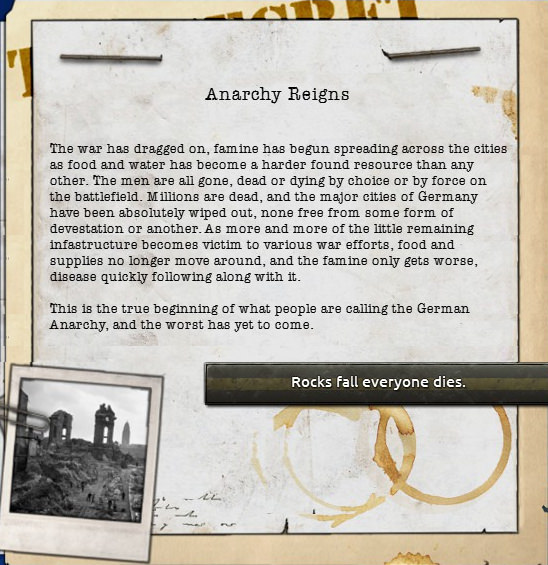 Bad things happen for everyone at this point. The industrial potential of the pretenders drops sharply, as well as their manpower, but that's the least of their worries.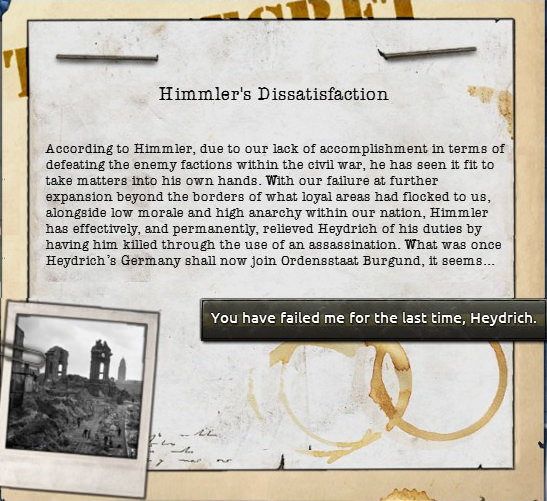 Heydrich can find himself on the tail end of an assassination on the order of Himmler, gunned down by his supporters while driving, and his lands quickly being taken by Burgundy.
The radical left wing of Speer's party, which starts the game effectively dead and miniscule but can grow as the war worsens, can attempt to coup him and join the Civil War if they fail.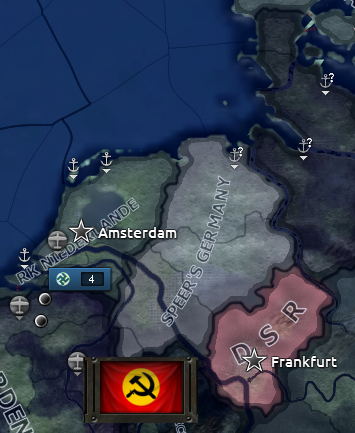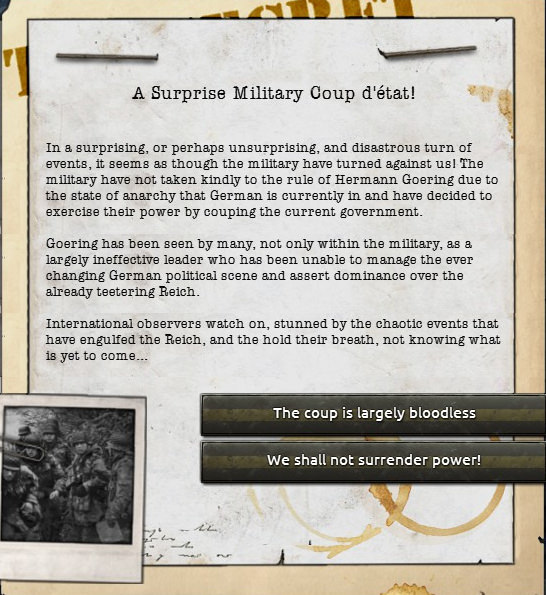 Göring too can face a coup, except from his military leaders who have become disillusioned with his ability as a military commander. He can also fall to the coup or attempt to fight it.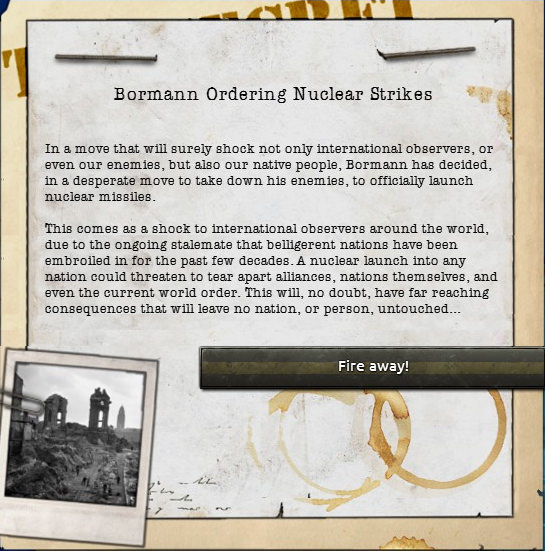 The sides can even resort to launching nuclear weapons, wiping out what little hope there is of Germany ever truly recovering.
Speidel may also decide that his neutrality is helping kill the nation and take matters into his own hands, militarizing and attacking the contenders with his men. While he has the smallest force, his will be fresh and ready compared to the beleaguered defenders. The player, at this point, can switch to Speidel if they so wish via decision.
These are just a few of the many possible outcomes of the German Anarchy, which you will discover yourself when the time comes, I'm sure :)
Victory:
Finally, if and when one of the sides takes victory, their enemies will flee abroad and attempt to claim their title from abroad, or just live in peace.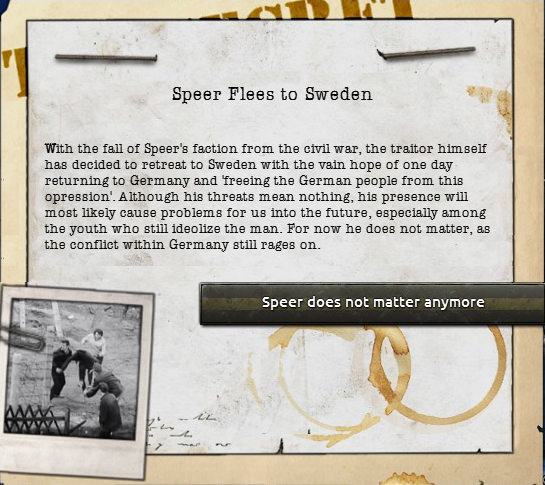 One of the first acts of almost all of the leaders is to ensure they do not remain a problem, either through capture or assassination. This can succeed or fail, and multiple attempts can be made. Each of the leaders can also escape to various nations and move after, with various chances of success, and can cause a number of problems for their enemies. Speer, for instance, will try to escape to Sweden, then Switzerland, then America, and then a variety of countries after depending on whether or not the host nations decide to accept him.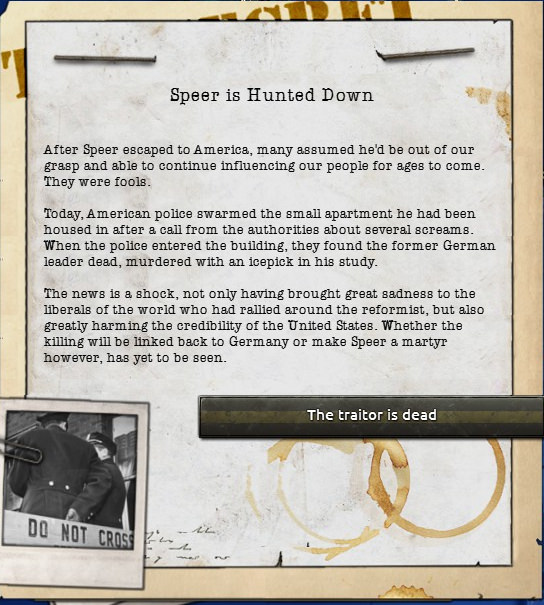 And of course, they can all die in a variety of ways as well. Or escape.
Regardless, once the war is done there is most likely still one more matter to resolve. Speidel.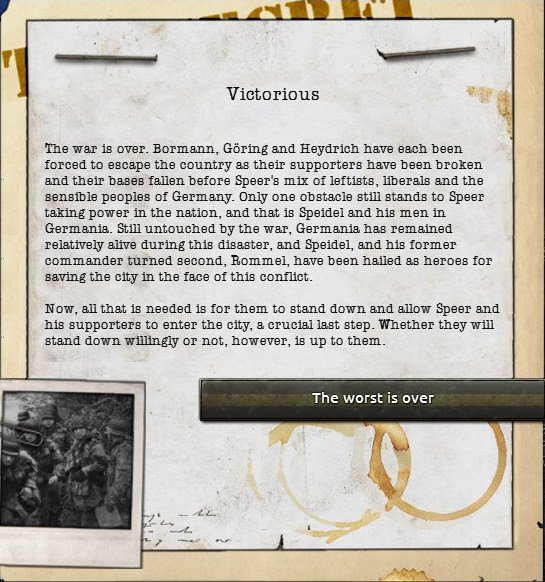 It is up to Speidel whether to accept or try, however futile, to resist the new power. He is fairly likely to accept Speer, Bormann or Göring as the new leader, but is much more likely to attempt to fight Heydrich and save Germany. A Heydrich player will also have a chance to play as Speidel here. Good luck.
But if he does surrender, the war is finally over, and Germany may finally find peace.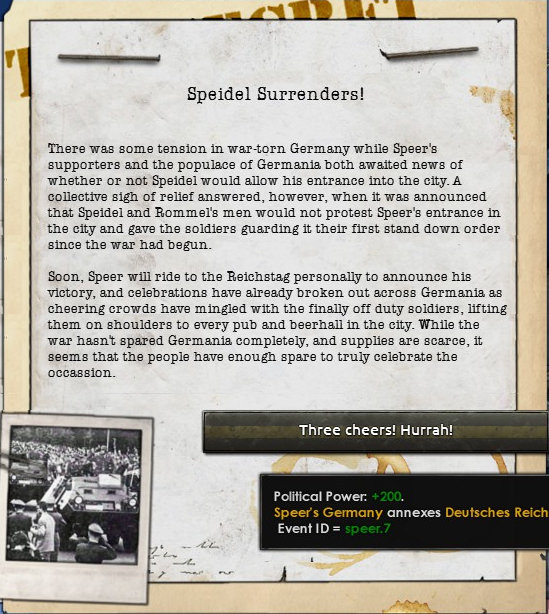 Closing up:
Finally, I'd like to show off some of the amazing portraits our artists have made for Germany, which is… a lot of Generals and Admirals.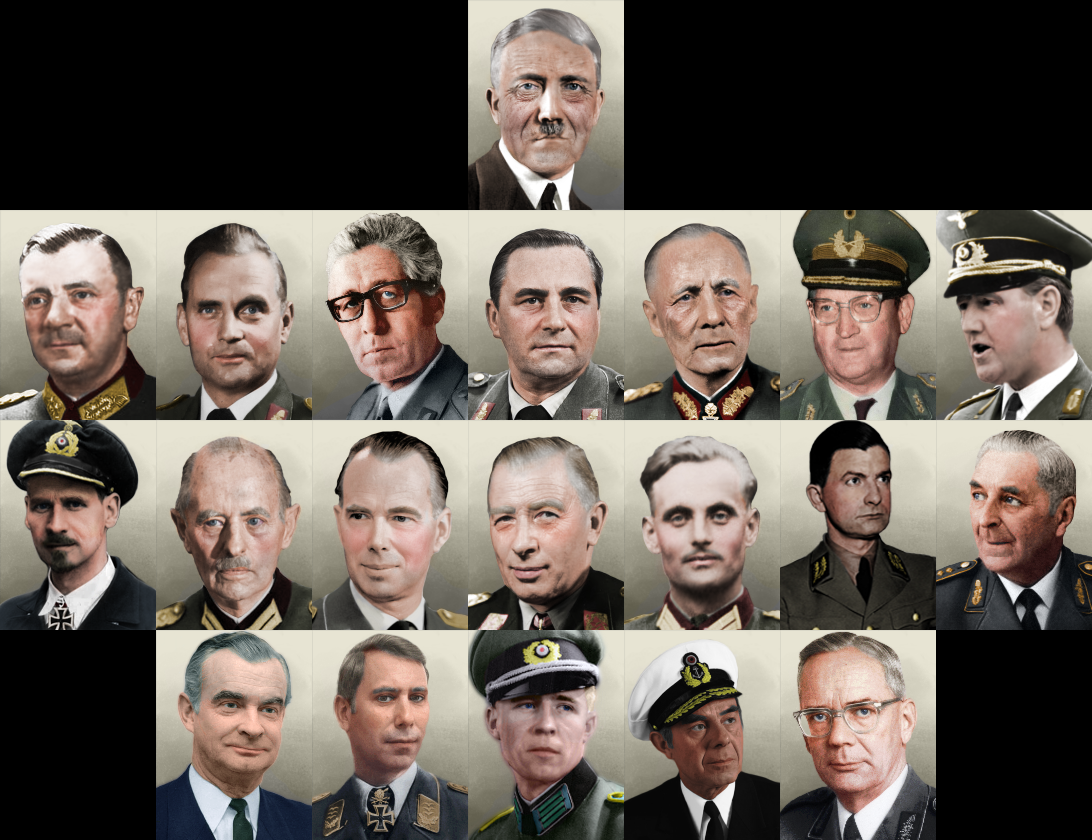 I'd also like to announce three bits of sadder news for our fans:
1. The final Germany diary will not be coming out this Friday, and I don't want to set another date for it and risk more delays. It will be coming soon, however, and it will be big, and possibly bigger than the last.
2. After the Germany diary, my team will be taking a two month break to focus on their work and start getting the game ready to be actually fully playable.
3. The timeline of the mod is changing, the end date we were focusing on was originally 1991, based fairly arbitrarily on the fall of the Soviet Union, but our powers are much more unstable than any from our world, and it was hurting my team make them plan out this much content for a mod, unlike say, Kaiserreich, starting from scratch. I fully believe my team and I could have done it, but it would have taken much longer, and would have been far more difficult, so now the mod's content will generally last from 1962 - 1982.
Conclusion:
Thank you for reading this Development Update for The New Order. Here's where to find us:
Discord, on Reddit, ModDB, the Paradox Forums, and Alternatehistory.com.