Life has been hard on me lately. As I was working on my entry for js13k 2017, I took a big slap in the face (figuratively) which slowed everything down in terms of game development, hence why I haven't posted any updates for a long time and delayed the game's release.
But enough with the sad stuff, let's talk about positive things: games!
New Target Release And Demo Coming Soon
I was originally looking to finish the game by mid September, but I obviously didn't meet that target. As a result, I am now committing to release the game by mid November, which gives me another few weeks to address feedback, fix bugs. That should be enough since I don't plan on adding any major features until after the release.
I am also going to try to publish the demo on Steam just before the release.
Testers Wanted
As I previously mentioned, Glitchbuster is very close to being completed. I am now trying to get feedback from testers.
If you're interested in trying out the game, just let me know! I have binaries for Windows, Mac OS and Linux, as well as a web version in case you'd rather try that.
I am looking for general feedback on whether mechanics are clear enough or not, if the controls need to be tweaked, and general impressions.
How I Won My Own Game At js13k
As I mentioned, I did submit an entry for this year's js13k: Lost Beacons. It is a simplistic real-time strategy game about territory control. The game did well in the competition, in fact it got ranked third, which was not as good as what I did last year with the first version of Glitchbuster, but I'm still happy about it given the challenge I gave myself: I don't play strategy games, I don't really like them, and I only had 13 kilobytes to make it happen.
Anyway, the funny part of this story is that I ended up winning a Steam key for Glitchbuster, since it was one of the prizes. Check out a slightly improved version of the game at Beacons.tap2play.io if you have a few minutes.
Glitchbuster: New Stupid Glitches
While being bored, I sometimes add new simple glitches when inspiration hit. Here's a glitch that makes everything look green:
Can you guess what it was inspired by?
This is just one of so many glitches that can get randomly selected when you start a new game, and it's up to you to find the fix for it!
And here's another stupid glitch that adds rain to the game (I apologize for the quality of the recording, I wasn't planning on posting this one here):
Glitches can affect visuals, gameplay, or sometimes even both. They're always combined with other glitches, making each level unique.
Speed Run Mode
On my spare time, I love watching people beat games I love as fast as possible, and sometimes I even try to do it myself. I also realize that Glitchbuster can be beaten very quickly once you've become good at it, which is why I decided to add a speed run mode to the game.
It features a simple timer with an indication of whether you are currently late or ahead of your best time.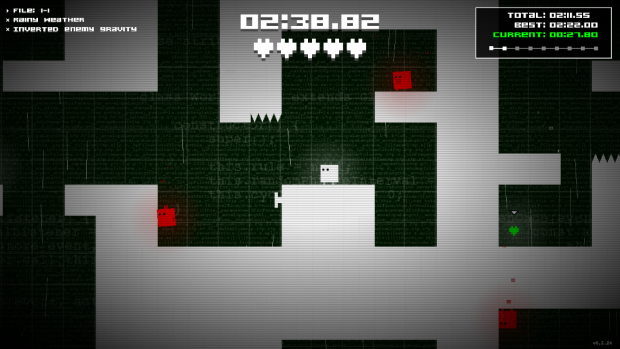 You can see the level's timer in the middle, and the speed run timer at the top right. It also indicates your progress in the game.
The speed run mode also prevents you from saving your progress.