Ten months ago, the source code for the Desura client was released under the GNU Public Licence under the name "Desurium".
Since then, our small team of volunteer contributors has been working in their spare time to resolve outstanding bugs and streamline Desurium's codebase.
We've also gained a mascot, the "Desubot", which you can see below.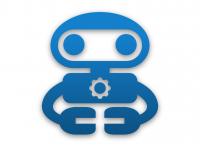 Moving forwards, the aim is for future versions of the official Desura client to be based on Desurium. Desurium will generally be further along in development, community supported, and is expected to be included in the repositories for some GNU/Linux distributions, whilst the official Desura client will be well tested and supported by Desura's support team.
Right now, we are moving towards our 0.8 interim release to provide stable resolution to issues within the latest Linux version of the official Desura client, and have entered a "feature freeze" in preparation for release. Following that, we will be beginning work on cleaning up Windows compatibility for Desurium's initial 1.0 release.
If you're interested in or excited by Desurium's development, we would love to have your feedback and input. We are actively looking for additional contributors, particularly Windows developers, but we also welcome anybody who can participate in development discussion or help with testing.
Many thanks to all of our community members who've shown encouragement and patience over the past 10 months.
Cheese
---
Useful links: