Scott and I have just traveled halfway across the world to attend GDC 2011. We honestly believe it is the best of the game related conferences out there. Like previous years we we had two major objectives this year. The first was to meet as many developers as possible, putting faces to names and business cards into hands. The second was to meet game publishers and developers with the intent to sell their products on Desura. We were successful at both. Aussies just know how to network!
Since not all of our members can make the pilgrimage to GDC I decided to go over my personal experience, the people I met, the games I played and the booze I consumed.
Monday
Both Scott and I arrived from Sydney Australia fourteen hours in the air and two hours before our good friends from Wolfire had a keynote on the Humble Indie Bundle which regrettably we had to miss due to our now unnamed airline misplacing my luggage. Quite a fumble that cause my wallet quite a bit of grief.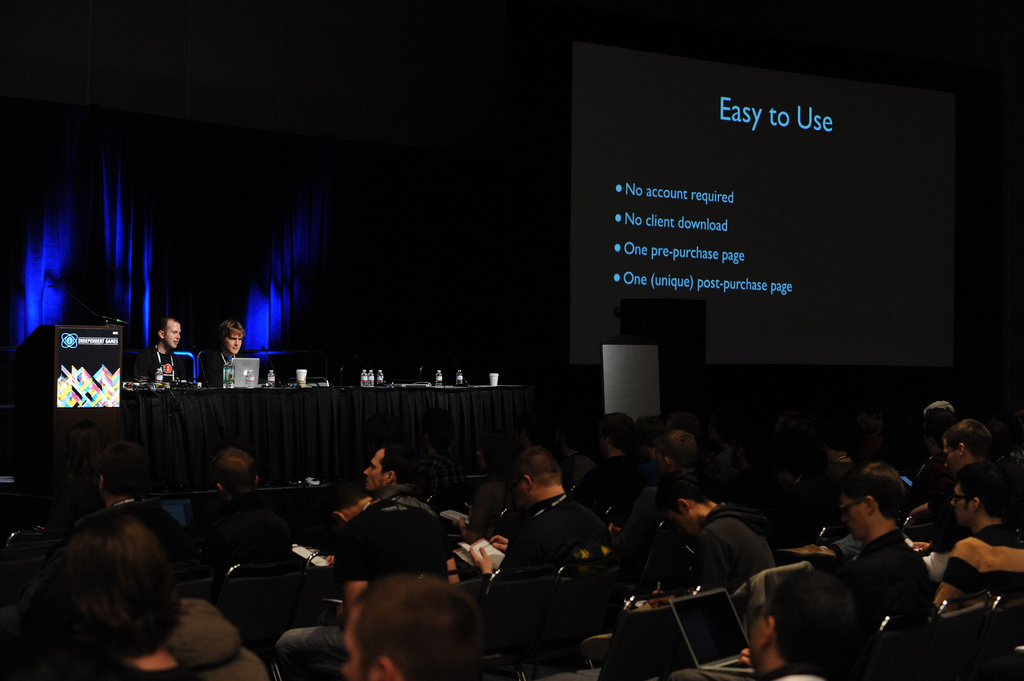 The previous year at GDC I found myself running around to a whole lot of lectures going back and forward between the Indie Game Keynotes and other assorted AAA related talks. In my experience the Indie speakers where a lot more entertaining and relevant for my likes, so for the 2011 conference that is where most of my time was spent.
Here are my favorite keynotes from Monday:
Team Meat Presents: SUPER MEAT BOY, A Team Meat Meatmortem
The postmortem or smartly renamed meatmortem was a funny look back at the making of Super Meat Boy from the roots of the popular flash title Meat Boy. While Edmund McMillen was not in the same room, instead we received an interesting insight to his home office via webcam and Skype which included interactions with his cat.
Turning Depression into Inspiration
Michael Todd from Spyeart, talks about how he deals with depression while making video games, how he turns what normally is a state-of-mind that does not promote creative thinking into productive and useful development time. Very interesting keynote.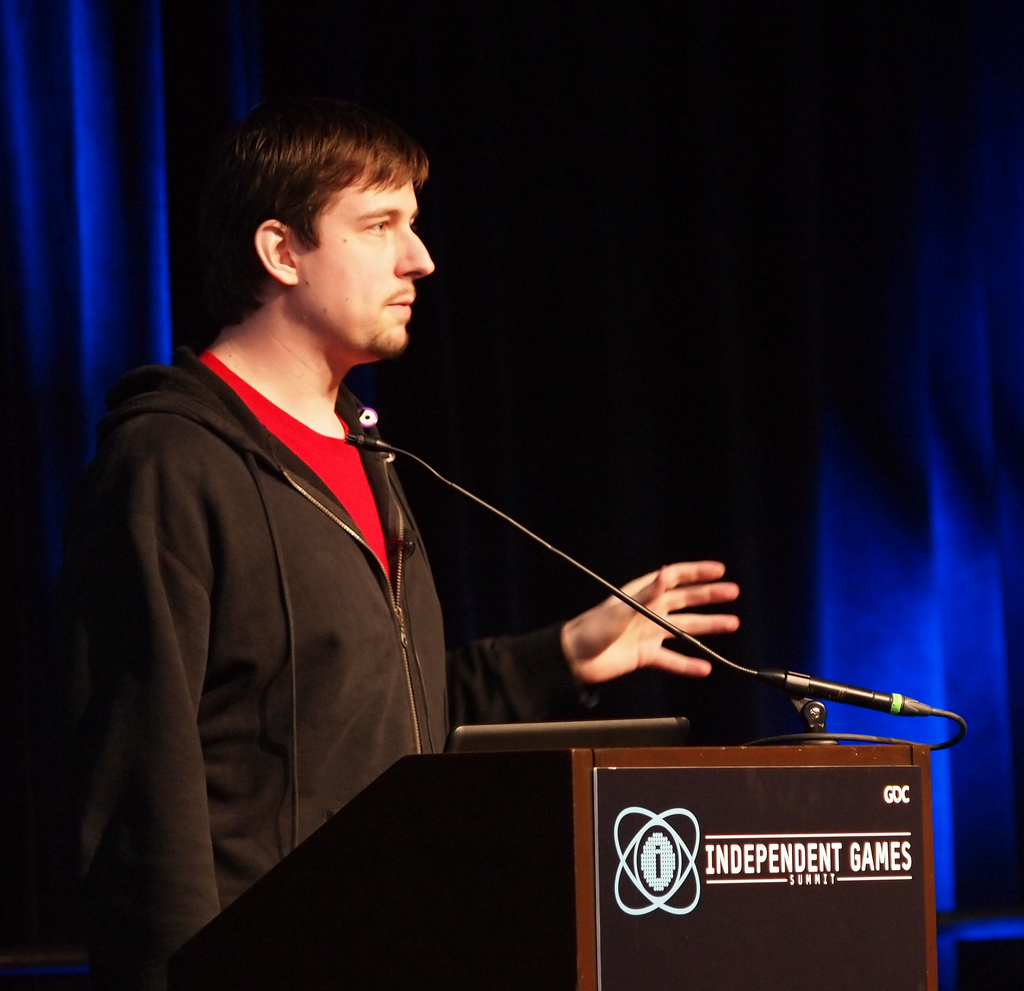 From AAA to Indie: Three Start-Up Stories
It was exactly how the title states, three very different but entertaining stories of how three developers Ichiro Lambe (Dejobaan Games, LLC), Jake Kazdal (Haunted Temple Studios) and Daniel Cook (Spry Fox) came to give up the high-life of working for the man to end up working for themselves making Indie games (possibly the better solution).
After the keynotes finished for the day there was a mixer just outside of the indie hall which marked the beginning of free booze for the event. I met up with Ichiro and Leo from Dejobaan Games. They both told me a wonderful story of the night before, they somehow managed to amass a collection of over 60 indie developers, wonder around the streets of San Fran looking for anywhere that would manage to serve the thirsty developers without running out of booze. This spawned a great idea of getting together tomorrow night a collection of trusted press members and developers looking to make connections lubricate them both with beer and see what the result would be.
I agreed to this social experiment, I like beer.
Tuesday
Woke up after I passed out from exhaustion from the worlds longest day yesterday, not much time to rest at GDC and you really don't want to miss any of the important keynotes as it only happens once a year.
At around 10am Scott and I went to see Paradox Interactive the publishers behind awesome indie titles like Mount and Blade and Magicka to put faces to names and talk a little more about getting their games on Desura. The mood in the office was awesome, having just announced the DLC for Magicka entitled Vietnam which is a parody to BFBC2: Vietnam. We will be keeping in contact with the Paradox people, they are very cool to work with.
During one of the earlier keynotes of the day I received a call from a stranger on my mobile, it happened to be Alex Quick the original creator Killing Floor and the upcoming shark eatum-up Depth. It was a quick meeting, one of the many to come in the next few days.
Like Monday I spent all of my time absorbing the Indie Keynotes, my favorites for Tuesday were:
Indie Fund: Lessons from the First Year
Indie Fund is (if you do not know already) a fund setup by a handful of successful indie developers looking to support other exciting indie projects by funding development with money from their own pockets. Kellee Santiago (thatgamecompany), Ron Carmel (Indie Fund - 2D Boy) and Nathan Vella (Capybara Games) were the reps from Indie Fund, and Andy Schatz (Pocketwatch Games), a rep from Shadow Physics and from Q.U.B.E. were the mystery fundies. The chat was all about the last year of funding, how it worked and the experience of being a active supporter in a games development while trying to not influence the games overall direction.
The Next Steps of Indie: Four Perspectives
Four new speakers to go over their projects and the history of what they are trying to accomplish. Brian Provinciano (Vblank Entertainment), Dajana Dimovska (Copenhagen Game Productions), Jeff Hull (Nonchalance) and Luke Schneider (Radiangames) each gave a stellar talk about their works but the big Aussie thumbs up goes to Brian Provinciano for his work on Retro City Rampage, the game was spawned from his earlier work that was slated to be released as on a NES Cart, his talk blew my and many other minds. Even Scott was impressed.
How to Win the IGF in 15 Weeks or Less
Simply put this was the story of how Andy Schatz (Pocketwatch Games) created one of my personal favorite upcoming indie games Monaco and won last years IGF in 15 weeks (it also won our upcoming Indie of the Year Editors Choice last year FYI). Mostly it was told in the format of a postmortem but considering the game has yet to be released I wouldn't really call it that. A very interesting talk, and it ended with three people selected from the crowd being able to play a small portion of the game. No matter how high I put my hand (I blame my lack of height really) I was not selected. Bugger.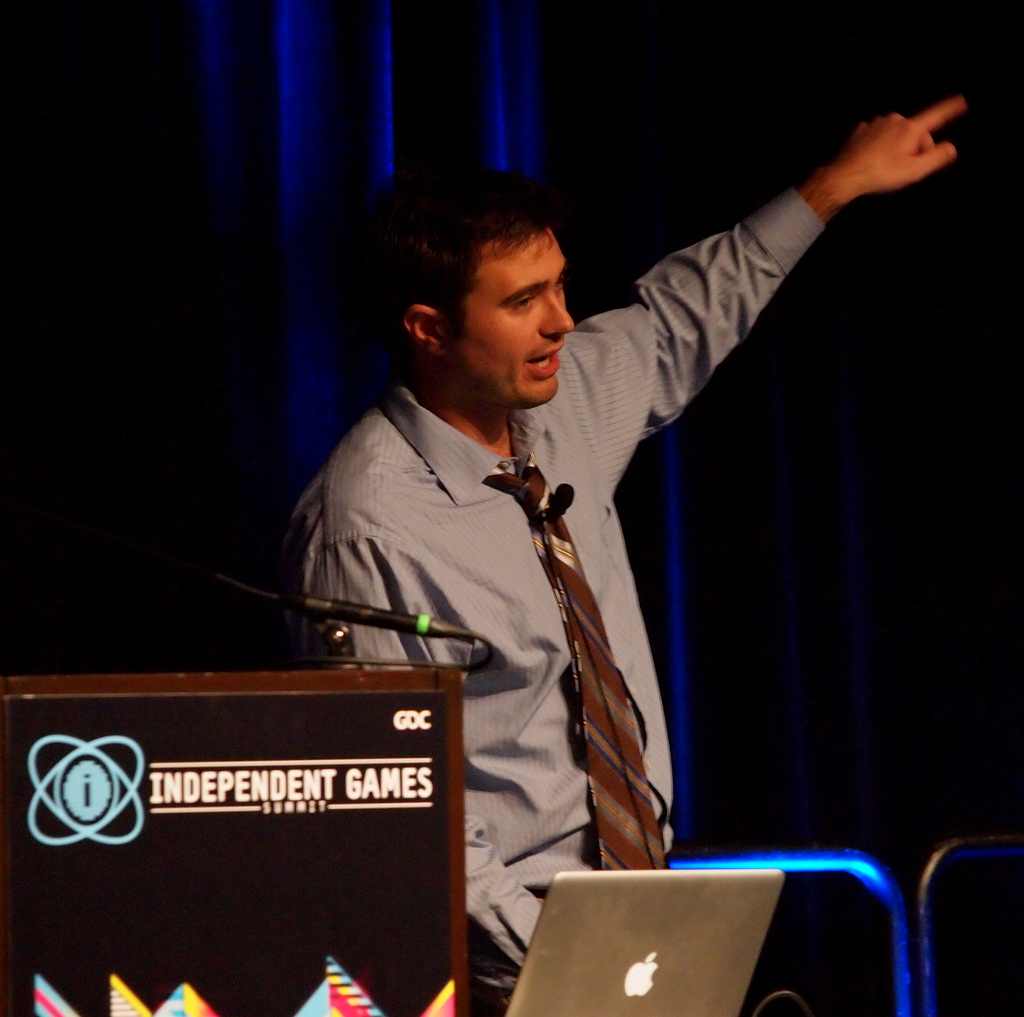 After the end of the last Indie Keynote for GDC 2011 I met up with Leo and Ichiro to get a bite to eat before everyone started to show up at the quickly thrown together Indie and Press meet up. It did not take long before Indies were crawling out of the woodwork. I got the chance to grill Andy Schatz about Monaco (did you know that the modding support in Monaco will be in the form of custom levels that are the size of a picture that doubles as a preview image for the level itself?), meet up with Geoff and Peter from DIYgamer, James and Lisanne from Indie Game: The Movie and Alexander the developer of Hazard: The Journey Of Life. Oh and if anyone is wondering, I had steak, well done with mash. It was awesome.
After a while that gathering died down a little, the left over people Leo and Ichiro from Dejobaan, Alex and Chris from Depth, Geoff from DIYgamer, Scott and myself headed off to a party hosted by Qualcomm at the Snapdragon. It was fun, mostly dudes dancing like losers and knocking drinks from guys hands while doing the matrix (Alex I'm looking at you here bud). Everyone split up at that point myself and Alex on the other hand partied on for a few more hours.
Wednesday
Still super tired and the sleep was no better this time either. Possibly the large quantities of alcohol that was consumed. With no keynotes to run off to this morning it meant that Scott and I could realistically relax for a bit longer then usual, since it was the first day of the exhibition floor was open I was in no rush to get down there.
Just so everyone knows I wont be covering anything other then the Indie stuff and developer interactions here, the entire GDC 2011 has been covered on multiple websites, I would like to focus mostly on the indie scene.
After wondering around, taking in the sights and well taking into my bag any freebies I could get (hands up if you got a kicken rad zombrex pen from the Capcom booth!) I met up with mflux who works on Blade Symphony and is apart of the Puny Human team, we wondered around for a while before heading off to the Valve booth so Mike could flaunt his stuff. While he was doing just that I ran into Cliff Bleszinski from Epic. After introducing myself we had a quick chat about Desura. I also got to have a chat with Markus (Notch) Persson both him and Cliff were humble guys. Cliff would have you believe otherwise.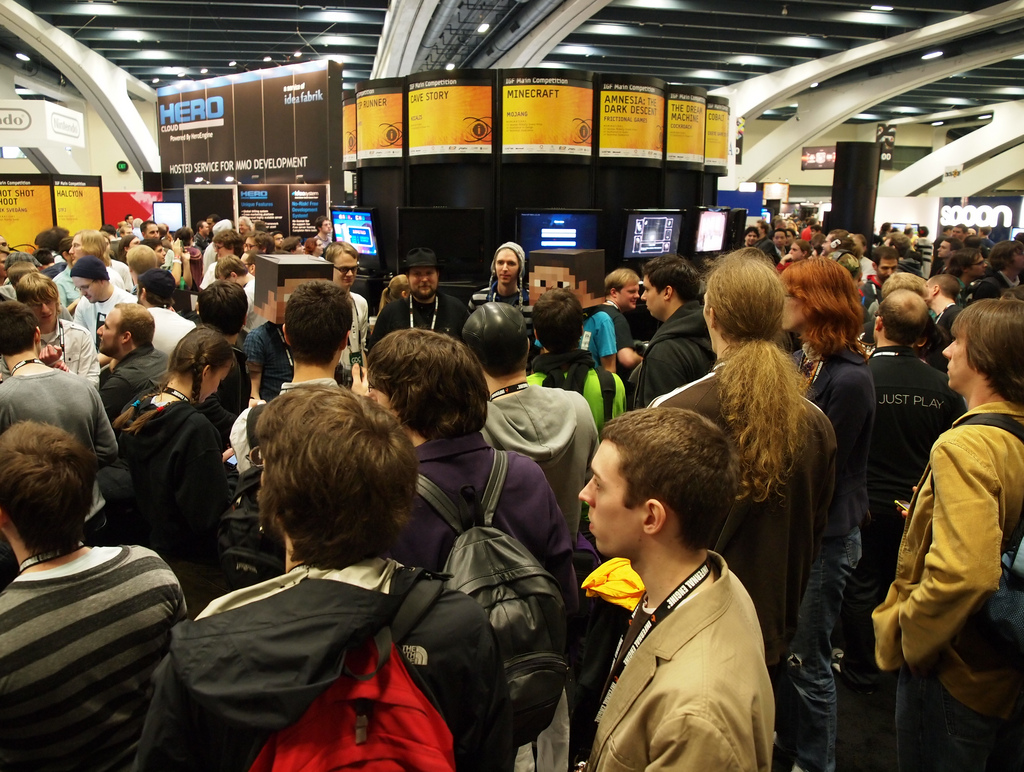 When the show floor closed Scott, Alex and I went over to the GDAA (Game Developers' Association of Australia), it was a damn shame the party started at the same time the IGF Awards did, so we missed out watching that event, however the party was really nice. After the IGF finished Geoff met up with us at the GDAA party, we ran into a handful of Australian iPhone developers, in fact the entire event had a large amount of mobile game developers, something we are looking into supporting more.
As our group grew larger we decided to head on out into the night and show up at a few of the free-drinks supported parties. The first stop was the IGN party then the Unity party. We all found out that both where packed, uncomfortable and well loud. You really could not network at all during events like that, complete waste of time honestly.
Our last stop for the night was the Nordic party, while waiting inline to get access a gentleman warned me about the crappyness of the party we were about to enter, however at that point there was not a whole lot else we could do so it was literally our last stop for the night. He then told me about how he and a few buddies would be heading up to his penthouse to drink fine expensive booze and chat the night away. I turned to Scott who was waiting in line and I said "I'm going with this guy". One taxi ride later and Chris, Alex and I where in the penthouse of the St Regis, the man I met was Akanu Franks executive producer of Beefy Media. It was a very awesome experience, meeting someone who was so well connected to a whole mess of developers.
Thursday
Once more today was a exhibition day, most of my time was spend enjoying the Indie offerings, so I figured this would be a great time to go over my favorite indies at the event.
Nidhogg
OH MY GAWD! Nidhogg by far my favorite indie thing at GDC 2011. The best way to describe the gameplay is like a violent and fast paced tug-o-war where two players face off using swords and fisticuffs to defeat the other player. Once there is a winner the control of the camera is given to the player left standing and the other respawns a second later. If you manage to get to the goal on the other end of the map you win.
I want to be playing it right now.
Spy Party
One player is a spy trying to blend into a crowd and complete spy related activities, the other is a sniper looking in on the party, your aim is to snipe the other player once you work out who he/she is. Very awesome to watch and play.
Desktop Dungeons
What can I say? I'm a sucker for rougelikes (some will say this isn't rougelike but it is damn you!). While there is a alpha out that everyone can play the updated version they had at GDC was epic, its a must play or a must look-out-for either way you should be excited about this!
There where so many more indie games at this years GDC but this post is already long enough. One special mention goes to Super Crate Box on the Winnitron 1000. Mulitplayer anyone? (bonus points if you can spot me in this video).
That night we had planned to attend a Scandinavian party called Kill Screen. However due to Alex not thinking ahead he missed out so I went with him and had a quite little chat with Alan Wilson from Tripwire Interactive. It was good until the god-awful band started playing shitty music all night.
Friday
GDC was coming to a close today however there was a few things myself and Scott did get done, the first was that our friends from Design3 were doing video interviews, so Scott and I were interviewed in video format along with plenty of other Indie teams.
Scott and I then attended the Classic Game Postmortem - DOOM keynote. It was a very cool look at how John Romero and Tom Hall from the new studio called Loot Drop designed the original Doom back in the day.
We had a meeting with James and Lisanne from Indie Game: The Movie, and Anthony Carboni from Bytejacker showed up out of the blue, managed to grill him about not responding to my email about judging last years IOTY. Hopefully this a start of a beautiful friendship.
Later in the evening we had dinner with all of the present Tripwire Interactive crew at GDC, waiters love just love to fill your glass with water to the point were it was annoying. Annoying waiters but awesome company, the Tripwire guys are so very easy to talk to, not to mention funny.
Saturday
The last day for us in San Fransisco, we did nothing until 1pm, then it was shopping and lots of walking around. Later on we met up with Roy Hui from MMGN which is a Australian gaming website. We could be possibly working closely with MMGN in the future as us Aussies got to stick together.
16 hours later and I'm back at home.
This really ended up being a much longer write up then I first thought it would be, there were other things that happened at GDC like a dinner with mflux and meeting more people then I can possibly remember, so sorry if I didn't mention you feel free to grill me about it later. Hope you enjoyed this, next time I feel it would be better to write all of this as it happens that way it wouldn't be so long and drawn out.
Live and learn I guess.