So the *first* major change affecting the Linux client is here, and it concerns how we handle a games dependencies. The old method had each library included with the content, which as you can imagine is problematic when a library is missing. It also causes conflicts when the same library is already on the system.

The new method allows easy selection of libraries from the administration panel and the client handles these in a much smarter manner. It first scans your system to make sure that you don't already have the library and if its missing it downloads and sets the library up for the game.
This new method also allows better handling of dependences like Java, Mono and Air which comes with a improved prompt that offers help if they are missing.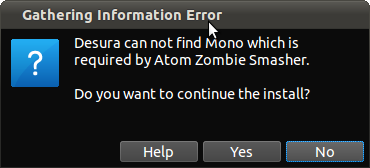 Another feature that was requested was the ability to set a different binary to launch games via and this has now been added to settings along with an option to add global launch arguments.

The issue with forms not being tall enough to press the buttons should be fixed along with Desura not saving relative paths so you are free to move Desura around where ever you please.
Due to the massive changes in the way games work some games might not work correctly as we are still in the process of testing them all and as always please report bugs on the forums. This change will also mean you are prompted to restart the client after the next auto-update.