Hey everyone I'm Josh, the lead designer on Desura. After Scott's "2011 Musing's" I would like to start off the year with a series of posts revolving around the design of the Desura website and application by sharing some of the designs I'm working on and also gathering as much feedback as possible from the community.
The first of three things I would like to show you all is the play list of the Desura application. The play list features all the games and mods that you currently own, in a single library view. All your games will be sortable and filterable by name, rating etc. An idea that is currently on the burner is the ability to sort your games by the current number of your friends playing, so it's easy to see what game or mod you have a higher chance of playing with a friend at the current time.
The image below shows the art list view, where one can easily find their mods listed under the game they're based on. The art that to the left of the list would be optional, therefore if you wished to have a simplified list where only the basic information you needed was displayed, this is also possible.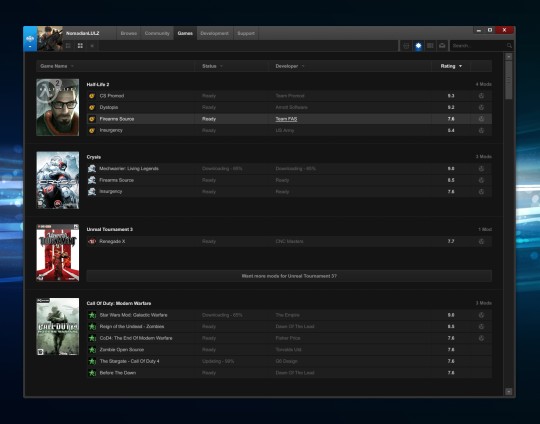 The second view is of the box art grid where those of you who love the eye-candy get to take a new look at your mods and games, hopefully making you feel like you own physical goods when downloading your mods and games. If you want to change the box art to your own custom image then just drag the image you want into the box.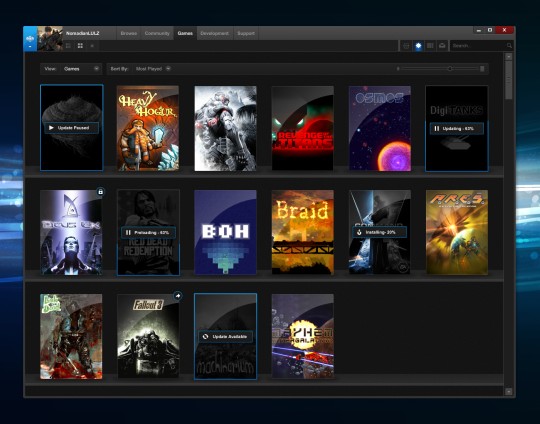 Last but not least is the website. This is the current state of what we think the way you browse games will end up looking like in the new overhaul. Let us know, is this how you really want to browse your games? Does it look like an improvement on the current website or other digital distribution services? Should we focus more on news and rotating through fresh content? The design below features the revamped games page where one can browse the games on offer as well as see real-time data from the community on the right. The top banner, where there is currently the A.R.E.S image, would rotate between a variety of games determined by the editors based on current popularity, new releases etc.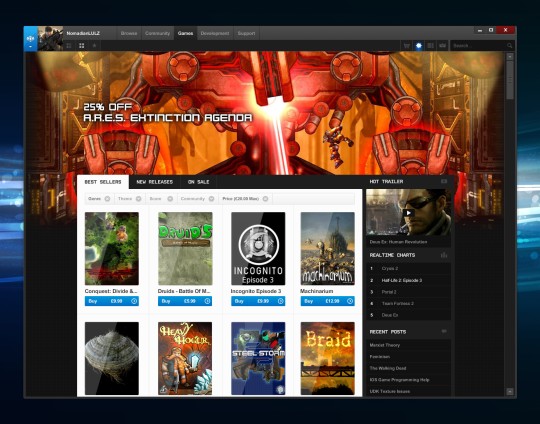 A few key questions we'd love your responses to:
What content & features do you want to see on a game's profile/selling page?
What content & features do you want to see on your own and others profile page?
What application features would you like to see in the future?
Be as creative as you wish when requesting features. Hopefully this has given you all a brief insight into some of the work I've been doing and do let me know if you would like the next post to be longer, feature more images or anything else you can suggest. Any feedback that you could send us is very much appreciated and we will work hard to make a really awesome application that you all want to use every day. I hope that you all enjoy Desura and even if you find things you dislike, please tell us and we'll work hard to improve it. Thank you for taking to time to read this post. If you would like to keep up to date on future design posts, feel free to follow my blog at www.joshcollie.com/notebook