As promised, this game contains free-roaming dungeon sections. You'll be able to wander around the map, flip open your spellbook, and choose any spell you have learned so far. The spellbook can be sorted by name, color, or cost, to make it easier to find the spell you're looking for (there are already over 50 different spells coded into the game, and we're not done yet).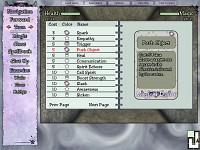 Spells generally target either your current location, an object in your current location (the sidebar shows what objects are in your location and allows you to look at them), or a 'known' location (any square uncovered on the map).
It doesn't matter how you solve the dungeon, only that you do it. But that doesn't mean there are no consequences for doing something particularly stupid. (Casting a fireball on yourself is probably not a good idea.) Behave like an idiot, and you can land yourself in detention.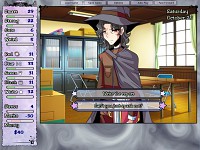 ... of course, some people consider that a feature. (The things a crazy schoolgirl will do to get the attention of a professor!) But if you push your luck too many times, you'll get kicked out of school before the year is over.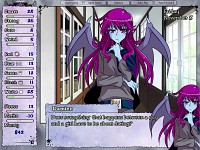 As the game takes place over the course of a whole school year, relationships can't build too quickly. You won't be tied irrevocably to any particular character until very late in the story - which gives you plenty of time to fool around, flirt with everyone, make mistakes, and then work your way back into their good graces in time for the Prom. You do not have to play 'perfectly' to get a character's ending! You do not have to follow them around and agree with absolutely everything they say. (What fun is that?) Just as with the dungeons, there are many paths to success. It is possible to insult someone badly enough that they will hate you forever and can no longer be romanced, but you'll generally know when that's happened.
Current game status: Over 60,000 words written and the plot is up to Thanksgiving, so still a long ways to go. We're planning on opening preorders in the near future for people who want to get in cheap and help test while the game is still in development. Stay tuned for more information!