The title of this post is a bit of a misnomer: whilst Cloudberry Kingdom may indeed be the world's hardest platformer (Pwnee are even offering $1000 to the first player to beat the game on its hardest difficulty), the AI that creates the game's levels is capable of adapting to any skill level - from outright beginner: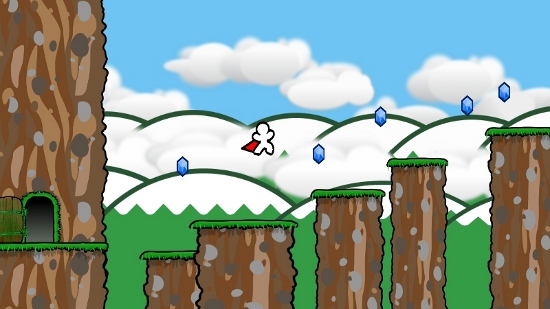 ... to platforming god: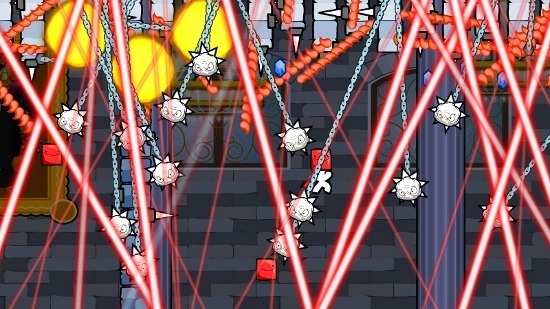 When I first started playing the beta, I didn't know that all of the levels were generated on-the-fly - but I kept thinking about how cleverly they were designed.
The level design reminded me of the Super Skills hint videos from New Super Mario Bros Wii, where some of the levels can be completed at break-neck speeds with perfect timing.
Check out this trailer to see what I am getting at:
After three years in development, the game is nearing completion, but it has drained the developer's cash supplies.
So, Pwnee have turned to Kickstarter to fund the final stages of art and animation. The total presently stands at $15,000 of the project's $20,000 goal, with four days remaining. If the project gets over-funded, then they'll use the funds to add a lot more material to the game.
Pledges $15 and over will be rewarded with either a Windows (Steam) or Wii U version of the game when it is released, as well as access to the beta that is currently available and playable via Steam.
They are also planning a Linux port after the other versions have been released, as well as possible availability on Xbox Live Arcade and Playstation Network.
For more info, or to make a pledge, see Cloudberry Kingdom's Kickstarter page (their video is especially worth a watch). To quote from there:
"Help us make the most replayable game in the history of replayability."