A happy new week to everyone!
Today we have a special announcement to make, involving you. Yes, YOU, our fans! Because we are planning to do the first official "CrossCode Fanart Contest"!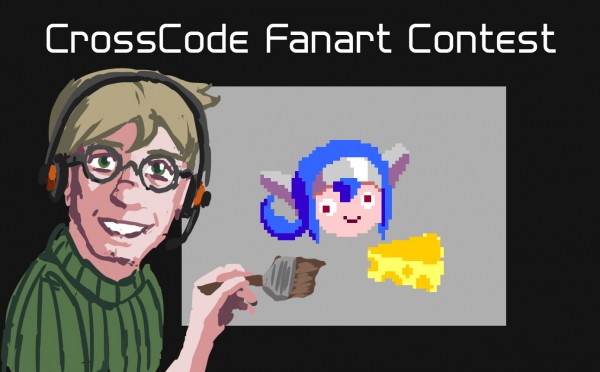 Everyone can participate and have fun creating fanart for the game. All characters, enemies or other topics are fine, as long as it's directly related to CrossCode. Wanna draw Captain Jet having random adventures with his trusty jetpack, a group of Meerkats rocking out or Lea's Fanboy fawning over his stash of CrossWorlds merchandize? Go for it!
Of course the entries are limited to art that we can actually show in public, so keep it safe for work.
Participate by sending your art to:
fanart@radicalfishgames.com

Submission Deadline: March 20th, 8pm (GMT+0100)
And because it is a proper contest, there will be prices as well for the three entries that we like best. A detailed explanation of the prices can be found among the perks on our Indiegogo campaign. You can send in as many entries as you like, but only win one price. If you already got the perk in question you could just get two of those... or we'll think of something else!
1st place: Poster + T-Shirt + Custom Avatar (see "Avatar"-perk)
2nd place: Poster + T-Shirt + Custom Statue or Monitor (see "VIP"-perk)
3rd place: Poster + Custom Food (see "Chef"-perk)
Disclaimer: The material goods (poster & T-Shirts) will only be available if the crowdfunding is successful. The other prices will definitely be included once the game is finished, one way or another.
Looking for some inspiration on the characters?
Click this link to find a list of characters concept arts from us!
We are looking forward to your entries!
Indiegogo updates, round 2
---
All the Indiegogo updates can be found here and be read in greater detail. On this blog we'll just give you a small summary as follows:
How to upgrade pledges and use transformation magic to pay in € with whatever currency you normally use
Sanctuary Crew streams CrossCode with Lachsen and RD
Mysterious poster design and press/Youtube roll
What happens if the campaign doesn't reach it's goal (unknown release date & full refund!), an idle pose and the weekly developer livestream
We got covered on RockPaperShotgun!
Game Updates
---
The newest version you can download here in IndieDB or play on our Website includes a fresh batch of fixes and also includes German as a possible language! That#s right CrossCode got it's first language next to English. In the future we add more languages. The following is a list of changes included in the newest version of the game!
Added German as possible language! Go into the options menu to switch languages
Added custom mouse cursor graphics which better display when in the close combat range
Fixed several critical bugs resulting in crashes
Better Fullscreen visibility for the mouse cursors. No more tiny mouse cursor!
And that's it for now! We'll see each other soon enough, because I smell a fresh new game version lurking around...