Hi everyone!
The important thing first: we finally updated the CrossCode Demo! The new version fixes several bugs and has small improvements here and there.
You can find the new version in our newly revamped webpage:
Of course you can also download the newest version here on IndieDB!
Also, we finally got a proper trailer:

(some artifacts going on there, we might upload a better version soon)
Kudos to Taifuuni Advertising, who helped us a lot putting this trailer together!
So what changed in the new version? Just read on!
First things first
---
So we'd like to get one thing out of the way first, because it's kinda urgent:
If you do like CrossCode and you'd like to support us, please consider voting CrossCode for "Indie of the Year 2014" at IndieDB! Just go back to the main page and press the red button!
We'd very much appreciate it. Note, that the vote only lasts about two more days!
All them bugs
---
So after the long crunch time we had the week before the release, some of us actually thought we'd be finally able to relax a bit. We thought wrong. This is what happened: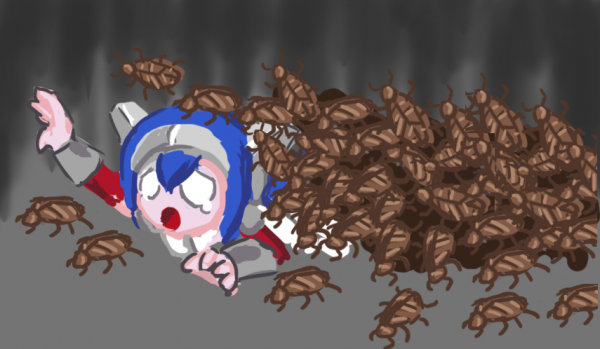 Bugs!
Like... so many of them! Well, that's to be expected when you only have a very short beta test and add way too much content and features on the day of the release.
Serves us right.
Or in other words: we're sorry for the buggy release and are really humbled that so many of you still enjoyed the game. And also we want to say a big thank you to all the people who sent us these detailed bug reports! Thanks to your help we managed to fix a lot of the problems.
Here is a short (incomplete) list of things that have been (hopefully) fixed:
The crash at the end of the puzzle mode and several other occasions
All those saving, loading and respawning issues, such as resetting levels, non-resetting skills and overlapping with things like blocks that moved back to their original position
Canceling Shizuka's special attack and other crazy stuff
Pulling yourself backwards through walls
Display bugs in the equipment menu
A whole bunch to map errors
Wrong treasures count in the exploration part (... we're sorry!!)
So apart from all these fixes, the new version also has a couple of changes:
Damage is computed slightly different now: compared to before, you do more damage on enemies with very high DEF and slightly less damage when you have very high ATK.
You can now reset your skills by talking to Carla in the Exploration mode. It'll cost you some credit (finally you can use it) but it's not much.
When loading a game your position is always at the point where you last entered the map.
Shizuka's special is now slightly more awesome. I think.
Your old saves will hopefully work, but we changed some things there. So it might be that you'll start at the wrong spot in the map. This shouldn't be a problem in most situation, but in others it might. We're sorry if this should break some of your save states!
The standalone version of the game has been extended by some libraries that might improve performance on some machines. If the standalone was running much slower than the browser version you should give the new version a try. And please tell us if it works or not.
Reception
---
Overall, we're quite content with the reception (especially considering all the bugs). CrossCode also has been featured in several videos and webpages. Here a short list:
...and we didn't really reach out to the press yet. Wow! That's what we plan to do next.
Next steps
---
Apart from more bugfixes (there will most likely be some bugs left in this version, so keep the bug reports coming), we now have to prepare for our big Crowdfunding Campaign in February 2015.
You can expect an extended demo (like a Demo++) to be released around that date as well. And what will be new in this version? We still need to plan this. But most likely there will be more puzzle content and more interesting stuff to do in the Exploration part. Maybe even a bit more plot. That depends on how much time we'll find in the next two month.
And that's all we can report for now!
Again, a huge thank you to everyone playing our game, submitting bug reports and giving valuable feedback! We wouldn't have come so far with CrossCode without your support. :D
Until the next update!