Time for me to work through some more awesome suggestions from playtesters. On today's list: The crafting overhaul and a couple of small text adjustments.
One of the best playtesters of all-time (called Simon), had played my game for a while and told me he wanted me to change some of the controls. Valuable information to me, as no one else before had ever spoken about that. He told me it was annoying that when you're crafting, the guy doesn't always spin into the correct direction. This happens when there is a 90+ degree difference between the camera and you, and you'd have to move the mouse to the right, to rotate left.
This is, indeed, annoying and I decided to go fix it, right away. First off, it didn't really go as well as I'd hoped it would and eventually I just ditched the entire rotary system. Instead, I'm now using screen space to 3D-space conversion (where your mouse is, is where you craft).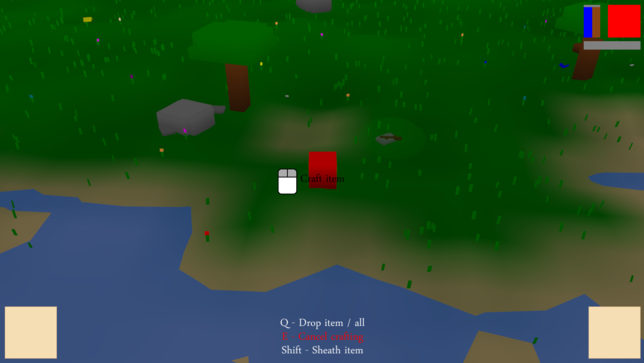 There was a bit of trouble to get it working, but now it works fine. It now feels so much better! As long as you're within a decent range of your guy, you can select any objects and craft them together. It's a lot smoother and works way better than having to rotate your guy all over the place, all the time.
Some might also have noticed the "E - Cancel crafting" in red. This is another feature Simon suggested. To him, it didn't always seem clear when to exit out of several menus, but now you can easily find what to do onto your screen. You can also drop all items from one slot now! Another cool suggestion by, guess who, Simon. Just hold Q a little longer and the 'Drop item' will change into 'Drop all'.
I really like all these suggestions from playtesters coming in. It really improves the experience of the game and I like where it's going! Huge shoutout to Simon, he really gave me some great advice + he's a cool guy.
Catch you all later!