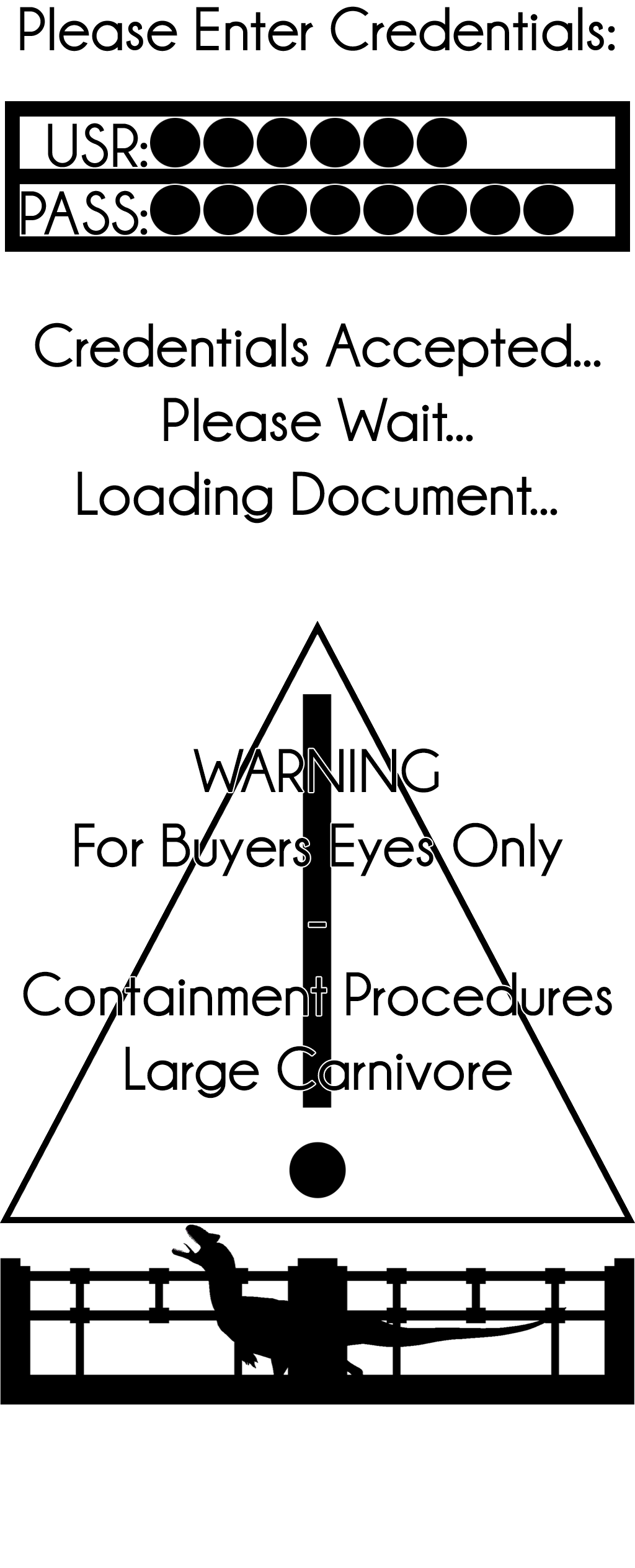 Species: S.maximus
Animal Class: LARGE
Containment Procedure:
Entry to exhibits featuring S.maximus is forbidden at all times without direct approval from the owning parks board of directors, those disobeying this order will be considered [REDACTED] by S.maximus and unrecoverable by park staff or the board of directors due to mass danger to staff and guest life. Any personnel who receive authorisation to enter the containment exhibit of S.maximus are to be wearing Class 4 Anti-Predation Suit to deter potential attack from S.maximus individuals; approval for such entry may ONLY be given during bi-weekly cleanings of the containment exhibit.
S.maximus individuals are to be fed approximately 45 Kilograms (Kg) of fresh Belgian Blue meat every day in order to satisfy hunger and prevent containment breach, this can be either from feeding the animals live cattle or through providing pre-prepared meat.
Containment exhibit entrance should not feature any direct connection to the primary park and any entrances to the area should be fully sealed and checked twice daily for signs of wear. In the event of full containment failure park personnel are to observe Class 6 Predatory Theropod Containment procedures, termination with deadly force is authorised and recommended if Class 6 Procedures fail.
Containment exhibit for this animal should be at the very least 300*300 Meters (M) in size and contain no less than three (3) individuals and feature at minimum MEDIUM clearance fencing if contained individuals show general comfort and thus lack of aggression associated with S.maximus.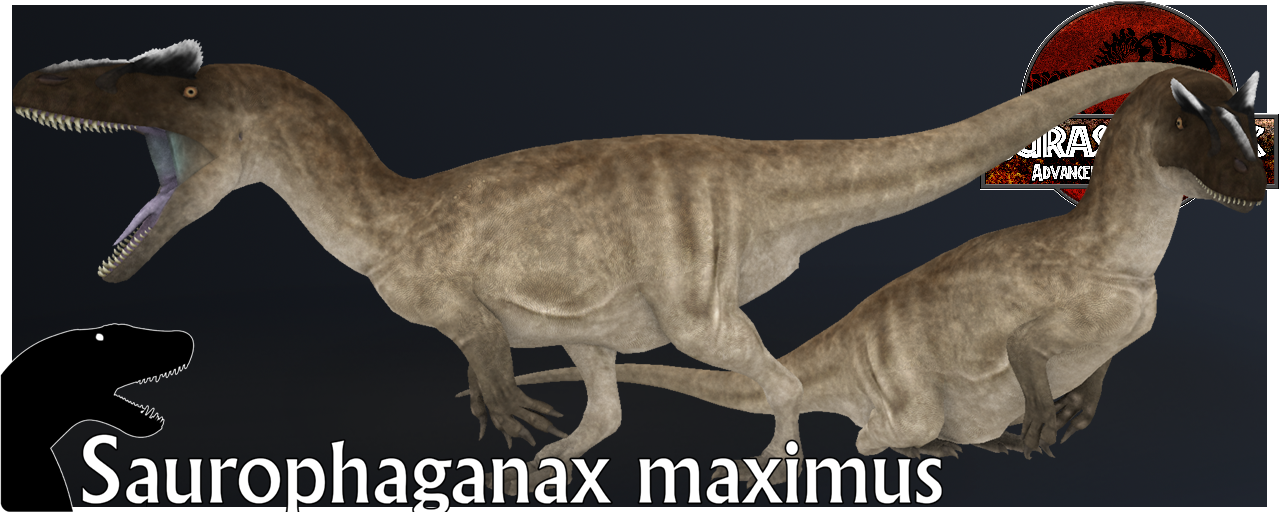 History & Description:
S.maximus is a large and highly aggressive theropod standing at 11 meters (M) in length and weighing 3 tons (T), individuals typically feature a relatively plain body with little to no visible patterning. Both males and females of this species sports very large eye-crests which feature a vivid black and white display, it is however currently theorized that these crests are used to shield the eyes of S.maximus from intense sunlight or debris when running rather than them being display organs.
S.maximus was first brought to the world in [REDACTED] and has remained a somewhat hit or miss animal with the public with their high aggression often being cited as a reason to cull the species from all existing parks and collections however despite their aggressive nature and antics these animals are relatively simple to contain with the proper procedures being followed as outlined in the previous section of this document, with the procedures being followed S.maximus individuals should be relatively calm and only display their aggressive traits upon hearing other contained Theropods within a park or collection. This high level of aggression however has made S.maximus an overall unpopular animal compared to other Theropods of its size classification putting it at a meagre three (3) stars in rating.
However in direct contrast to this the popularity of S.maximus among private collectors as a highly dangerous animal exists, similar as it did with Lions and Tigers before the resurrection of Dinosaurs, it has become a common occurrence to see several eggs available in the illegal animal trade just after mating season suggesting that there is a breeding facility with a potential location in [REDACTED], however this location is yet to be verified.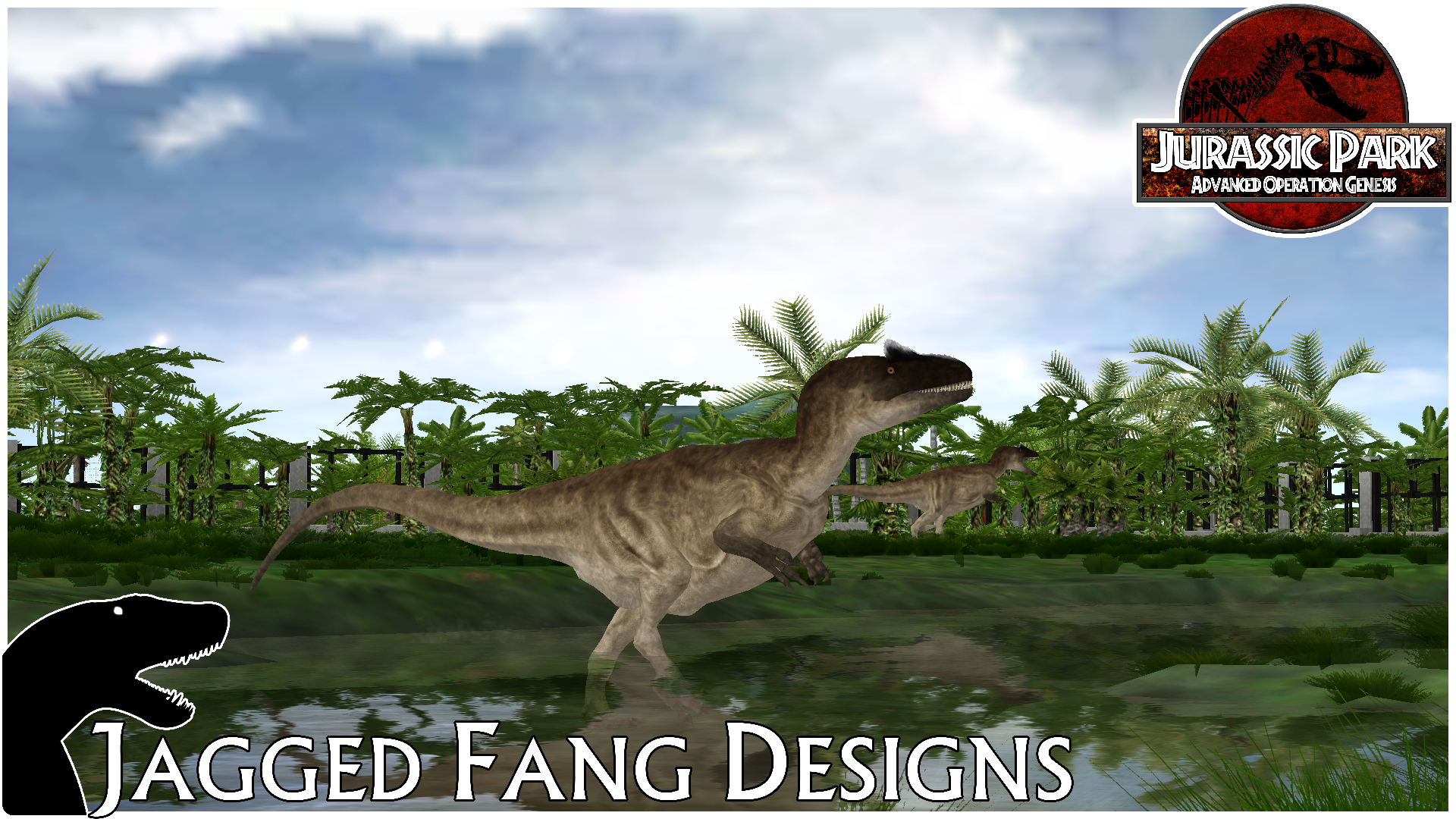 Thank you all for reading, expect more from us soon.
~Jagged Fang Designs~