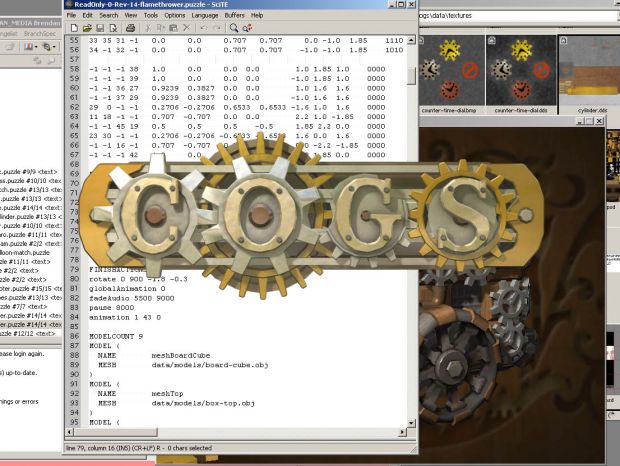 This is probably a bad day to be posting actual news, so let me assure you now I'm aware of the date and all the following is in fact true.
I had the good fortune of meeting ModDB's stenchy at GDC last week, who urged me to put up a profile for our game on the site, at which I had a moment of stupid. "Well, our game's not a mod..." I said, and then instantly caught myself. "Oh duh, of course we should be on ModDB, we're moddable!"
So allow me to introduce our game. Cogs is a puzzler, casual you might say, all 3D and being released on Steam in a frighteningly short two weeks. Probably the best way to describe it is to point you to our videos, so have a look at our youtube channel if you like.
As mentioned we're including full support for building your own puzzles and expansion packs (we just ask that you check with us before you go selling them). Puzzles are just a text file, the format of which a keen modder can likely figure out after a quick scan of an example but we'll be posting tutorials once the game is out to make sure anyone interested can follow along. You have full access to all our assets and you can add your own obj's or dds's with a few simple lines of code. We've even got an in-game material editor for enhanced tweak-ability. Once you're done simply drop a file labeled ExpansionPack___.txt in the root data directory and your custom levels will be appended to the in-game selection screen. You can even have multiple packs installed simultaneously.
We'll be sure to post more updates as we near release, but for now feel free to post any questions and I'll answer them as best I can. Cheers!
--Brendan Mauro
Lead Artist