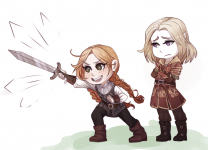 Are you ready? (Tyrna's always ready.)
Sword Daughter is now available on Steam!
Which means several things - one, it means that the achievement list had to be updated slightly...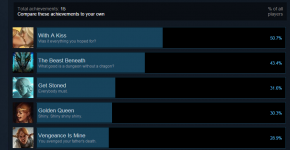 ... and also that everyone's favorite gamification bits, trading cards and whatnot, had to be added. At this point, some people have paid over $50 for Sword Daughter emoticons. I have no idea why. I cannot guarantee you that collecting trading cards will lead you to riches. I can only report that some players are weird.
Since this is a slightly obscure book, to me, it warms my evil little heart when someone actually recognises it from their childhood and remembers it fondly, and I do see some people posting that about it. Yay!
This isn't an epic. This isn't a huge, crunchy visual novel with 50 hours of reading. This isn't an RPG or a sim with stats to juggle. This is silly, old-fashioned fantasy. Get the popcorn and enjoy the scenery.