Y'know, looking at city centres now, I'm almost embarrassed by how plain and downright uninteresting they looked last week. Nevertheless, I suppose this serves as a good indication of how much can be done with a week of time, some thought, and some excellent suggestions from my fans (even if a lot of that week was spent house-hunting and a wide range of exciting vaccinations). So, here's how centres currently look. Those that have a cathedral (a Vatican-esque building, only one exists for each religion, in the home civilization of that religion, and if the religion is a theocracy, then the civilization is ruled from there) look like this: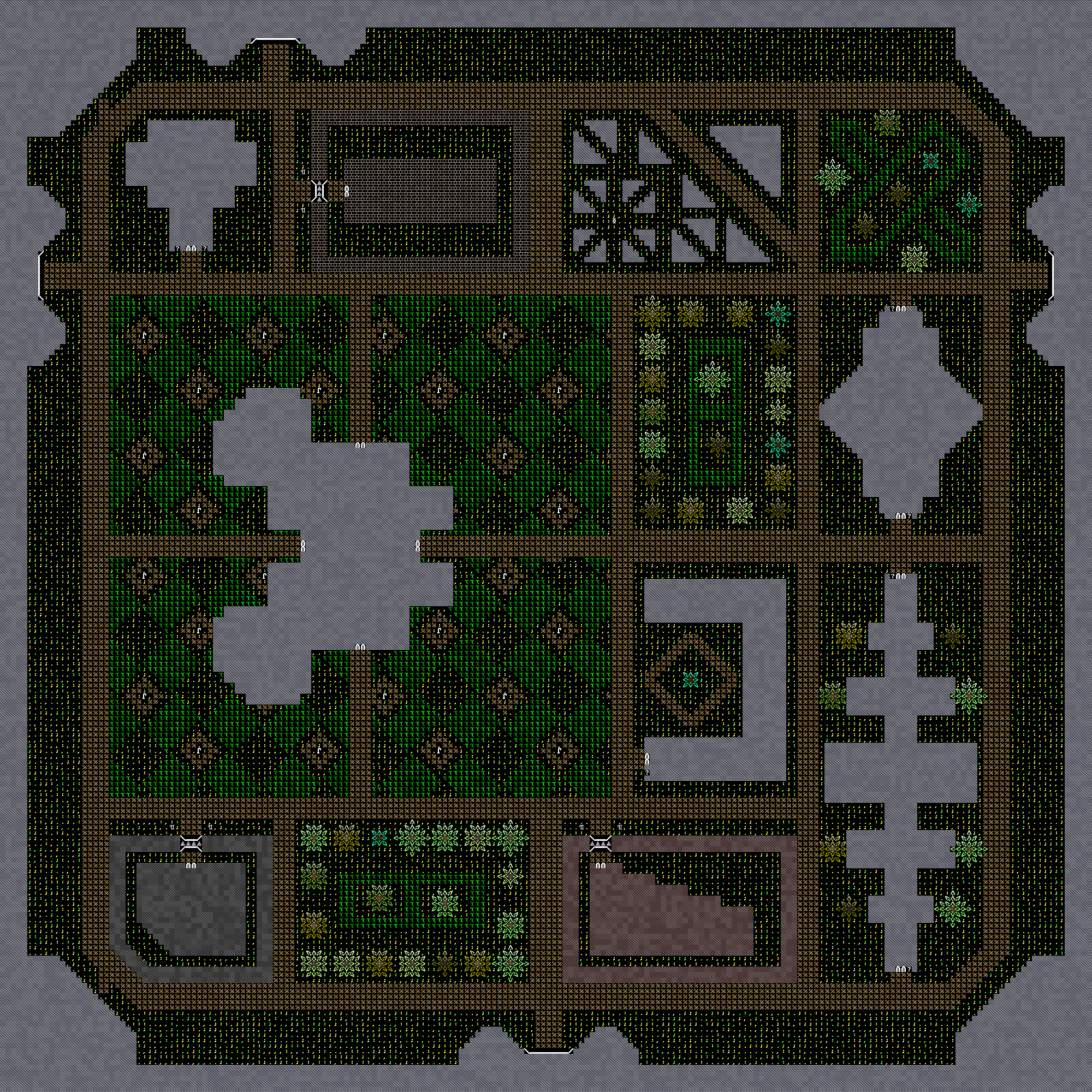 ...whilst those without a cathedral look something like this (the core "wall"/structure is the same shape, you will note, as the corner towers and the gatehouses in each district, which is different for each civ):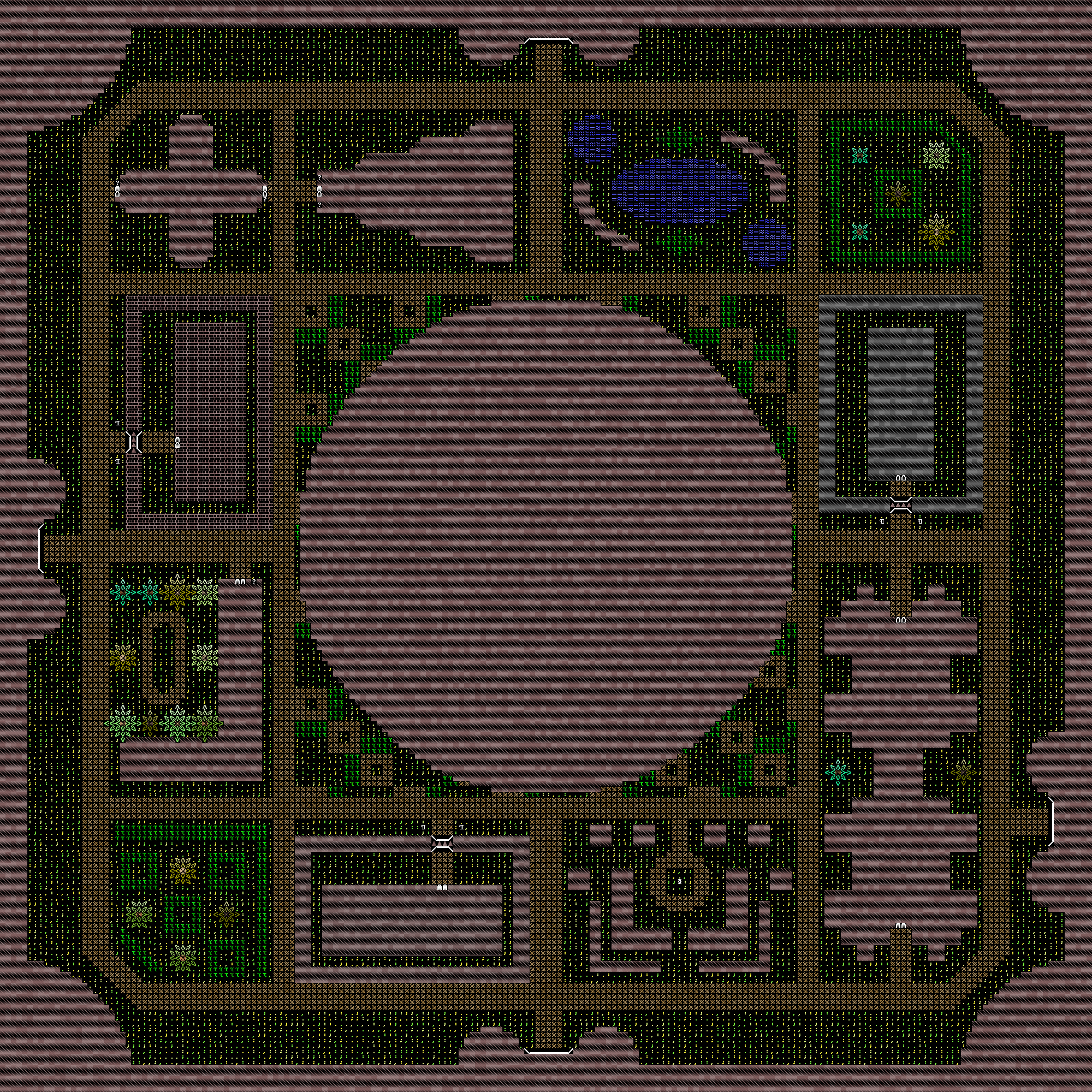 There's a range of buildings here, and each of them I tried to make look visually distinct in order to both add variety, but also add in identification when you may encounter a number of these potentially quite large structures exploring a city centre.
EmbassiesCity centres contain a few embassies to other civilizations. These are the only buildings with walls around them - I reasoned other civs would want to have some sense of security for their footholds abroad. They also have a pair of flags outside (the white symbols) which will show you what nation that embassy belongs to. I also decided it would be interesting if they used the brick style/colour of that nation, not the nation of the city centre - as you can see in these pictures, this combination and the flags make embassies very easy to identify. At the same time, I had to make sure there were never too many in any one city, so you can't learn about too many other civilizations at once. There will never be more than three embassies in a city centre, and two is around the average. They also have their own gates leading into the embassy grounds.
Courts
For courts, I found myself thinking about the shape of courts in the real world, and I came across the Star Chamber (mentioned in the Baroque Cycle, a secondary inspiration for the game). From these I decided to have courts roughly follow variations on the shape of a star, some more circular than others, some more pointed than others (though truly circular buildings are generally arenas in lower-class districts). In the first picture the court is the second building in the last column, and in the second picture it is the top-left-most building. These only appear in civs with certain justice policies, and they may be hubs for information like the wanted level of certain NPCs, bounties, and might play a role in any future legal systems that the player can fall foul of.
Guilds
I've added guilds. Currently these are mercenary guilds, from which you'll be able to acquire the most expensive and best allies (vs taverns, slave markets, etc). Fancy recruiting from the Legion of the Black Flame or the Chapter of the Bloody Fist? For these I drew inspiration from real-world guild halls which often consist of several buildings over several layers (there are many where I live in York) - guild halls are thus buildings with many "layers", and you can see one in the top-left of the first picture, and the second across on the top row in the second picture.
Slave Markets
These will crop up (as you might expect) in slaving civs - they will be closer to the open-air markets in nomadic fortresses than the enclosed shops that predominate in feudal nations. There aren't any visible here, but they consist of a small number of thick, straight lines, with clear "market areas" at their intersections where you'll find vendors in 0.8. Where guilds offer skilled and well-trained allies, slave markets will generally offer somewhat less competent allies, but cheap... though that's not to say some skilled allies might not have been trapped into slavery here and there.
Galleries
Art galleries. These are generally either an L shape (start of third row in picture 2) or a U shape (third down in third column in picture 1). These are similar-ish shapes to stables, but you'll never find a stable and a gallery in the same district (and galleries, like most other buildings, have signs outside to denote their function). They are going to contain paintings. These are going to be awesome.
Memorials
Several people suggested these, and it fits in very well with the future history-changing mechanics. These were inspired some of the larger real-world memorials which are more like something you walk around, though these also have a "statue" in the middle which will be related to a historical event. In the top picture you can see one third in the top row, and in the second picture one is third on the bottom row. Statue generation will not be fully present in this version, in the interests of actually getting it released before the end of November.
Mints
All city centres have a mint for the bank of that nation - these are similar to banks in that they are built around "blocks" and a square-zigzag pattern. The bottom-right in the first picture and the bottom-right in the second picture give some examples.
Parliaments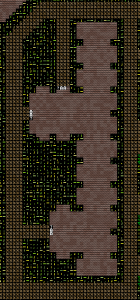 For those nations with a democratic preference, they are ruled from Parliaments. They're based primarily on the UK Parliament building, and have "corrugated" walls, and often clock/bell towers and multiple entrances. Here's an example from another city on the left. Like many buildings in city centres I would think Parliaments will have some guards patrolling outside them, and might have vaults underneath containing something. This is around a fifth of all civilizations, so parliament buildings are relatively rare buildings to crop up in city centres. Parliaments, like Mints, take up two "blocks" of a city centre, whereas all the other buildings listed here only take up a single block. There are also gardens and lakes around most city centres too, though those particularly packed with buildings may have little room for the greener things in life.
Wonders of the World
There will also be fifteen super-special buildings, approximately one in each city. In a few worlds one or two might not generate, or one or two cities might be without a wonder. These will be buildings that are sometimes in the centre, sometimes elsewhere, which are special and unique (the Panopticon in a previous post) and are to do with the story. More on these as and when.
IN SUMMARY
City centres are now actually interesting to walk around. I need to work on flag generation, but that should be a pretty snappy task. Otherwise they're pretty much finished. Hopefully next week (or at worst, the week after) I should be able to unveil an image of a complete city, which should look bloody amazing.
A final note. Development is now about... 80% of my activity? I'm not really full-timing it yet, but I'm not far off. There isn't much more doctorate that needs doing, most of my time is spent waiting for feedback and then sending in more edits. Moving house is, as things always do, proving trickier than expected, but we're still hoping to move in November. Lincoln (where we're moving to) seems to be a town inundated with flats with low ceilings, and for someone of my elevation, that is sadly not workable, not to mention that almost every flat seems to come with damned tiny bedrooms. Development is going to stay rapid until then, though, so don't think the fact I'm not full-timing yet doesn't mean we aren't back to weekly URRpdates (I remain oddly proud of that term), because we are!
(Lastly, yes, I do know I switch between the UK/US spellings of centre/center constantly in these entries. FORGIVE ME)
In the mean time, you can keep up to date on my devlog, Facebook page, or Twitter!