Past few days have been a bit crazy, but I'm still developing away as usual. Recently I've been working on adding children to the game, a much larger feat that it lets on. Part of adding the children is also coding the foundational support for animals and monsters in the future. So there's a ton of stuff going on behind the scenes. :)
But on to the kids. Your villagers start off without a mate of any kind, if their happiness is high enough they may start partnering up. Once they partner up a whole new branch of AI opens up and they begin visiting each other when they're bored or sad, they also attempt to live in the same house and if they're both in a good mode, they may even go back to their house and get frisky!
Some villagers partnering up.

.. and gettin' frisky!

Once said friskiness happens, there's a slight chance one of the two will get pregnant (Spoiler alert; the female!). Once a villager is pregnant, her production speed across the board slows down, but she can still work and function like a normal villager.
A Pregnant Villager

Eventually, the villager will give birth. Once that happens, out pops a little child. The child will gain one-forth of the combined statistics of both parents. So for example, if both parents are level 10, the child would be a level 5. (10+10) / 4 = 5. Same goes for all the other stats, like STR, DEX and INT. Additionally once the trait system is completed, the children will also inherit a few random traits from either parents and have a chance to spawn an entirely new one on occasion.
Children can't work, all they do is wander around the village bugging people, eventually I will be adding schools, orphanages and other activities they can do to gain XP on their own before they finally grow into adults.
Some kids in this shot (The ones in the lavender clothes)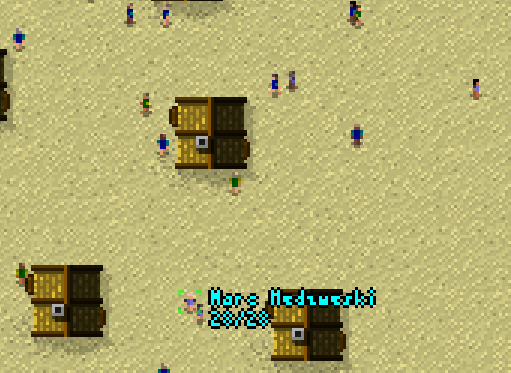 After a certain amount of time, you guessed it, they grow up! Once they're fully grown they can work and function just like any other villager in town.
I have tons of long term plans for the entire process, currently though it's somewhat simple. I plan to add more elements to the game, like the risk of the mother or child dying during labor, and clinics that can lower the chance of that happening. As mentioned a little before, I'd also like to eventually add buildings child-specific that can help them when they're growing up get a slight head start, like schools they can visit to "learn" (gain XP).