It's been a long journey, but the project is finally complete, and we are proud to present to you Version 1.0, which entered the design phase of development back in May 2008. Since then, we have worked hard as a team of just 5 individuals (and without a programmer!) to create a unique and entertaining, full conversion mod of Unreal 3. We hope now, on the night of release, you can enjoy the finished product as much as we have enjoyed creating it.
For those new to the IP, Cheeks of Steel is a 3D Platform game, set in an abstract city known as Capture. Your role? To play as Tick and Harry, a flea and hamster forced to work together through unlikely circumstances, battling through 'themed cages' to save Harry's love, and the rest of the hamster race. The game itself revolves around a HUB level where you must collect Hamster Tubes in order to unlock new levels, and escape Capture once and for all. This has all been broken up into 5 levels, offering hours of gameplay.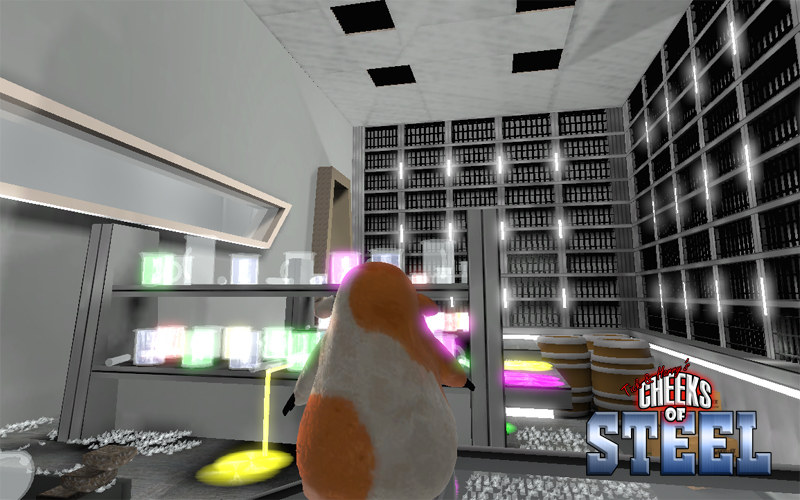 Upon full download of the compressed file, you will notice several files, including an installation guide and the full mod folder. One thing we would quickly like to point out at this time is that the mod actually runs on a version 1.3 of Unreal, not the latest (2.0) version which many people may have already. If this is the case, then in order to play the mod at its full capacity, you must regress Unreal back down to 1.3. You can re-download patch 1.3 here: Gamershell.com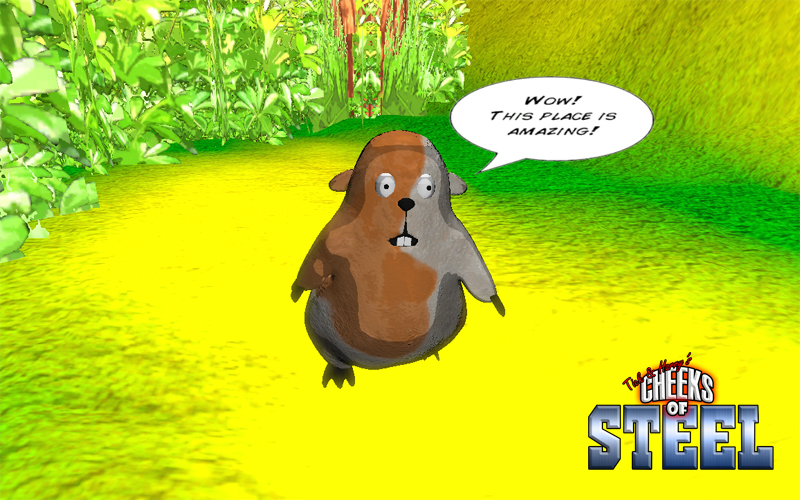 For those unprepared to do so, do not worry. We are already working on the first patch which allows full compatibility with version 2.0, and will be available for download in the next couple of weeks. For all other information on Version 2, please stay tuned to any updates on the site over the next couple of weeks, or 'watch' us for free notifications.
At Underdog Games, Cheeks of Steel has played a large part within each of our lives, and we pride ourselves on the increasing quality of our product to give everyone as much as possible. Therefore, if you notice any bugs/problems within the game, or even know how to fix it yourself, please let us know and we will do everything we can to improve the experience both for you and others.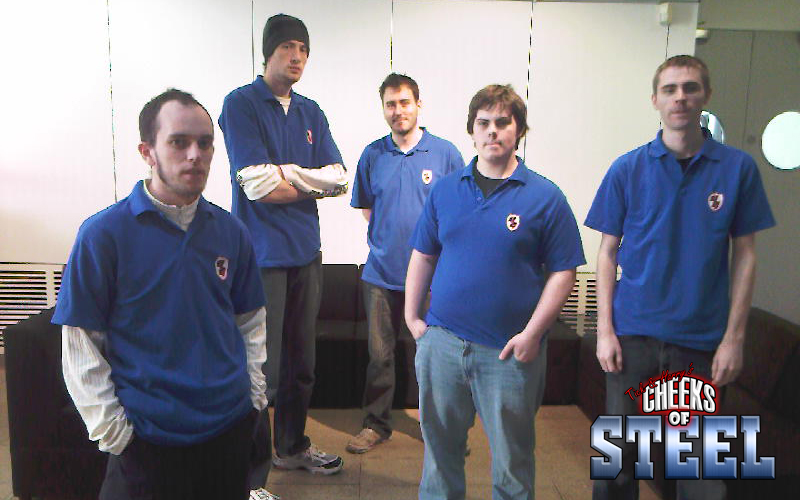 From left to right:
Simon White (Lead Artist and Sound), Ross Wilding (Lead Designer, Level Design and Cinematics), Steven Sadler (Level Design), Jamie Eden (Team Leader and Producer) and
Sam Penn (Lead Level Design)
Finally, we would like to thank everyone for their support, from the community who have provided encouraging feedback and comments, to all those who have stood by us, supported us, and gave us the strength to go on. Without you, Cheeks of Steel could not exist.
So where next? There'll be LOTS of new content over the coming weeks, as well as further work on making Cheeks of Steel the best it can be. So without further ado, I present – Tick and Harry's Cheeks of Steel!
Apologies for the delay in uploading this, I originally did start to upload the Mod at 10pm British time on the 26th, but the upload took a lot longer than I expected, possibly due to this: Moddb.com and myself being located in the EU.
I also uploaded a patch with our customchar folder that is required for install but was forgotten off the initial RAR upload, and with the time it took to upload, I figured it would be best to just add as a single download.
Either way, please enjoy playing the mod, as much as we have in creating it! And leave any comments, critiscism or feedback here.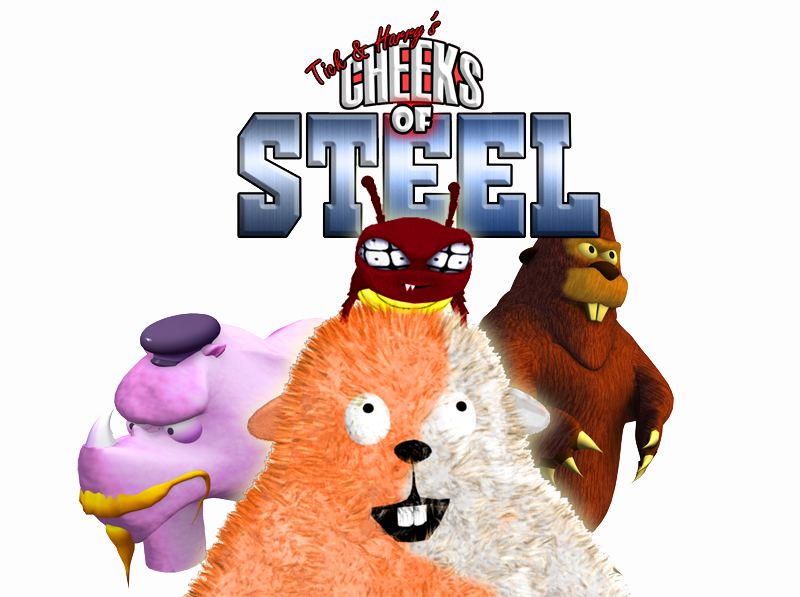 EDIT: CLEARER INSTALL INSTRUCTIONS

Step 1: If you have Unreal Tournament installed, please ensure it is patched to v1.3: Gamershell.com
The mod will NOT work on UT3 2.0 / 1.4. If you are using Patch 1.4 / 2.0, then there will an update covering this in the coming weeks.
Step 2: Download both files in our download section -
Download it here on ModDB | Custom char update
Step 3: Extract the contents of both .RAR files to somewhere accessible, such as your Desktop.
Step 4: Copy the folder "CheeksOfSteel" to My Documents > My Games > Unreal Tournament 3

Step 5: Copy the folder "CustomChar" to My Documents > My Games > Unreal Tournament 3 > UTGame > Published > CookedPC
Step 6: Play the game! There is a shotcut for Windows XP / Vista and Windows Vista 64-bit in the CheeksOfSteel folder. If you have any issues relating to your download directory, make a copy of your Unreal Tournament 3 Shortcut and add -mod/CheeksOfSteel/config to the shortcut command line
Once again, apologies to those who are having trouble installing the folder. In the next release we aim to be patched to 2.0 and have a self installing extracter.