Hey guys, we've just pushed out Build 4 of the Blade Symphony beta! People with Sidekick issues can grab a beta build here which might solve their problems. Server admins (and people who still have connection issues after updating Sidekick) can grab the Build 4 server package here.
What's more, Build 4 includes a surprise for you guys - this marks the release of our second map, Monastery! (Also added: bows and flourishes, auto-ready on by default, and a new tournament mode which is also on by default.)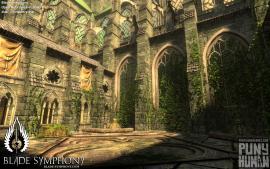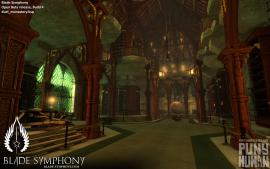 Left: Monastery's Cloister, which the map's other arenas are wrapped around.
Right: The Library, a longer arena fit for cinematic dueling.
But before I link you to the changelog, a few items of news:
You may not know it, but there's a stats system for Blade Symphony, too. It's pretty rudimentary for now (we have much more in-depth stat tracking planned for later,) but it's great for bragging to your friends! Oh, and last Saturday saw over 9,000 duels being fought - just thought I should mention.
Speaking of friends - we will soon give everyone who's played the beta with two beta invite codes to give out to their friends (or, well, anyone who fancies playing Blade Symphony, really). We'd like to thank all of you for taking part so far, especially the ones who've offered feedback on our Blade Symphony Beta forum - your assistance is invaluable in making Blade Symphony a better mod! (And if you haven't provided feedback yet, maybe now would be a good time to do so? Hint, hint.)
That's it for the news today; here's your changelog:
changelog wrote:
Additions & Changes:

Added new map, duel_monastery.
Added new sword Andante Incendia.
[#3254] Added bow mechanic. Default key is b. (For real this time.)
Added basic flourish mechanic. Default key is f.
[#3292] Added vs_queue_mode (Tournament Mode) and made it default set to 1. Tournament mode is a mode in which players that win move into the next arena, while those that lose fall back an arena.
Added a readystatus HUD element, with localization.
[#3201] Added water footstep audio for Phalanx and Ryoku.
Added various localization support for different HUD elements.
Added global ranking stat to scoreboard.
Added a custom BerimbauScheme.res file
Changed display name of Knight to "Judgement." (Was not in Build 3, our mistake!)
Changed text on the scoreboard to be indented, for easier viewing.
Changed heavy swing audio to be stronger sounding.
Changed lightning audio effects to be more deadly sounding.
Changed default forward and side run speed to 175, backward to 125.
Removed the -dev suffix in the name of the game.

Bugs:

[#3308] Fixed a bug that caused players to be unable to attack after making several attacks.
[#3307] Fixed a bug which allowed another attack to start before the last attack's tracer ended, allowing an exploit for changing stances mid-charge to change the damage output.
[#3248] [#3223] [#3249] Fixed a bug where audio from other duels could be loudly heard in the current duel.
Fixed a bug that allowed players to get access to an incomplete sword, the Black Daikatana, by removing access.
[#3265] Speed boost when using +strafe has removed, the player can no longer press forward + side movement key, wall-run ([#2795]) or wigglewalk ([#3150]) to achieve a speed bonus.
[#3268] Fixed bug where round start screen would display after a loss and not go away.
Fixed duel_winter material errors for blossom trees.