Whoops, forgot to update this with the news! Earlier this year, we unveiled a new version of The Royal Trap, now at 1400x900 resolution, with totally new background artwork: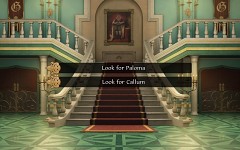 The palace has never looked more lovely!
The plot itself is largely unchanged. You are Madeleine Valois, the trusted assistant of Prince Oscar, sneaking and spying and occasionally fighting with daggers to help advance his interests. It is, after all, your job to boost his status and help him marry a princess. Even if Oscar sometimes has other ideas.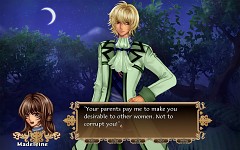 There have been a few alterations to the game. In the new version, Callum's route is not available on a first playthrough. You must complete one of the other endings first. This was done for two reasons - one, because Callum's route has so many revelations about the overall plot that it really spoils the enjoyment to play it first, and two, because players who were focusing on solving the mystery above all else were sometimes surprised to find themselves in a relationship with Callum by accident! So now the game will gently nudge you in other directions, and save Callum's story for when you're actually looking for it.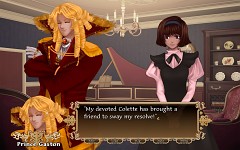 Don't neglect the other princes! They have valuable secrets to learn, as well.
The new version of the game is available for purchase on Steam and on hanakogames. If you previously purchased the older version, you can request a download of the new installer or a Steam key as you prefer.
And if you haven't played before, now is a good time to start...
Which is more dangerous, the traps set by royalty, or the trap of being royalty?