Bounce! is finally released to the world :D. You can now download bounce! on Gamers-Gate for £5. The game comes with 23 levels along with a wide range of other requested features. We have had a great blast making the game and learned a lot from the experience.
We think we have made a really fun new game there is things we possibly got wrong and things which turned out awesome. This was our first official indie game coded from scratch, was a big step up from all the mods we have been doing in the past but we felt it was a great move for us. It really gave us a sense of freedom just coding anything you can imagine.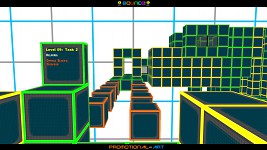 Main Features:
23 Levels
Awards
Level Ratings
Zero-Gravity Mode
Level Statistics
50 Collectables
Challenge Mode
Compasss/Rangefinders
4 Soundtracks
So you can buy the game now at: Desura
We had great support so far from all our fans so thanks guys for helping us through the process. Also thanks to Race-Away for making this game happen. So watch our profile for more updates and news.
Twitter: Twitter.com