Hi, the damage system is an important gameplay feature of the game we're just implementing.
Need to blast some enemies? In BlackSoul you can... and you can also take some advantage during fight by choosing your strategy.
For example by blowing up an arm to the enemy you can reduce his strength which results in decreasing his combat skills, such as damage or attack velocity, instead by blasting his legs the zombie falls down and starts moving slowly on the ground, giving you the time to take care of most dangerous enemies.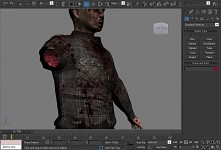 Naturally you can also try to kill your enemy instantly by blowing up his head... anyway make sure to hit the bull's-eye or you may soon find yourself surrounded by your targets.