At long last, we have pushed the button and made Black Closet available to the public!
If you haven't been following us from the beginning, some explanations. You play the President of the Student Council at an exclusive upper-class girls boarding school. It is your job to protect the school's reputation by investigating possible scandals. Head them off before they can cause trouble, or punish the guilty parties, or if all else fails, cover up the evidence so it doesn't get out.
To do this, you rely on the skills of your minions. You control five student council officers, with a range of skills. As in an RPG, you will be leveling them up throughout the adventure, except instead of fighting battles against monsters, you solve cases. And of course, there are dice involved.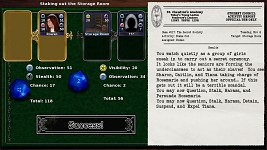 The cases themselves are randomly generated for each game, so you MUST use the clues that your minions turn up in order to find the solutions. Looking for a lost item? You want someone good at searching. Need to tail a suspect? You need someone stealthy. And so on. However...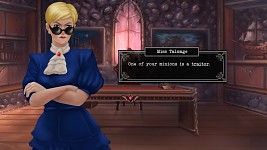 One of your minions is actually a mole who is working against you to undermine the school. Which minion is a traitor changes from game to game. You'll have to watch their behavior and see how they handle the cases you assign in order to work out which one can't be trusted and expel her... or win back her loyalty!
But school isn't ALL detective work. You'll have plenty of time to go on dates with your fellow schoolgirls and choose a partner to stand beside you as your Queen. (Yes, this is an all-girls school, all relationships are girl/girl.)
Pursue friendship or love as you choose, seek out the conspiracy at the heart of St. Claudine's, and watch your back! Will you be accepted into an Ivy League university, or be expelled in disgrace?
For more information, visit the official webpage!