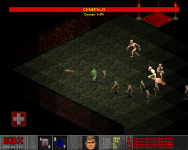 Hello everyone at Mod DB! I am happy to announce the release of the Doom: Fall of Mars beta.
This is a complete re-work of the conceptual demo, and features an almost infinite amount of new content, with randomly generated levels and items.
And though there is a lot of new content, this is still simply the beta, which means there is still a lot more to come. So stay tuned.
Doom: Fall of Mars Game Videos & Audio - Mod DB