Hello, ModDB fellows. We are the team of Cube Conflict, a small FPS which has launched its beta in France on the 5th of September.
The game has been in Alpha for nearly one year, and is developed since July of 2013. It is a nervous, yet simple FPS based on the open Cube 2 Engine, you can play on the official game servers online or alone against up to 49 bots !
One the many particularities is that you play as smileys in a cubic -somewhat insipred by minecraft- world.
Cube conflict has plenty various weapons from the classics to the funniest, the best classic game modes, and a class system very different than the ones you see in many other FPS such as Tf2 or Battlefield.
You can play as many "Skills", from the kamikaze who wears explosives to the magician who casts spells, the Camper who has more accuracy, the Ninja who has two melee guns, and more !
By the way the game is full of cultural references, from popular video games to geeky stuff and easter eggs in the various maps of the game.
In Cube Conflict, you play in big maps from a simple Village, a crazy Factory, some middle-age Castles, and even a low gravity map on the Moon ! The maps look different each time you play since the game loads a random weather, from an afternoon sun to a rainy day and even Apocalypse !
You can also create your own maps with the built-in editor which is as simple as complete.
Despite the game being indie, it has an account system like a professional game ! You can log in and check out you stats from the game or on the official website, thanks to the Cubelog, the account system whose name is a parody of EA games Battlelog and Autolog.
Customize your characters ! The game menus has a store to purchase Hats, Capes and other smileys to be unique and fancy on the battle grounds ! As opposite to pay-to-win games, you can keep you wallet in your pocket, since you pay with Cislacoins, the official money that you win when playing !
By the way the store does not sell weapons, allowing the gameplay to be fair no matter what level you are, since what time you play or how much money you have.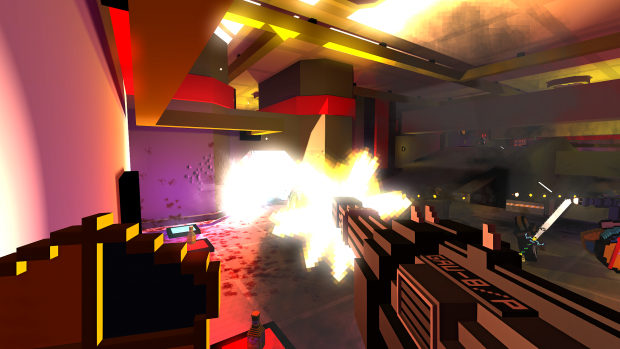 In the future, if the game has success, we expect to add awesome features such as more guns and maps, the compatibility with 3D screens and Oculus rift thanks to the fork Tesseract, and maybe even a solo/campaign mode.
We hope you guys to enjoy playing Cube Conflict,

Regards,
The Cube Conflict Development team.