More mentalness abounds around these parts!
Something very cool has happened which I'm not allowed to talk about yet - basically it's a big deal for us and will really help us out with the game, but that's all I can say - I will reveal soon.
Secondly, Matt has been doing some great work on the weapon FX - here is a new video of the current state of rockets:
Some good stuff there I think - much closer to my original idea than what we had before, which is always super-good.
Also the machine gun FX are taking shape...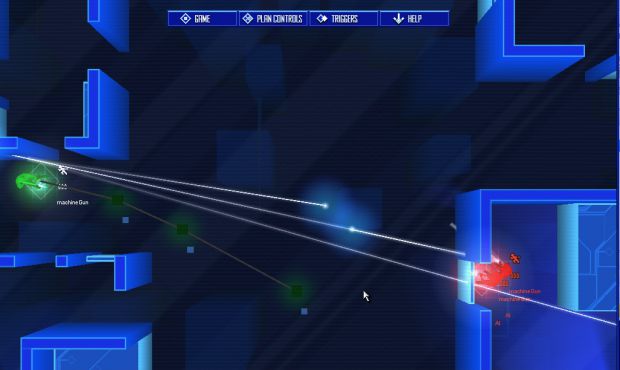 Again, a lot better. We're working on some anti-aliasing stuff (and also some cheap tricks) to smooth those lines out a bit - once that's working it will look even better. As I said in the pic description, please ignore the fact that the lines are rendering in the wrong place- that's just a ridiculous bug that's haunting us at the moment.
Our trailer was supposed to be up on Eurogamer last night but something to do with it broke their video encoder! They are looking into it, which is immensely worrying.
I just gave Matt the art direction "gushing and spurting" in another window while writing this...hmm. Sometimes I get to do very strange things in my line of work.
Tomorrow I have a meeting with a PR agency to discuss the possible mainstream breakout appeal of Frozen Synapse. I really think this game could go a long way so we are trying to work out budgets and see what can be done to really promote the hell out of it. It's difficult - we have to get the combination of things right.
I really am running round trying to do a ridiculous number of things at once at the moment - days are getting longer. We're entering a real, genuine crunch phase (we try to do mini-crunches generally) at the moment, but I know it's going to be worth it. When I see real changes to the game happening daily, I know we're doing the right thing.
Looking forward to our Reading Uni day which is now confirmed for March 12th (that's for the guy from Reading who reads this!) - should be a good opportunity to figure out some of the big issues we still have with the UI. My MISSION in life is to try and make this game seamless to play - it's so tough given the genre but I'm not going to be satisfied with anything else.
We recently got some voice work done by a great lady called Katy Maw - she is going to be our "computer / interface" voice and she did a super-great job on it - I'll post some examples soon when I've edited them.
The Facebook page is still going crazy - I suggest you head over and join in...
Onwards!


(This button will take you straight to our IRC chat room where you can talk live with the developers of Frozen Synapse!)

(Please track our updates! We try to make each one as amusing and informative as possible. Remember, don't click this button if you are already tracking - it will make you stop tracking! This is the opposite of what we want!)


(If you join our mailing list, we will use it only to send you important Frozen Synapse and Mode 7 Games updates. These will be very infrequent and guaranteed to be interesting! We will never, ever give or sell your precious juicy email to any naughty people - promise).