At the end of April and through early May, I was working furiously to get a bunch of animation done so that we could have our first playable demo. Since then, I've been vising other tasks on my to-do list including sound, background revisions, UI prototyping, and some effects work. But now I'm back into animation mode again.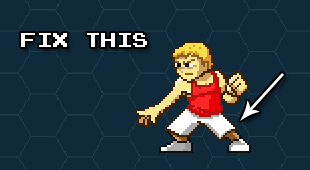 After we got some initial stuff to look at, we had to start examining whether what we had was going to work. I wasn't happy with the technique on a lot of the animation. There were jaggies and pillowing that were happening on some of the stuff, and so I knew that I needed to do some revisions. For the past couple of weeks I've been revisiting all existing animation and adding small tweaks to clean stuff up. I've also made some more noticeable changes to some of the timing of the frames, and to some of the poses themselves. But one thing that was necessary, was to split each sprite into layers, and to finalize the line colors.

A finished bruiser ends up like this
It's a bit of a time consuming effort as I also need to record the individual amount of time that each frame will be held for, and record coordinates for each frame so that we will be able to composite on the user selected eyes/hairs or whatever weapon the bruiser happens to be carrying. It also means that our wiki has a bunch of tables that look like this right now.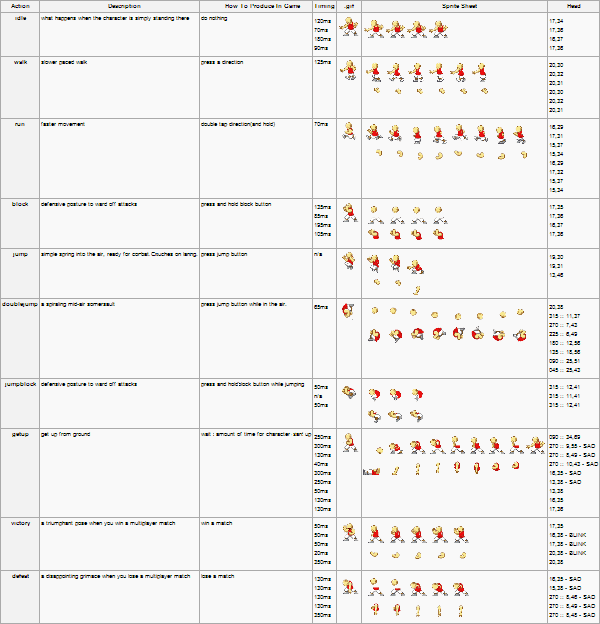 Glorious, innit?
I'm happy that I've now gone through and done what I believe will be the final revisions for all existing animation. That means 31 cycles are now where I believe they need to be. But I've got another 30 left to go before we'll have the full range done that we've currently got planned. That doesn't factor in interesting ways for bruisers to die, but hopefully now that I've got a bit of a workflow figured out, the second half of the animation won't take as much thought or time as the first half did.