Introduction
After a brief burn out on this project, I have returned to it after a 2 week Hiatus. After returning I would like to give you an update on ASoD 0.75 and what is going on in it. This will update you on how far the project is from total completion and what to look forward to in the next release.
How far have we come?
First of all, this chart shows how much of ASoD is done. The marks show finished systems as of my current development version, 0.85a.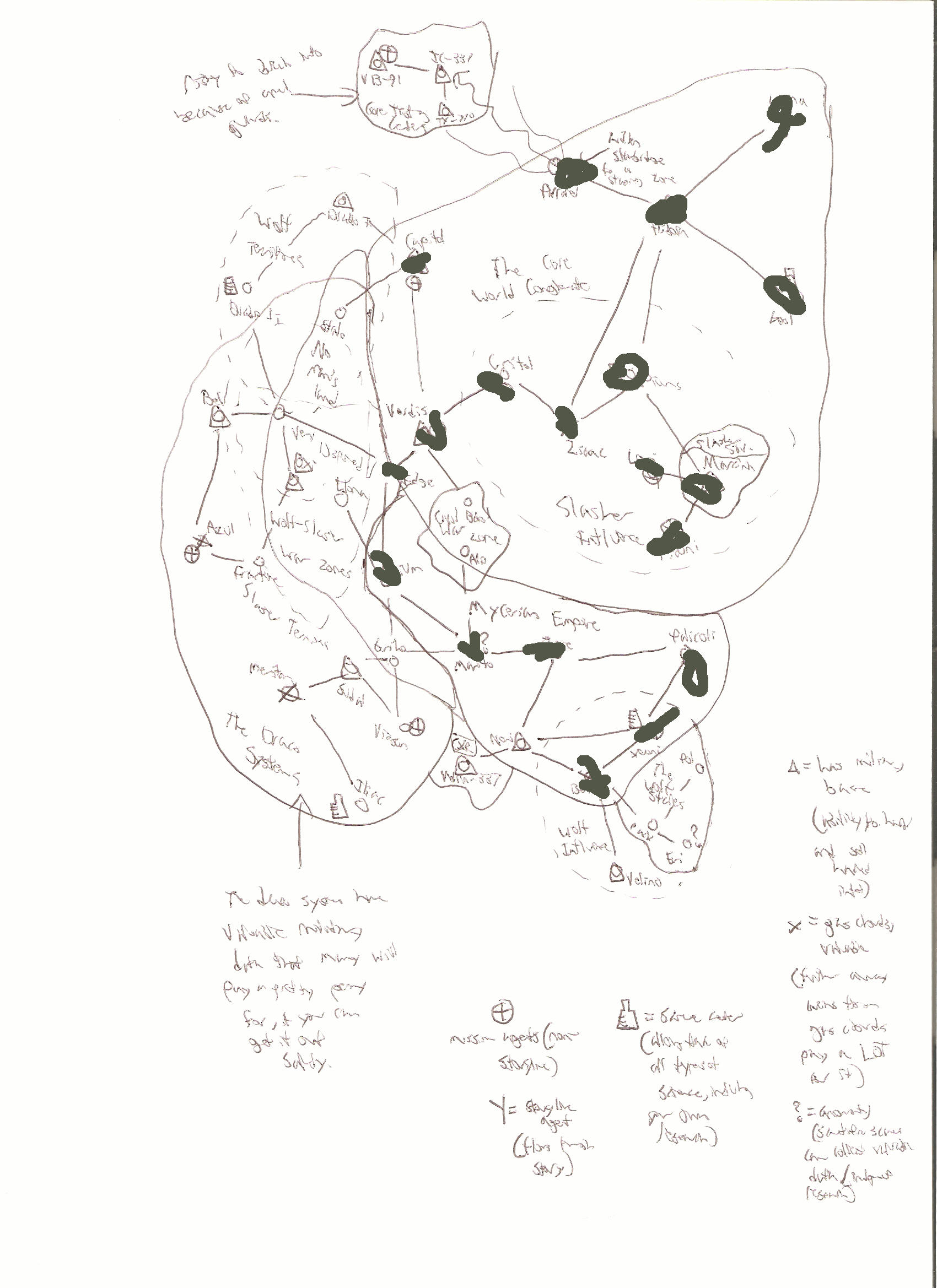 As you can see, 19 systems are done. The great news is that since most of the game code itself is implemented, laying down factions, ships, and systems is a simple if tedious process. From the standpoint of code, a LOT is done. The only major things left to add are achievements and saving cargo holds when you dock.
My Current Work
Currently, I just finished Bernard and added some wonderful new NPCs for EWS. When released to you, several new trade routes will be added that can help boost your freighter.
In addition, I recently fixed a bug where dying caused massive lag. This was because a FOR loop that reset NPCs at your death was iterating through every NPC, now it is limited to the player's solar system.
The Wolf/Edge systems are stylistically going to be a bit different. They will be mainly starscapes, which is different for ASoD (remember that most of 1104 is inside a large, diverse, nebula). Here is a sample of the backplate for Bernard.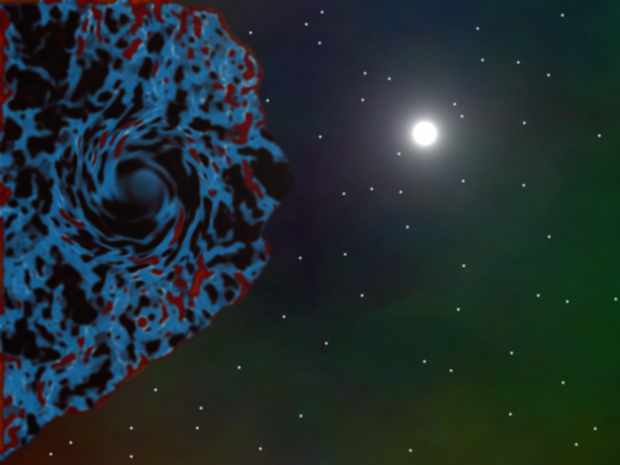 As you can see, this backplate begins to transition into open space. The rest of the Wolf systems will have normal starscapes instead of deep, complex, nebular fragments. I attempt to segregate the different areas with different styles.
A good example of this would be the Slasher systems Marcina, Lori, and Pioni. They have somewhat ugly backgrounds with harsh, unusual, colors and textures. However, when we compare this to the Core worlds, you see smoother, more uniform, images. Blending does occur at the edges where I think it should occur, transitioning into new areas.
Cuts?
Reworking my map I saw that many systems in the final version would not add much. Random systems stuck on the edge of the Dracos for example may get cut depending on content at that time. Currently, the Dracos are going to be a very diverse area with a wealth of stuff to explore.
Achievements
ASoD is a total sandbox, which gives it low replay value because its single player. However, I am adding some achievements to it to make the game more enduring. Here are some of the ones I am considering.
Money Grubber -- Make 1 million credits.
Thousandair -- Make 100,000 Credits.
Young Merchant -- Make 10,000 Credits.
Death Dealer -- Kill 1000 NPCs.
New Age Explorer -- Visit every system in the game.
Hard Core Explorer -- Dock at every station/planet in the game.
Public Enemy -- Make everyone hate you.
Blackbeard -- Have flown every ship.
Conclusion
Your feedback is vital to ASoD, please reach me via this site or masternerdguy@yahoo.com and remember, if you don't complain about something to me you can't complain about it on this page.