Hi folks :)
Sorry for the lack of updates during the last months, but I got a job so I had/have less sparetime. Nevertheless I'm still on my project.
I managed to realize a dynamic combosystem. As a melee character you'll be able to learn different combo attacks. Then you have to initilize the desired combo and press the right buttons in the correct order and the mentioned timeframe. Combos will deal much more damage than normal attacks, but only if the attack is performed at the correct time.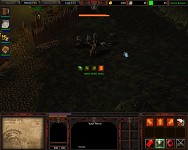 I'm still working on the many many required models. As you may notice I updated the hero model as well to match the improved style.
All I can say is that I won't let the project go into nether. I will finish it, but I still can't give out any information when this will be. Please be patient, it will be worth it.
Best regards
Thy