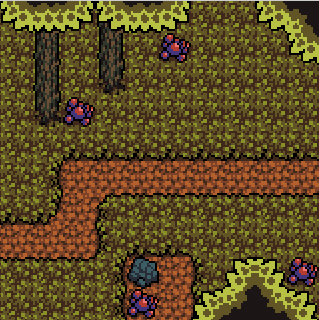 Hi, Sean here. Just wanted to talk about a few things we did this week.
I would say there was less progress than average. Part of this is because I had to write an essay for school...such is life, you spend time worrying and planning and writing. But it's done.
I also wrote a blog post about the place of games in society, my frustrations, their potential as mediums to convey personal experience and emotion, and then my fascination with a certain subset of game music. Check it out.
On the game side, I worked more on a boss. That's coming along nicely - I also did a little work on this one cutscene of sorts. Mostly just small things.
For the Student IGF, we are submitting a build with more of the game implemented - notably some of the "nature" areas, pictures of which are at the bottom and top of this post. They won't be totally complete, but are sort of mini-versions of their final forms (we just want to have more of the game visible rather than warping the judges around and so forth).
Jon's been working on tilesets, one of which I can't show yet...perhaps I should keep hiding all of them? Hmm
I don't remember when I finished some of the songs but I just have one song to finish and another entirely to write, and then the soundtrack is done. Weird, huh? It's about an hour long.
Well, that's about it for now...see you in a few days. And to close, as always...
You should follow me on Twitter. And vote (up) for us on Greenlight and TELL YOUR FRIENDS!
SHARING IS CARING AND WE WILL LOVE YOU IF YOU TELL YOUR FRIENDS!