In this quick start guide, I'll show you how to get started playing SimWorld: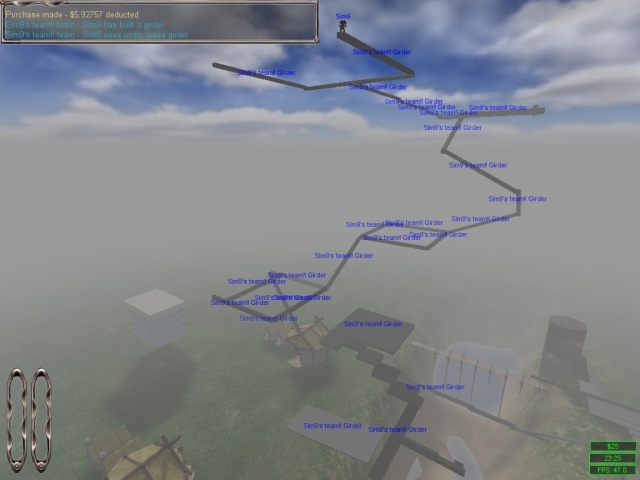 Step 1: Download
Download either the SWv4 installer or download via AG. Download & install it, then launch the game.
Step 2: Menu
Once you've booted up the game, choose Multiplayer on the main menu. Give yourself a name, and then press Query Master to see other SW games online. If there are no other games, just press HOST. Choose either map, and ensure Host Multiplayer is ticked, then hit Launch Mission.
If a windows firewall box requesting access comes up, grant access.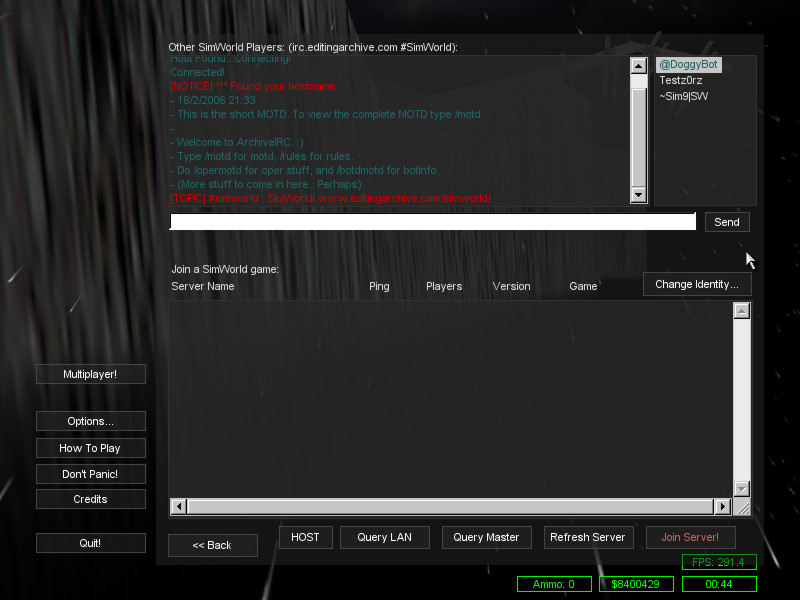 Step 3: Join a Team
You are now a spectator -- you can move around with WASD and look around the battlefield. Let's join a team -- press M and either select a team to join, or if there are no teams other than "(Spectator Team)", then make up a team name, press Start a New Team, then choose that team in the below box and hit Join Team.
Chat with other players by pressing U.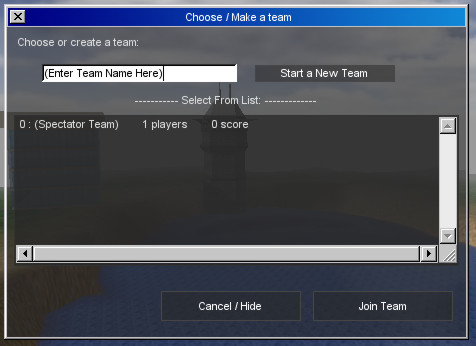 Step 4: Shoot Stuff & Find Cash
You're now running around the world as a player. You should have a explosive crossbow you can shoot with left mouse. Feel free to shoot any players with red text over them. Don't shoot players with green text - they're teammates. Run around until you find floating dollar signs and then run into them (if you're playing canyon, they're located on the two bridges).
Step 5: Build!
Now that you have some cash, you can build things! For this section, I'll assume you're starting a base -- if you joined an existing team, ask them how you can help out.
Find a good place to start building your team's base. Now look at the ground at your feet and press B. On the left there are options of things to purchase. The first thing you will want to build is a team spawn point. Select it under Misc Spawners category, and choose Begin Build.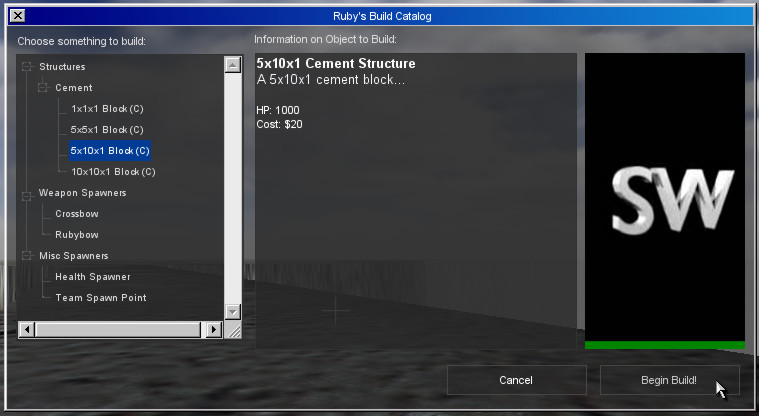 Use the menu to fine tune the spawners position. If you placed it on terrain, it might be slightly underground -- just hit +Z once or twice if needed. Then press Finalize Build. Now you have a team spawn point that team members will respawn at upon death.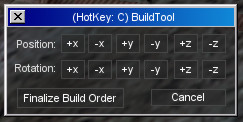 Step 6: Even more building!
Using the techniques in Step 5, you can continue building walls, weapon spawners, and health spawners. If you build weapon spawners and pick up new weapons, use 1 to choose Crossbow, and 2 to choose Rubybow.
Finally, you can build cars & jets to get around the world quickly. Pressing L will spawn a car. Pressing O will spawn a jet. In either case, once spawned, look at it and press V to get inside. You'll probably want to hit TAB to go into third person perspective. Using the Jet, you can carry around teammates, who can fire out the side of the jet (press Q to swap seats inside).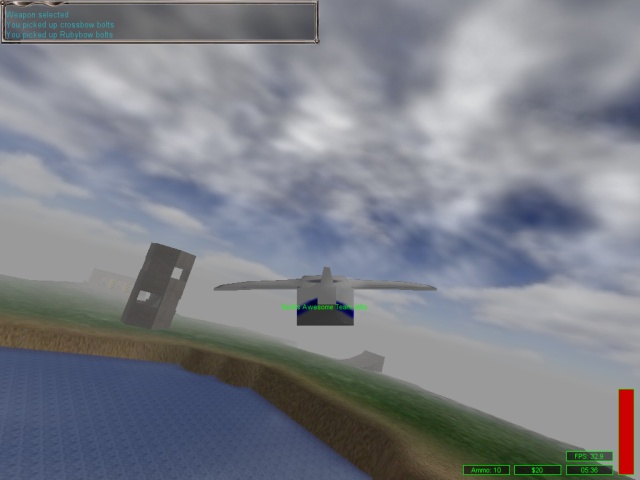 That's it!
Now you know how to play SWv4! If you like it, play with your friends and have cool team vs team battles! :)
For more detailed docs, head on over here. And post in this thread if you want to join the SWv5 beta.