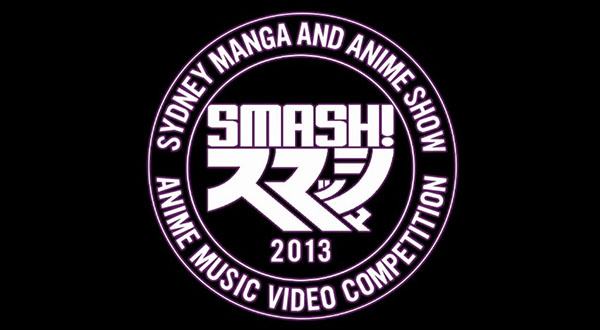 AMVs, or Anime Music Videos, are one of the many ways in which fans can express their love for their favourite shows and songs. Open to worldwide and Australian contenders, SMASH! 2013 put creativity and technical skills to the test with the very awesome AMV Screenings, Finals as well as the winner of the new "Blitz" category. Read on!It was eye opening to see just how many different kinds of AMVs are possible during the screenings of the entries. There were drama flicks set to pop music, action epics with heart-pounding beats along with innovative shorts dubbed over with unexpected tracks.One of my favourites had to be the thrilling "Bloody Memories" featuring Blood-C: The Last Dark. There was just something so effective about its production and it hit home hard, viscerally. A close second would be the Valkyria Chronicles anime synced to the Fast and the Furious 6 trailer. It had to be seen to be believed! Check the SMASH! site page for a huge list of the viewable entries.
AMVs were placed into 4 categories: Action, Comedy/Parody, Drama/Romance and Upbeat/Dance. The competition also had 4 Special Awards up for grabs including the Judge's Choice, People's Choice, Best Technical and the Aussie Award, made for homegrown editors. All winners displayed a keen sense of coordination, passion and skill.The Blitz AMV Tournament is a new competition for shorter videos with a length between 30-90 seconds and no categories. Editors are free to make anything they want to impress the judges. Once the top few are chosen, editors go head-to-head with specific and challenging themes. The Blitz finalists had to base their AMV around the theme of Australia, which would have been tough since there's barely any anime around that feature this continent!
Nevertheless both of the finalists did an outstanding job and the winner, KonohasOrangeFlash, pulled it off with the iconic Men at Work – Land Down Under. You can check out the editor's compilation below!Seeing the colossal effort at this year's showing has inspired me to continue dabbling in the art of AMV making. If you have any music playing in your head and a passion for anime, give it a try and get creative! If you've ever made an AMV, let us know about it! Make sure to check out the officialSMASH! site along with the rest of our coverage of this year's event.