As the development of Magical Diary continues, new kinds of interfaces work their way into the game.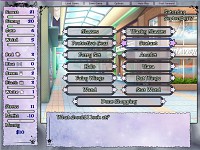 Here we see a screen that appears when shopping at the mall. You can browse through a list of items, click on each one for a fuller description, and then choose whether or not to purchase that item. Most of them are a bit pricey, so you'll have to save your allowance for weeks to be able to afford them. After you've bought an item, you can visit the inventory screen to wear it.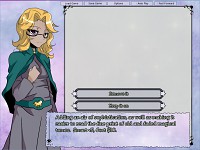 The inventory screen is still in development - we need to come up with some smaller buttons to be able to list everything properly and differentiate between items held in inventory and items currently equipped. Here you can see the character examining a pair of glasses, currently worn.
Equipped items are displayed on the player sprite, both here in the inventory screen and elsewhere in the game during dialog. Because the items are visually represented, there are some sets of items you can't equip at the same time. If you're wearing the normal glasses, you can't also wear the wacky glasses.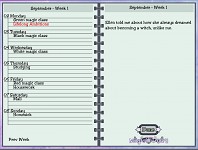 Here you can see the Diary interface. In any dating sim, there are countless decisions to be made and paths can branch wildly from playthrough to playthrough. This can be confusing sometimes when replaying, or reloading an old saved game. Was this the time that you were playing as teacher's pet, or the time when you kept getting detention? (Yes, there is detention!)
So this game comes with a special diary that automatically records your character's activities and important conversations held with other characters.
We have discussed the idea of letting players add their own notes to the diary, but that feature could clutter the interface and we're not sure how many people would actually use it. For the moment, it's not in the game. We'll see.
As for the plot, at the moment we're working on the dreaded Freshman Initiation. What horrible things will you be forced to do in order to belong? Wait and see...