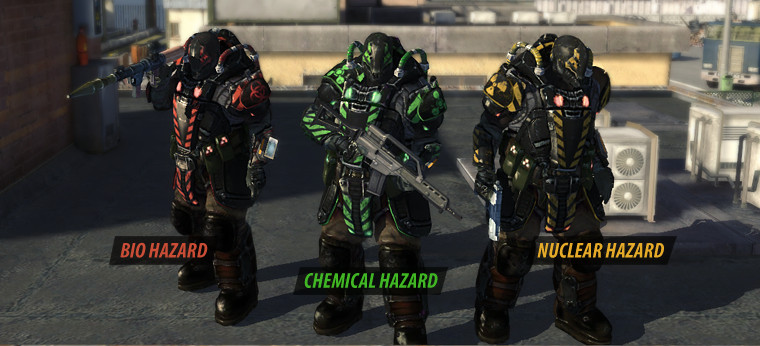 The new armor and coupons exchange
• NPC exchanging coupons for rare items has been added! It is located in Marketplace. Among the first goods is unique series of armor sets - Hazard (level 11). It comes with a unique avatar.
Customization
• Avatar system has been further developed. Now the appropriate avatar image is displayed in the inventory, in combat, in the profile, and so on.
• New paint colors: Graphite, Deep Purple.
• New camouflage-paints: Acupat Camo, Desert Camo, Navy Camo.
• The new helmet-avatar Spartan Helmet.
• New mask avatars Punisher and Bane.
• Ability to paint helmets has been added (with same colors that are used for painting armor). Note: it is not available for all avatars.
Various improvements
• Change in PvP. Arena is available from level 4 now.
• Maps Emporium Tower and Warehouses has been added to PVP.
• Anarchy gang level has been decreased (level 1).
• Now awards in PvP events are given immediately after the task is done, not at the end of the event as was before.
• Bug fixes in moving on the stairs have been done.
• AI improvements.
• Now, the upgrade level is shown not only in the title of the item but also on its icon.
• The explosion of grenades is more volume now. Small obstacles such as poles cannot extinguish it.
• Damage/kills from mines recording in ranked battle has been fixed.
• Maps were modified with consideration of player's feedback.
• Some reasons of disconnect have been fixed.
• General improvement of the game graphics.
• Character shadows have been added! Set higher shadows quality in game settings if your hardware affords it.
• The overall size of the client has been reduced. (Now it is 750 MB, instead of 1 GB).
Update size: 610 MB.