In but a few weeks, Portal 2 will officially ring out a decade of existence. It was shortly after its release that development on Alive & Kicking officially kicked off. And like Portal 2 after its release, there hasn't been much from us. So what's going on?
Early on, our plan was pretty simple: Remake Portal 1 in Portal 2's engine, using its new art style. This didn't take long, and quickly an executive decision was made to release a demo with what we had created.
The demo sucked. Big time. We immediately rebooted development and took the demo off this website. It's still circulating, which is unfortunate since it doesn't reflect the bar of quality we've since aimed for. After that embarrassment, we went through a few years of just trying to figure out how exactly we wanted to tackle this project - because it was very apparent the original goal wasn't something that people actually wanted, nor was it something we actually wanted.
When we launched our (now private, due to a string of harassment) Steam Greenlight page in early 2014, we used it as a platform to show our then-revisioned mod. The reception to this was much better - the shift to a hybrid art style seemed to really click with a lot of people and even garnered praise from developers of the original games. It did so well, in fact, that we hit the #1 spot on Greenlight within 48 hours.
A few years went by, chipping away at the project. In 2016, I attended Steam Dev Days in Seattle and met with Jeep Barnett, where I secured us a conditional Source Engine license, which would allow us to make further improvements we've been long-silent about. Things like an improved audio system by Dot Operator, restored functionality for test elements, and visual enhancements such as higher projected texture limits, and more. This was kept relatively simple, due to our push for similarities with Portal 2. I did ask for some fancy rendering tech, but I could live without it.
Eventually, we hit a slow but steady stride where we figured the best approach was to simply handle this as more of a reimagining. Most of the puzzles are the same, but many do see changes to help iron out wrinkles that stemmed from Portal 1's fairly rushed development. Little things, like part of Chamber 17 not requiring the Companion Cube despite the entire chamber being built around it (also, this was something a Valve employee specifically asked us to fix). There was nothing update-worthy, but it was still going strong.
And then life happened. A lot of the team left school, or in some cases started school. I myself went through a period where my home life was volatile and a bout with extreme poverty. I've even received some very pleasant comments from the loving community that really like to bring attention to this fact. Dot Operator has even graduated to a full-time position in the industry. To put it simply: A remake of a game on an engine barely different from the original does not take priority over our lives.
And let me be clear: It's still being worked on. Not as active as you might hope, but in just 2021 there have been well over 30 commits for the escape sequence. Will the mod release this year? Unlikely, but possible. Will it release next year? Maybe, it's hard to say. There's no definitive way to gauge a mod's completion, especially one that has seen reinvention so many times and has approximately one active developer right now.
This simply isn't the type of mod where we can provide updates. It's not worth updating when most changes we see are a hallway's dimensions changing slightly, or some lights being tweaked. And to bust a rumor now; no, we're not moving to Source 2, and no, Valve has not granted us access to anything beyond what we asked for.
I hate that it took this long to give you guys an update, but Alive & Kicking is still coming. We can't say when or in what form because we simply don't know those ourselves. Until then,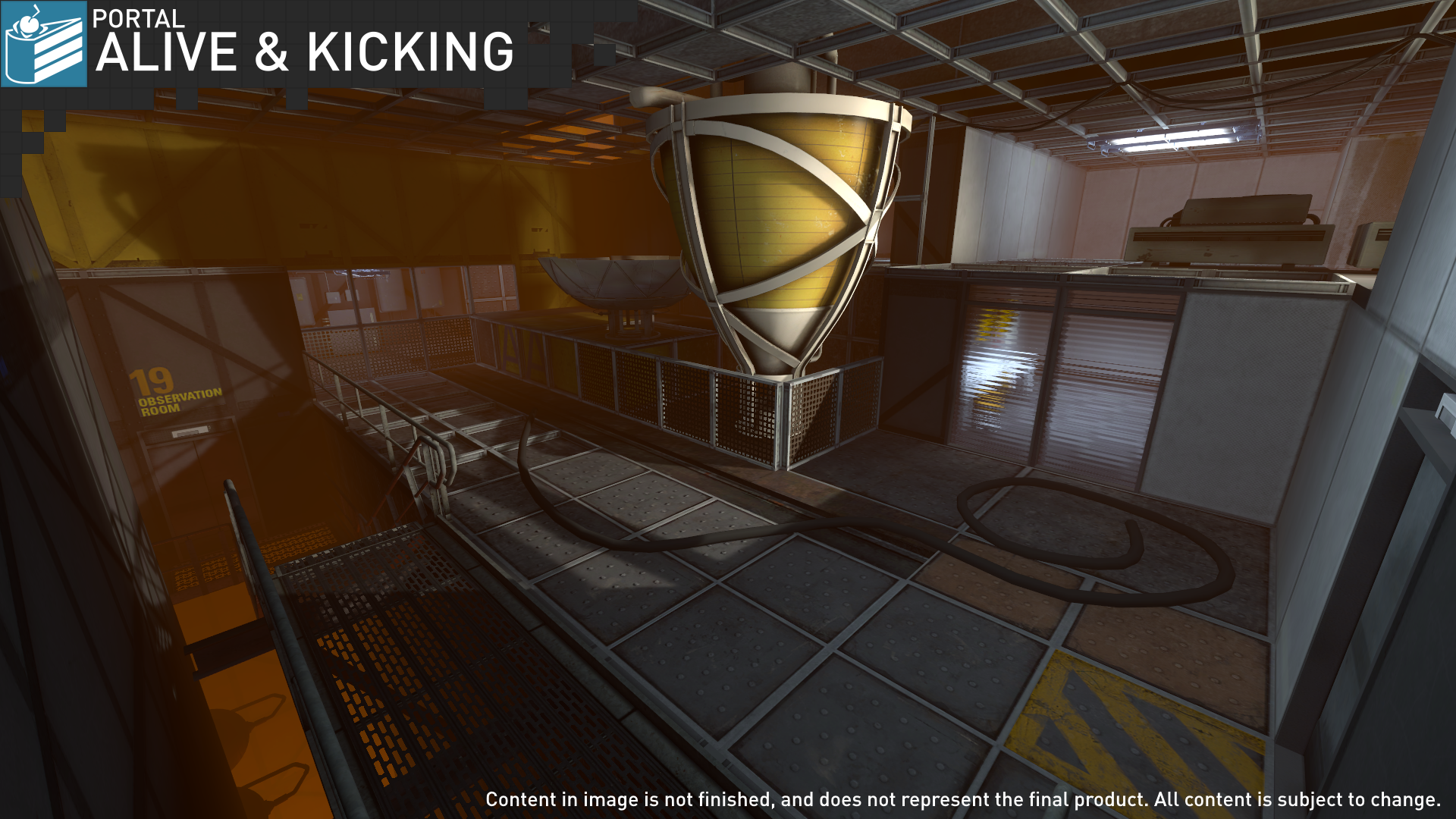 Keep testing,
Chris Weyland
Rhubarb & Rhubarb
P.S. I am aware that the mod's page is broken. Looking into it!