I am a little late in reporting this, as it happened a week ago, but I am pleased to say that Alien Arena: Warriors of Mars has officially been Greenlit for Steam! Amazingly it only took slightly over two weeks, and we at COR Entertainment are very grateful for everyone who voted and provided feedback. This brings Alien Arena into the next phase of development, which is going to be very exciting for all.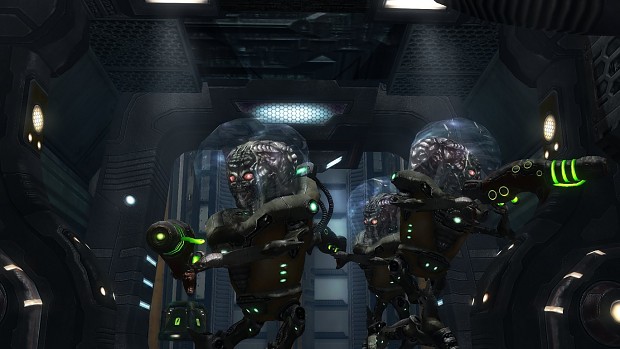 We are at the moment adding quite a few new effects and features, polishing up things that need it, and tying up loose ends on the core game. In conjunction with this, we will be starting a "Arena Of The Day" campaign in which the developers will be seeking input from the community(or anyone) as we spend a day going over each of Alien Arena's new levels with a fine-tooth comb. This program will take place beginning next week on the Alien Arena forums.
Some new features already added this week are new spawn effects and animations, a new set of animations for a new command "sneaking"(players can press a button to quietly and slowly sneak up behind an opponent, useful in team games such as CTF and Tactical). Faster loading of terrain, new bloom code with auto-exposure, and borderless, resizable window mode have been completed as well.
The "Arena Of the Day" will also feature an article posted here on Indie/Moddb.com talking about the level, and show a few screenshots of the completed product along with the backstory of it's design and inspirations. At the conclusion, our hope is to have a set of arenas that are as polished, smooth, and fun to play as possible.