Welcome to the 2nd AFmodDB news article
I know i've promissed this week news to be a little bigger, unfortunally i wasn't able to get more than this... so... sorry for the lack of news... OTZ
#UPDATE 17-07-2010: Updated with 1 last section in how-to watch the BRS promotional movie on Nico Nico, also marked off the button to show/hide the flying comments on Nico Nico videos.
The Article is divided into 6 categories:
Anime
Promo videos
Games
Real World
Registering on Nico Nico
Watch BRS video at Nico Nico Douga
---
===== Anime =====
Mizuki Kawashita's Strawberry 100% - Full stream
Mizuki Kawashita's Strawberry 100% (Ichigo 100%) is now fully streaming 5 out of 26 episodes on Viz Anime and Hulu websites.
The anime follows a high school boy and aspiring filmmaker named Manaka Junpei. After a clumsy accident meeting with a girl who wore strawberry panties, Junpei becomes determined to discover who she is. During his journey, he befriends other girls who help him find the girl with the strawberry panties for the perfect scene in his movie.
---
===== Promo Videos =====
Black Rock Shooter (BRS) official channel on Nico Nico Douga, released this week a promotional 79 seconds promotial video, from it's upcomming anime.
The DVD of BRS will be bundled with Hobby Japan magazine in it's September issue.
The anime will also be streamed free for everyone and it is said to be subbed in 7, yes, seven languages. No need to wait months until it's subbed.
Video link: Nicovideo.jp (Sorry, it's only hosted on Nico Nico for the time being, if you don't have a nico nico account, check the bottom of the article)
Yozakura Quartet ~Hoshi no Umi~
A 77 sec. promo. stream started by Kodansha, shows off the early shots for the upcomming OAD based on "Suzuhito Yasuda's Yozakura Quartet" manga.
The new anime will be a "reset" from the TV series, and it will follow closely the original manga, unlike the TV series, acording to Yasuda.
The OAD will be shiped with a limited edition of the 9º manga volume on October 8.
Video link: Kc.kodansha.co.jp
Bokura no Live Kimi to no Live
The debut single from the Love Live! project: "Bokura no Live Kimi to no Live".
Self-proclaimed the "ultimate fan-participation project", Love Live will allow every fan to choose and vote online and mobile polls in the diferent aspects of the idols, from costumes to hairstyles.
The bundle (CD + anime DVD) will be shipped on August 25.
Video link: Youtube.com
Air Gear: Kuro no Hane to Nemuri no Mori ~Break on the Sky~
Air Gear: Kuro no Hane to Nemuri no Mori ~Break on the Sky~ (Air Gear: The Black Wings and the Sleeping Forest ~Break on the Sky~), has a 56 sec. promo video published by Kodansha.
The OAD will feature the "Ikki vs. Ringo" face-off from the 16th manga volume, and it will be bundled on November 17 with the 30th manga volume.
And uhh.. what up with these enormous names!?
Video link: Youtube.com
---
===== Games =====
Dragon Quest Opening to Be Shown in 3D Theaters
With stereoscopic 3D being on the top verge, it isn't to suprise that evan games start to want using it's capabilities, and what it isn't to suprise is Square Enix making their step into it, and what a big step.
The just released Dragon Quest Monsters: Battle Road Victory (JAP-WII) opening video will be up in 43 Japanese theaters with stereoscopic 3D equipment.
If you're unlucky for not living in Japan or simply don't care about steroscoptic 3D, yet are still a big fan of DQ series, you can watch the normal version opening on DQ site.
Video link: Dq-victory.com
---
========= Real World =========
Voice Actor Norio Imamura Arrested for Indecent Pictures
The Voice actor of One Piece's Ivankov was arrested for allegedly posting pictures of his lower body on his blog.
Acording to police statment, Norio Imamura, voice actor for One Piece anime series, playing the role of Emporio Ivankov, was uploading indecent photos of his lower body in his blog since April. Imamura runs a tattoos bar named Toh, and enthusiast as he is with his work and his own tattoos, he painted his entire body with them, and after tattooing himself for over a decade and finally finishign tattooing his entire body, he wanted to show off his work to all the enthusiasts of tattoos.
To note, Japan has a very strong internet censorship, and content like this is somehow looked down by authorities.

MCM Expo Expands To Manchester
2011 will be a great year for Manchester, since taking July 30, 2011, Manchester will receive the MCM Expo.
Visitors will have their chanse to meet movie stars, tv personalities, sport heroes, play the latest games, and not miss the vast array of attractions, including Totally Cosplay and Manga Art Competition.
---
===== Registering on Nico Nico Douga =====
Ok, so you want to register on Nico Nico and you haven't the slightest idea on how to do it, right?
Well, here are the easy steps on how to do it.
Start by going to the login page here: Secure.nicovideo.jp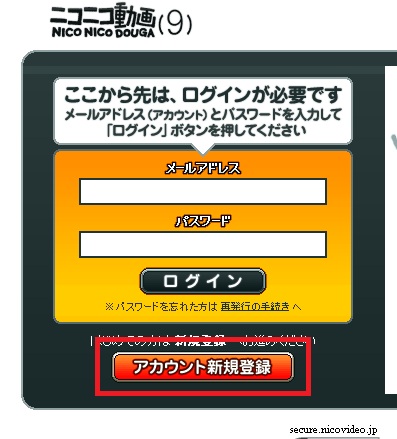 Select the registry button.

On this page, besides all the publicity, you have the option to choose either a premium (paid) or a free acount, choose the free account.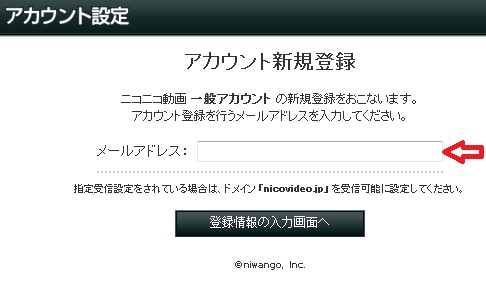 You now have to enter your email (wich will be your login) on the field and hit the continue button bellow.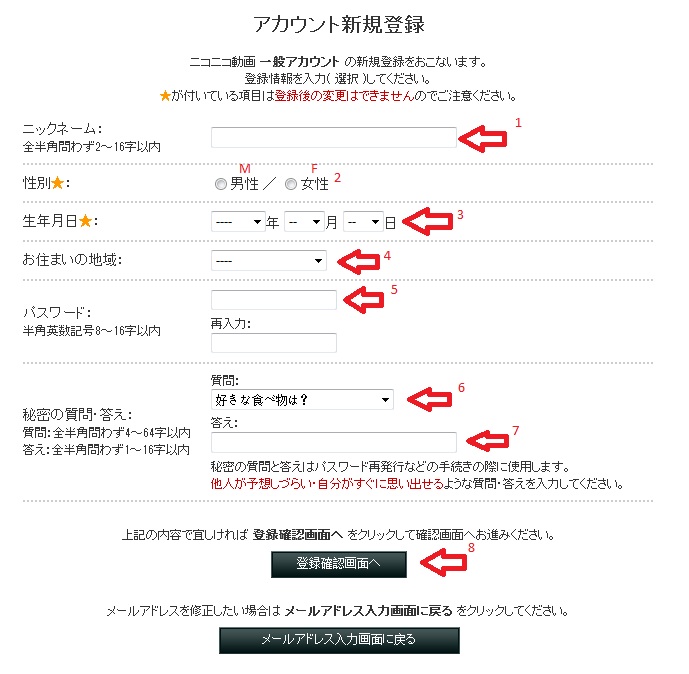 Now you have the usual fields in any form:
1.: Name
2.: Gender (M/F in that order)
3.: Birthday
4.: Location - you can put anything or simply choose: Other(Oversees)
5.: Password . remember to re-type it on the field bellow
6.: Choose a secret question - you can leave teh first one
7.: Choose your secret answer - you know the drill
8.: Hit the register button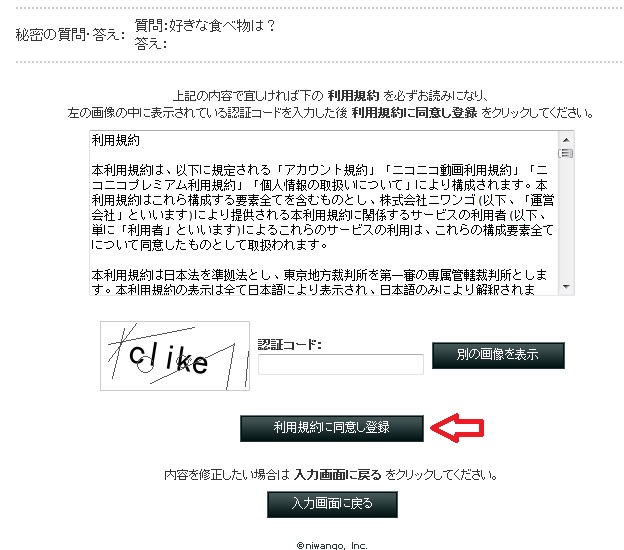 The last and final page is for you to re-check your data, then fill up the captcha and hit the register button.
Congrats, you're done.
Now all you need is go to the login screen and fill up your login.
---
===== Watch BRS video at Nico Nico Douga =====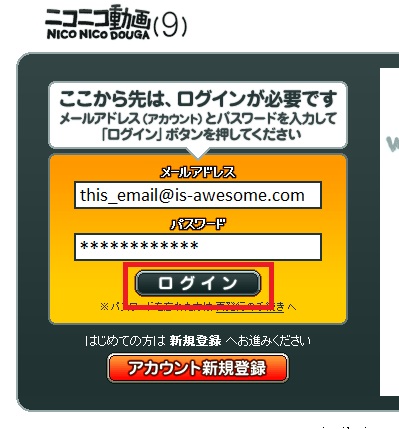 Login with your username (email) and password here:
Secure.nicovideo.jp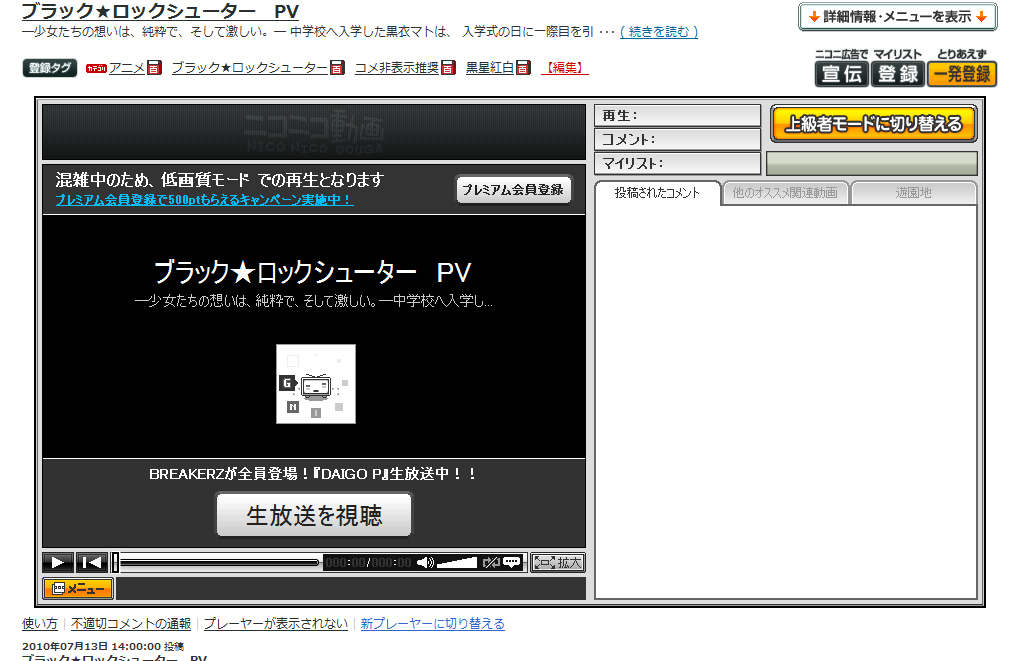 Enter the BRS video link here: Nicovideo.jp you will first get a loading screen like this, just wait a few seconds for it to load.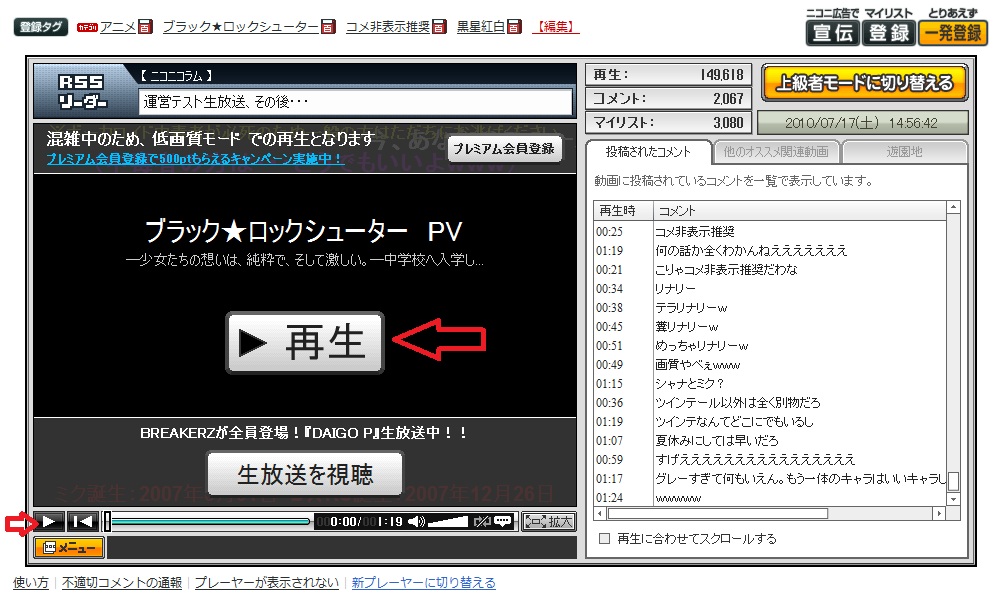 Once it's fully loaded, click on either start buttons as marked on the image.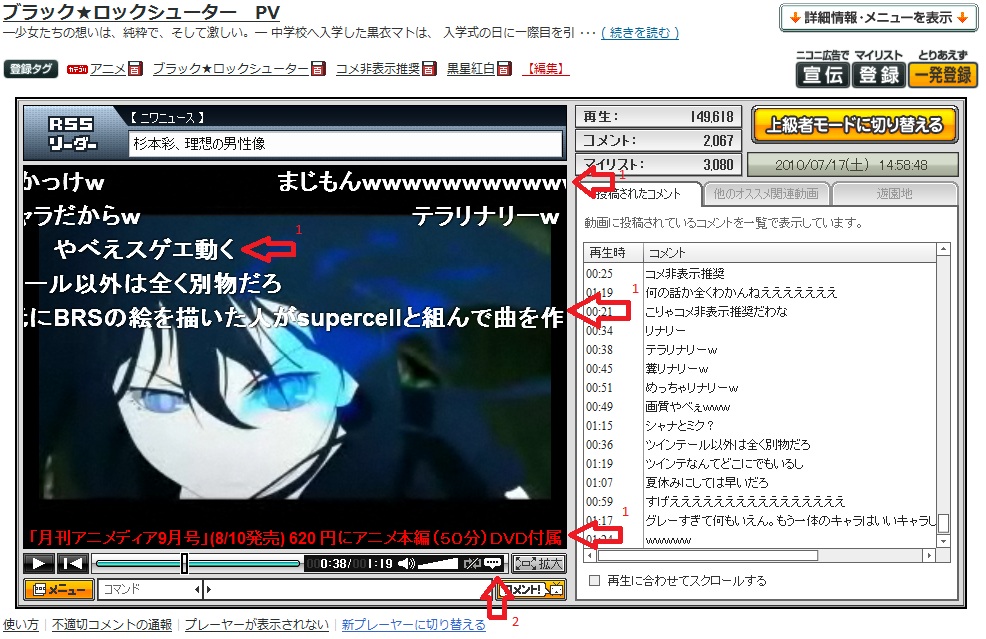 If you want to turn off the annoying comments flying around on the movies (1), just click on the show/hide comments button (2).
Enjoy.
---
And that's all for today, stay tunned for more next week.
Remember that you can contribute not only to the news section, but to the external anime gallery too.