Nope, not kidding. This is for real.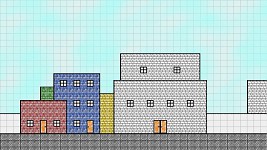 You see, when I started to work on Scribble(WT), a thought came to life rather early that I may want to make this... well, a video game series of sort. Though I really liked working on Scribble, I want to step away from the general concept the simplest of platformers. This is why Scribble II - The Search for Skill (Pun intended) will feature a story line, interactive characters and several RPG elements. Oh, also it will be rather colourful.
I am going to abandon the DIN A4 pages (That is a German paper standard, 210*297 milimeters) and work with checkered paper as big as it needs to be. The paper will be as big as my level, not vice versa.
As a means to save space and hopefully loading times, the cubic buttload of images will be replaced by a single tileset, the size of which I can not yet foresee, since I literally started on this half an hour ago.
As you can clearly see in that picture, Scribble II will consist of more than three colours. The general style of the game - that is, drawn on paper - will however not change. The only graphics that will be recycled from the first game, by the way, will be the font. Because creating a new one may not be hard work, but it sure is repetitive and somewhat annoying.
The story will revolve around the player character not being satisfied with being but a stick figure and thus searching the world for a means to improve his visual quality, which directly influences his combat and defense abilities. Enemies in "harder" parts of the world (which, if I can get it to work, will be open) will also be drawn... well, not "better" but less stickfigurely.
Most of what you just read - provided that you actually did read it - is entirely concept. The only thing done up to this point is part of the tileset, as demonstrated in the picture. But don't worry. It may take some time (Scribble(WT) took almost four months, it would probably have been possible in under one had I not lost motivation in between) but it may get done. It helps if you show enthusiasm, but I can't force you to. Soon as I have some "real" results I will create an own ModDB page for this. Or IndieDB? Is there any difference aside from the color?