I'm planning to release Ultima Ratio Regum 0.6 - after seven months of fevered development - in the next two weeks. Ideally on the 13th of December, possibly on the 20th of December if not.
It features massive procedural generation of the world's settlements, ranging from small farms, towns and hunter-gatherer settlements, to fortresses across the world deserts, to vast cities of immense size. Here's a very zoomed-out image of city for you, approximate population ~300,000. Pretty nice, right?
.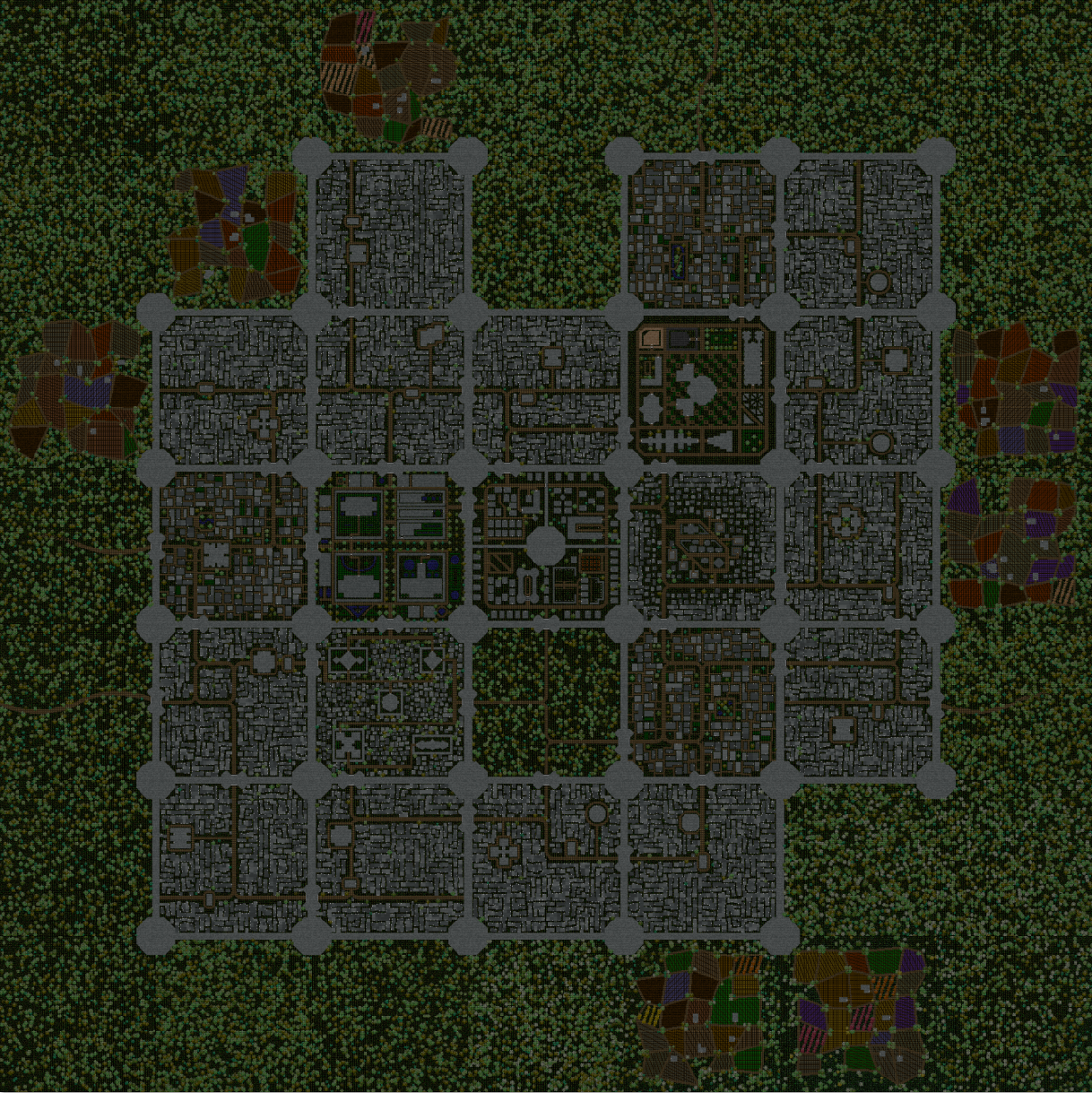 .
City FAQ:
.
Q: Why so square?
.
A: A deliberate choice – districts in foreign cities cost cash to enter, and the selection of which districts to explore and which to ignore is part of the strategy-layer gameplay.
.
Q: What are the districts?
.
A: The dense districts are lower-class housing; the less dense are middle-class housing; the special district near the top-right corner is the city centre, containing embassies, a mint, a parliamentary building, etc; then the row of three special districts in the middle are upper-class housing (where the player will begin), a military district, and a market; the district near the bottom-left corner is a religious district with a range of religions represented, and the blank district is the castle, which is effectively an "interior", so that is coming in 0.7.
.
Q: How big actually is this?
.
A: Each district is a single character on the world map, and 200×200 tiles, so the city is around 1000×1000 tiles across, and has enough housing to support approximately ~300,000 NPCs (coming in 0.8)!
.
Q: Will I be able to enter every single building?
.
A: In 0.6, no, in 0.7, yes, from 0.8 onwards, only if you have the right key.
In the mean time, you can keep up to date on my devlog, Facebook page, or Twitter!