It's pleasing to see our traffic and followers grow with each update on here - nice stuff, guys. It really does make a huge difference to us, as we've spent a long time beavering away in obscurity.
This is the first screenshot from the game I've been really happy about: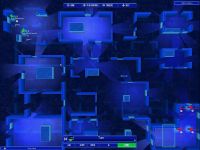 I think it shows just how far we've come with the in-game GFX from the middle-stage prototype which looked like this: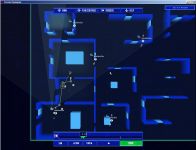 LOADS of work still left, but that's exciting as it will just mean that things will gradually start to look polished, and then eventually incredible. Ian did some great work on the interface today - usability is vital as I personally HATE HATE HATE not knowing exactly what's going to happen when I click somewhere.
Finally, today's big reveal - a rough master of the first in-game music track which I have called "Schism". This is one possible choice for menu music, but it might well get used for other things. I'm reasonably happy with it, but there's still space for a few changes and improvements - we'll see if they're really necessary.
I'll hopefully be writing a big thing about this track soon and how I went about doing it, so stay tuned for that one. I've rejigged the Synapse website a little - take a look here.
Gamecity have just asked us - IN ADDITION to our big playable event - to do a talk about the making of the game so far. This should be fun - Ian and I are considering playing the game against each other live on stage, but it might not be quite the right time for that - we shall see...
More from us soon!