Wow, an unbelievably large amount of things has happened recently.
First off, our new animations are nearly done - here's a great little test vid...

Quick animation test vid video - Frozen Synapse Game - Mod DB
Next we've got some experiments that Bin has been doing using our new background "spinner" system - these are just some slowly rotating bitmaps under the level, but we've been able to put these to good use to make some awesome background effects...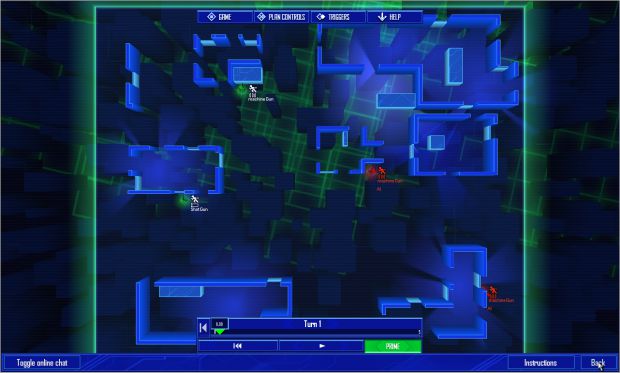 Getting really close now with this side of things. Our concept artist is working on some UI stuff, so expect some of the weaker UI elements to disappear soon. We'll also have a non-ugly menu which will make our beta testers happy!
We're gearing up for a big round of press previews, including our friends at Future Publishing (PC Gamer, PC Format, PC Zone, Edge etc. etc.) Eurogamer and Gamespot. This should get the game a lot more publicity which we desperately need!
Also, we might have a pretty cool announcement coming soon - can't say anything but that right now - but I'm working very hard on it.
Shortly, we're planning to go to the University of Reading and do some beta testing with the students there - this was a brilliant thing we did for our previous game and should provide some good feedback on the UI / usability of the game which is still a big issue. I'm really determined that people don't get frustrated with it, even though it has to be pretty complicated.
Finally for this update, here's this fortnight's episode of Visiting the Village...

Videos & Audio - Frozen Synapse Game - Mod DB
Enjoy!


(This button will take you straight to our IRC chat room where you can talk live with the developers of Frozen Synapse!)

(Please track our updates! We try to make each one as amusing and informative as possible. Remember, don't click this button if you are already tracking - it will make you stop tracking! This is the opposite of what we want!)


(If you join our mailing list, we will use it only to send you important Frozen Synapse and Mode 7 Games updates. These will be very infrequent and guaranteed to be interesting! We will never, ever give or sell your precious juicy email to any naughty people - promise).