Update #031
If this is your first time, there is already lots of content to explore with updates every Wednesday and Saturday live on Twitch with development and game play. Go follow and get notified as I begin the stream. All development streams are uploaded to the Baby Duka YouTube Channel. DASH stands for Danger Action Speed Hero - the ultimate 2D, low-res platformer creation tool. The official reveal of the prototype was on 1st of February 2018. I'm a solo dev doing all the stuff myself so far ♥ The game is being developed in Game Maker: Studio 1.x
---
Four-directional Dash:
Having worked on the game for about four months now, I'm familiar with my scripts and engine, making it easy for me to implement new mechanics. There is a threshold though. I can't keep throwing new stuff in, because there is a deadline to meet and a budget to keep. Every new part exponentially requires more testing. But since the game's name is DASH I wanted to make sure the dash-mechanic was as fun as possible. So here it is. The four-directional dash: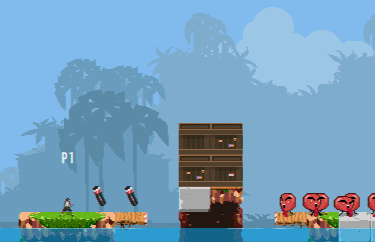 (The Raider smashing crates)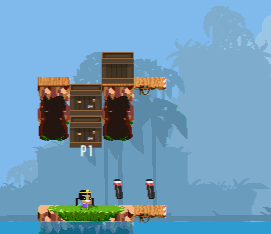 (Cleo smashing crates)
The Special Powers:
In the Hero Menu you choose your Hero's Special Power, just like you choose the theme's Backdrop etc. The first one I've implemented is the Dash of Fire. When this Special is unlocked, the Hero is able to dash into enemies, and destroy them!

The Special is unlocked as you gather six Magic Blue Balls which spawn from dead enemies. In the editor you will be able to place them in the course as well, like the coins in Mario Maker.
Here is a gameplay video of the new Special-mechanic in action, as well as picking up the Magic Balls. I thought the it was necessary to upload a video because the sound plays a major role in the feel of the mechanic:
Refining Enemy Collisions & Head Jump:
It requires skill to head jump the enemies. Yet it needs to feel fair when you miss the direct line to the head and it punished by the Slapper's tongue or the toxicity of the Spitter. It is hard finding a balance. A lot of testing will refine it.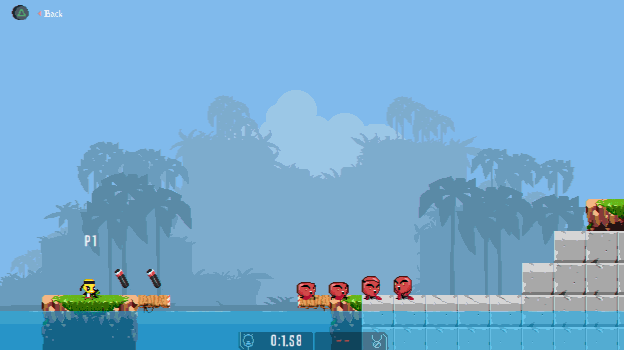 (Duffie head jumping Slappers)
Tonight's stream is delayed until about 11pm GMT. It's going to be a gameplay stream where I test the new mechanics and build some cool levels!
Hopefully on Saturday you will be seeing some local 2 player gameplay!
---
Follow on Twitter to catch up on the development 24/7!
Thanks for reading, once again, and stay tuned!

DASH ON!
- Jake, Baby Duka studio (Copenhagen, Denmark)
NEWSLETTER on the new website ► babyduka.com
Open development stream ► twitch.tv/BabyDuka (Wednesdays 8 pm GMT, Saturdays 6 pm GMT)