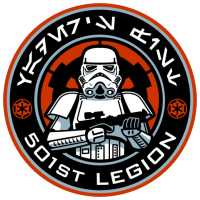 501ST LEGION: VADER'S FIST - GROUP RULES
_________________________________________________
The following simple rules are strictly to be followed. If one does not simply follow it, then they shall be given the title of shame or simply, be banned off the group.
Nevertheless, here are the rules to be followed:
- NO SPAMMING - It is absolutely forbidden to spam the group with unnecessary amount of random content, be it the promotion of another group, material or otherwise, it is not allowed to do so.
- OBEY THE GROUP LEADERS - This is one of the most important rule. If you do not follow our bidding, then you shall be given a warning or two... Maybe.
- DO NOT REPOST - If an image, download or an article has been posted already, there is no need to post it again. CHECK BEFORE POSTING SUCH.
- KEEP THE GROUP ACTIVE - It is vital that you keep the group active by posting images, videos, downloads, articles and whatnot if possible and do some talking in the group as long as it's deemed okay.
- FOLLOW THE RULES - This rule is to make you follow the rules since it is a rule and a rule is vital to be followed in the case that you are in the group.
_________________________________________________
These are just the rules for the 501st Legion: Vader's Fist. Everyone IS advised that you follow them. This ensures the lives and stakes of the members in the group as well as the group itself.
P.S.: Gumwars, quit whining. Just go someplace else if you don't feel good about anything in your life. :P