Undead Herald
Once a slave race to the dark elves, these sneaky monsters escaped with the aid of other slaves using their unique ability bred into them by their former masters, being able to boost the morale of others, even in the most dire of situations.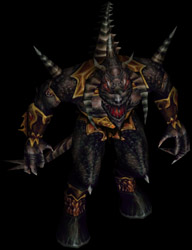 Chaos Lord

From the hot, volatile core of the world, chaos vents through evil things from another realm, like demons. The Chaos Lord is the largest, most hated and vastly feared demon to rise from places unknown and stalk the underworlds. It is bold and aggressive, never hesitating to attack, using its physicality as a weapon, stunning earthquakes resound with one stomp of its foot.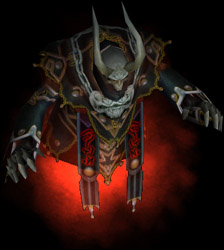 Lich

Liches are uncommon because the ways to become a lich are very unpleasant. The most common type of lich are necromancers who've transformed themselves through necromancy into undead wizards. They are very powerful and hard to kill. Unlike the first group, this second kind of lich does not choose to become the living dead. They were zombies who have lost their master, but their trapped soul chooses to remain behind. This type of lich starts out weak, but gains a different kind of innate magic from the strands of necromancy remaining in the flesh.