2FORT is the buildable structure that will become the main base (replacement of Terran Command Center). Here is a build view of model in progress.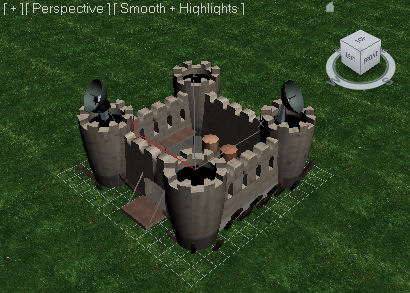 2Fort is the famous map of TF2, and we are going to use that name as the main base of players and actually designed it as a Fort too. A medieval touch with some hi-tech equipment. 2Fort will act as resource gathering station, and it will train engineers.
The building is set to have two set of upgrades. By default the spikes you see at bottom near wall and the radars on top will not be there. These are the upgrades. First will be defensive upgrade increase the overall strength of the building under attacks (represented by spikes). Second upgrade is the radar on top. This upgrade will reveal the whole minimap, and remove fog of war from large area around vicinity. Thus enabling you to be alert of any enemy forces approaching near your base.
Currently I am working on different animations based on player build sequence. e.g. if a player builds radar first and spikes later. It needs different animation and model. and vice versa. The dishes on top will rotate and animate all the time.
I am yet undecided of giving the attack ability to 2Fort or not. (i.e. the uprgrade for two empty pillars). My original intention was to setup missile / sentries on them as an attack upgrade. But right now I am not going ahead with this idea. As I want engineer to build sentries to protect the base rather than each structure being self-protective.
Keep watching for an in-game video of the 2Fort in coming days. Showing how the fort looks in the game and how animations workout.